The base and pillar for the success of any project lie in its planning. Strategic planning can work wonders to achieve your organization's goals and impress your clients and stakeholders. For example, a project manager can initiate a project plan with his team members. A well-devised plan helps execute a project smoothly and control any variations while carrying out one.
For devising a smooth course of action, you can take the help of a project plan template as it can help you in innumerable ways to create, edit, and customize the planning of your projects. We have also listed some project plan examples where you can put your expertise before starting a new project. The dimensions are widespread, so it is always better to plan before proceeding with a foolproof execution.
Let us quickly understand a project plan and what must be included before commencing your project.
What Is a Project Plan?
Often, a project manager prepares a plan before commencing with his project. A project plan is a well-framed document that outlines the aim, design, and purpose. It is the first step of project management. It is a process of establishing the scope, objectives, and necessary actions to complete a project.
It helps trace the required resources, the process of tasks and activities, strategies, and deadlines to carry out a project. It acts as a roadmap to building a project effortlessly and smoothly. Nowadays, even dedicated software has been created for the effective and robust planning of projects using its powerful tools. These project planning software program assist in:
Designing, organizing, and prioritizing tasks

Team collaboration

Monitoring costs

Managing resources

Planning and scheduling task dependencies

Sharing plans with clients, team members, and stakeholders

Report generation
A few different types of projects that need planning include:
Manufacturing projects

Construction projects

Management projects

Research projects
Vital Inclusions in a Project Plan
A project plan should be made carefully, keeping in mind the desired goal. It must include several aspects to chalk each thing thoroughly and break it down while tracking its progress:
Objectives and motivation

Project phases

Activities and tasks included in each phase

The project's commencement date and due date

Interrelationships between activities and tasks

Roles and responsibilities

Budget

Deliverables

Milestones and baselines
Is making a project plan a matter of concern?
While a project plan is critical to any business organization, even putting such a question is a shame to project managers. But still, to answer your curious brain, we have all the right reasons to settle your mind's queries:
Provides vital information

Defines various activities

Prepares a blueprint for carrying out the relevant activities

It helps in visualizing the picture of the final project

Forecasts the required resources and their requirements

Helps shoulder responsibilities to concerned people

Helps track the progress of the project

Provides milestones and helps prepare a baseline of the project
What Are Some of the Project Plan Examples?
Planning for a project can be done in any and every industry, irrespective of the field. A few project plan examples include:
Project safety management plan

Project training plan

IT project plan

Project acceptance plan

Project assessment plan

Project development plan

Business project plan

Project execution plan

Project quality management plan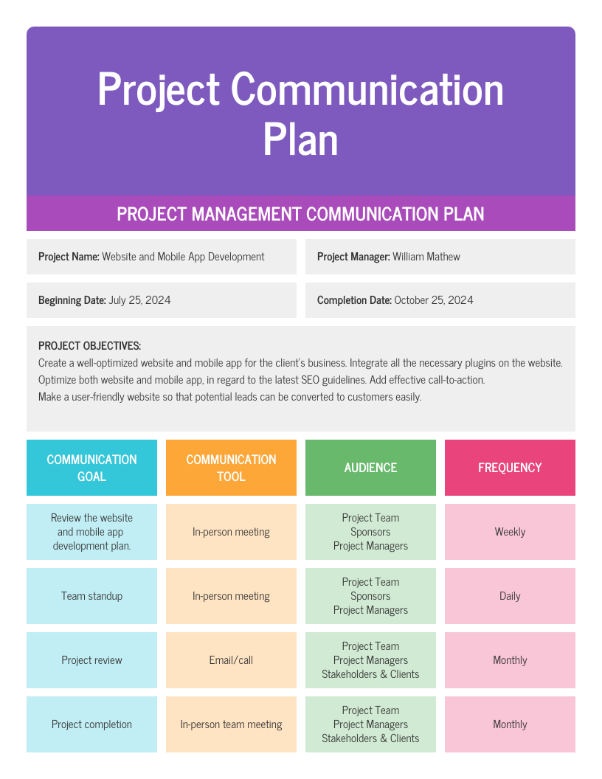 Several other examples requiring project planning include:
Project Management Plans:
Construction project management plan

Project risk management plan

Project scope management plan
Project Implementation Plans:
Generic project implementation plan

Construction project implementation plan
Project Communication Plans:
Project team communication plan

Project strategic communication plan

Construction project communication plan
Annual project work plan

Construction project work plan
Event marketing project plan
Personal project action plan

School project action plan

Community project action plan
Project Transition Plans:
Project transition action plan

Project Delivery Plans

Construction project delivery plans
Project financial management plan

Major project financial plan
Project proposal action plan

Project proposal implementation plan
Project Plan Template: Types and Websites
A project plan template can prove vital in obliging you to make a business plan. A business plan template enables you to work more smoothly, meeting the set schedules. It not only standardizes the process of project management but facilitates better communication. Such templates help set priorities for all team members, enabling them to focus on their specific roles with greater clarity.
The many types of popular templates that you can print for assistance in your project plans include:
Gantt chart-focused template

Schedule-focused template

Timeline-focused template

Task-focused template
Some websites that can come in handy to download such templates include:
Smart sheet

Atlassian

Toggl

Gantt Pro

Make use of

Vita Virginia

Vertex 42

Spreadsheet

Project manager

Nuclino

Management center

Get sling

Project management

Venngage

Wrike

Monday

File stage
Generally, a project plan template is in PDF format. PDF formats are highly convenient as they can be easily downloaded to devices and accessed anytime and anywhere without an active internet connection. But such formats require a dedicated professional tool to access the files.
Here is where you can use SwifDoo PDF software to have easy and quick access to your project plan template pdf. SwifDoo PDF enables you to open, read and edit your business plans and tailor-make them as per your desires and preferences. You can also merge and compress your documents without compromising the original quality.
Now download, print, and edit your templates on your device easily with utmost convenience, even if a discourteous emergency knocks in.
How to Make a Project Plan Effectively
Creating a foolproof project plan might be critical for the success of your organization and your promotion in turn. But using the below-mentioned steps, you can quickly make any of your projects in harmony with your organization's goals.
1. Wisely prepare a blueprint of your thoughts:
Prepare a rough layout of what you ought to achieve from your project and how many phases it will take to reach the desired results.
2. Cautiously plan your thoughts:
Be realistic and draft only the things you are sure about. Your initial plan should only cover the concrete details of your thoughts that are a must in your project. Don't over-commit to stressing yourself or your teammates.
3. Dissect your plan carefully:
It would be best to analyze your plan and carefully dissect the phases to get to the task details. It makes the objectives achievable and brings to notice the loopholes.
4. Take suggestions from your teammates:
A project works wonders when every member contributes their valuable input. Identify the opportunities and settle them with logical reasoning. Instead of taking up the sole responsibility, include your teammates for their suggestions and assign them the roles and responsibilities.
You must always have scope for amendments but remember to chalk a Plan-B in case things don't go as planned.
5. Formalize quality standards:
You must define the quality standards ahead of time so that you can comply with the same throughout the functioning of the project. You must set the standards on three bases:
Company standards

Customer standards

Global standards
6. Gather the resources:
Once a basic layout is formed, you must gather the essential resources required to carry out the tasks. The resources include:
Machinery

Men

Money

Material
7. Sequence the activities:
You must define the relationship between the activities carefully to sequence them for the proper functioning of your project. You can resort to any of the below methods:
Start to Start (SS)

Finish to Start (FS)

Start to Finish (SF)

Finish to Finish (FF)
8. Estimate the resources, duration, and cost of each task:
Using various tools and techniques, you must plan for the resources required for each task. It would be best if you also drew an estimate regarding the cost of each task.
9. Review and initiate the project plan:
You must carefully review the potential aspects of all the steps mentioned earlier. If any conflict arises, you must take necessary action to eradicate it. When everything is finalized, and in control, you must initiate a business plan draft for further approval and execution.
10. Approval by project sponsor:
Once you are thorough with your business plan, you must present it to the sponsor for approval. For example, he might investigate it to check whether it is realistic, practical, and capable of meeting the desired results.
11. Keeping in sync with milestones and baselines:
Creating and approving a project is not the final action of a well-devised plan. Instead, you must always be in sync with achieving the milestones and meeting the baselines for the effective functioning of the project.
Essential Tips for Building an Ideal Project Plan
Creating a business plan might sound like a daunting task. But with the help of some quick tips, you can easily make one effectively.
Before planning, you must understand the project carefully

Set a realistic goal to be achieved

Identify your clients and key stakeholders

Draft a layout before starting your project

Do thorough research to meet the set goals

Develop realistic tasks

Create schedules and reminders

Set deadlines

Refer to other plans for inspiration

Involve your team members in the brainstorming process

Assign the roles and responsibilities wisely

Don't run after being perfect. You can settle to achieve well.

Identify measurable standards

Measure your project's progress on a routine basis
A Quick Wrap Up
A project plan helps the project manager in many ways. For example, it helps you know and tracks the resources, duration, and activities that go into a particular project. Instead, you can always use a project plan template to help you quickly customize your business plan for more significant assistance.
We have also listed several project plan examples to know where you can apply for expertise in achieving flawless results. So next time, before proceeding with the execution of your project, remember to follow this article and the valuable tips for overwhelming success.