The Internet is blessed with developers and publishers constantly working for gamers and the gaming community. One such accomplishment is the Far Cry 6 game, a successor to 2018's Far Cry 5, the latest title released in the Far Cry game series developed and published by Ubisoft.
As a player, you'll be in for powers to lean into the chaos, the explosions, the wacky battles, and of course, a lot of fun. So let's tune in to have an insight into the most touched aspects of the game: missions, weapons, maps, updates, and much more.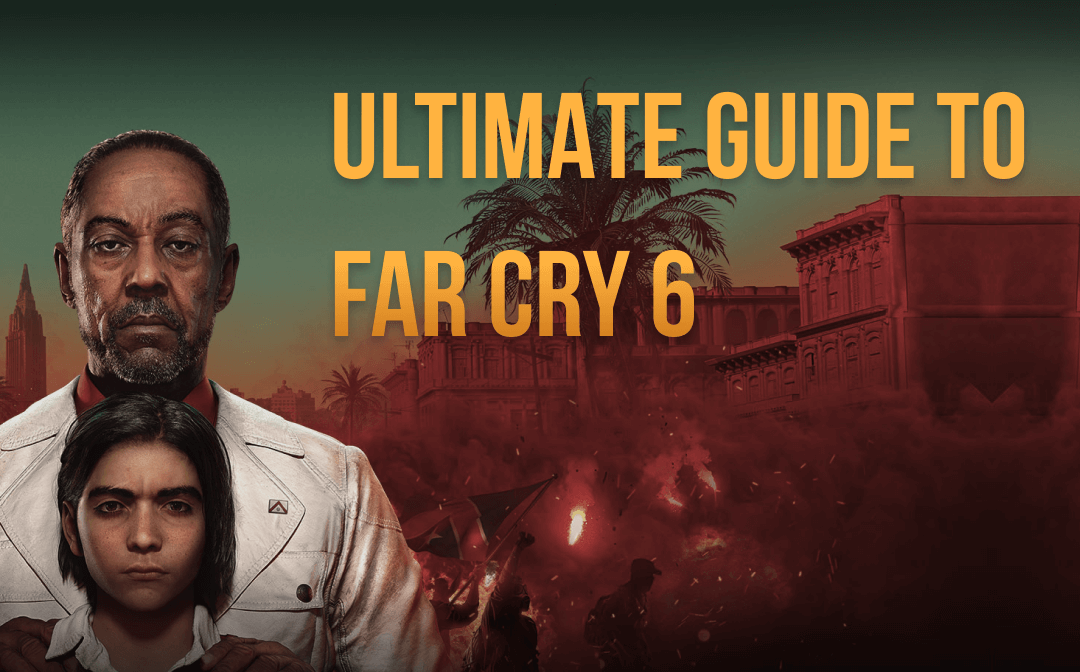 A Rundown on Far Cry 6 Game
It is a first-person shooter game set in Cuba. If you are thinking about the Far Cry 6 release date, the game was released globally on October 7, 2021, for PlayStation 4, PS 5, Microsoft Windows (PC), Xbox One, Google Stadia, Xbox Series X/S, and Amazon Luna, too. Talking about its length, it keeps the players hooked for at least 23 hours.
However, this game is not as long as Fallout 4 or Skyrim, but if you strive to see all the aspects and obtain a complete gaming experience of Far Cry 6, you are likely to spend roughly 57 hours on it. Moreover, it is the longest game in the Far Cry series so you can play it for quite a long time.
You can also choose your main character, Dani Rojas, as a male or female. There are no remarkable differences between the two, except the appearances and voice.
Importance of the Far Cry 6 Map
For any game like Far Cry, maps play a crucial role for every player. Estimated at 34 square miles, the Far Cry 6 map is really huge. Using it, you can track your game progress and share your custom locations with friends. The map aids you in finding and tracing and guides you through the playable areas of Yara, Vaas's Mind, Pagan's Mind, and Father's Mind.
To begin with Yara, you can find the following inputs through the interactive map.
Locations: Area, towns, Guerrilla hideouts, etc.
Find Locations: Ambush, find the base, supply drop, anti-aircraft site, a military checkpoint
Collectibles: Rooster, mythical animal, Criptograma chest and chart, Revolver weapon, Supremo gadget, USB song, and more
Pickups: Ammo, depleted uranium, jewelry box, find the cache, Yaran Contraband, etc.
Services: Helipad pickup, workbench, Juan's weapons, and more
Missions: Gran Premio race, Yaran story, operation, treasure hunt, etc.
Wildlife: Wild Hog, Cougar, Pelican, Hutia, etc.
Fishing: Bass, Permit, Snook, Tench, etc.
An Overview of the Far Cry 6 Missions
Far Cry 6 has 106 missions, broken into three categories- Operations, Yaran Stories, and Treasure Hunts. These missions are spread across Yara's five regions.
Operations (56): For the players who aren't targeting 100% game completion
Prologue
Isla Santuario
Monteros/Madrugada
Máximas Matanzas/Valle de Oro
The Legends/El Este
Esperanza & Isla Del León
Yaran Stories (29): For the players who are targeting 100% game completion
Isla Santuario
Madrugada
Valle de Oro
El Este
Esperanza
Treasure Hunts (21): For players to acquire new gears and weapons
Madrugada
Valle de Oro
El Este
There are Special Operations that do not form part of 106 missions. Instead, they can be completed solo or in co-op and reward lots of Moneda. The players can unlock them by securing Guerrilla Camps and speaking to Lola. You can easily identify them through the blue and white star icons. Also, the Special Operation awards are visible on the selection screen.
Get Hands-on the Far Cry 6 Best Weapons
Weapons add life to accomplish your missions. Yara supposedly covers the largest playable area of approx 12.05 square miles. Although it is filled with a limitless supply of guns and accessories, you must use these best weapons to get very far in Yara.
The game has approx 100 weapons with their own mods, falling into the category of Purchasable and Unique. By far, the Far Cry 6 best weapons are:
SSGP-58
SVD
El Caballero
RAT-4 Rocket Launcher
RPG-7
Supercharger
.308 Carbine
SKS Rifle
Tostador
La Clavadora
Yaran SR-A
Rococo Loco
MS16S
FAL
Best Sidearm: Desert Eagle Pistol
Best Supremo: Medico
Also, after unlocking the first Amigo, players can find Chorizo Far Cry 6 (a Dachshund pup) by petting him at the Montero Farm in Mogote Foothills to recruit him as an Amigo. Chorizo can hunt resources, locate hidden materials underground, heal you and distract enemies for stealth missions.
How to Unfold Far Cry 6 Stranger Things
Stranger Things (The Vanishing Mission) is a crossover mission for all game lovers and Netflix fans that comes absolutely free with the game's DLCs. Before you start with the horror-centric Far Cry 6 stranger things walkthrough, you must complete the tutorial mission at Isla Santuario in Far Cry 6, unlock the guerilla camp, and receive a call from Juan at the base. You can also access it from Journal and Yaran Stories.
The objective starts with heading to Rio de Plata and finding the reason for the disappearance of your guerillas and C-4 shipment. The mission doesn't take over an hour to complete. Instead, you'll be in for stealth horror survival gameplay, new locations, and some mysterious characters, Demogorgon (El Devorador). However, your goal is to find Chorizo and the Yarans (abducted).
Far Cry 6 Walkthrough
However, some missions are really tough. But to complete them successfully, you can use the Far Cry 6 strategy guide and walkthrough to lead you through every step of the game, starting from the title screen to the final credits.
Moreover, the walkthrough sections include the following:
All the collectible locations and sections
Cheats and secrets
Achievements and Trophies
Tips and tricks
Far Cry 6 PC specs and requirements
Boss strategy and much more
How to Obtain the Far Cry 6 Walkthrough
Far Cry 6 walkthrough is downloadable. Using multiple gaming sites, you can find and download treasure locations, DLC mods, maps, guides, and much more to enrich your gaming experience.
Once downloaded, you can easily access these PDF files through the SwifDoo PDF to open and read them without hassle. In addition, you can compile and assemble all your PDF files orderly on your device. You can also edit, annotate and merge the PDF documents using the SwifDoo PDF to access them whenever necessary.
Far Cry 6 Update and DLC
Ever since the game's release in October 2021, Ubisoft has been working on adding new DLCs and updates to increase the game's life cycle. Talking of the current Far Cry 6 updates, the game has added the highly-requested feature of a New Game + mode that will allow gamers to replay the game without losing their accumulated gear throughout their first playthrough.
So now the players can return to Yara and relive their best-loved missions by getting their endgame gears and weapons back in their next playthrough. Also, players will be in for a free trial and a Completionist Aid feature to have guided assistance to uncover Yara's hidden secrets and missions.
Also, Far Cry 6 has three DLCs - Insanity, Control, and Collapse. But the newly-released Far Cry 6 DLC, Lost Between Worlds, is all set to provide you with a new variety of gameplay challenges for USD 19.99. Far Cry 6 Steam is unavailable now, but considering the game's popularity, it could be available in the coming six months or a year.
Far Cry 6 Review
Going by the Far Cry 6 reviews, the game delivers more incredible explosive action and adventure with its insane supply of stories, weapons, activities, side quests, and secrets. It sucks you into its chaotic realm of tank battles and cockfighting.
It is a turning point for a series in transition with murderous wildlife, clearing checkpoints, and much more. Also, Dani's facial expressions are well done, resulting in a more compelling cutscene every time it reacts to the world and its terrors.
Overall the game might not be a revolution, but it does offer plenty of fun to enhance your gameplay experience.
Far Cry 6 PC Requirements
Suppose you are all set to play the much-hyped Far Cry 6 game; ensure your system is supported with the minimum requirements.
TARGET: 1080p, 30 FPS, DirectX Raytracing (DXR) Off
CPU: AMD Ryzen 3 1200 – 3.1 GHZ or Intel i5-4460 – 3.2 GHZ
GPU: AMD RX 460 – 4 GB or NVIDIA GTX 960 – 4 GB
RAM: 8 GB (Dual-channel mode)
Storage: 60 GB HDD (SSD Recommended)
Anything over and above the specified requirements is preferably recommended.
A Quick Wrap Up
Far Cry 6 is a solid entry to the Far Cry gaming series. So focusing on the objectives, it has the caliber to keep you hooked to your gaming consoles for comparatively smaller hours unless you try its DLCs. However, since it has elements of raw violence, raw humor, gambling, drugs, and suggestive content, it is not recommended for minors.
Though the expectations of Far Cry 7 are bleak, and Ubisoft might not turn up with it until 2025. But till then, it will keep you engaged with the updates and DLCs to relive your Yaran playthroughs with more robust returns.