Everyone who has ever used a search engine knows that PDFs also sometimes pop up on the search engine results page (SERPs). This often happens during searches for academic publications, ebooks, journals, etc. If you are already uploading PDF documents online and they are not appearing in search results, then they likely need proper indexing. But you will need more than that to optimize your documents.
For one, Google bot indexes PDF files like regular web pages, but only if you understand how to make your documents search-engine-friendly. Also, there are millions of similar files on the internet. Even after you get yours uploaded, you still need to consider incorporating SEO for PDF to boost its visibility and help more people find it.
This article will explore the best ways to create PDF files that Google loves so that they will be displayed higher in SERPs when you search in Google.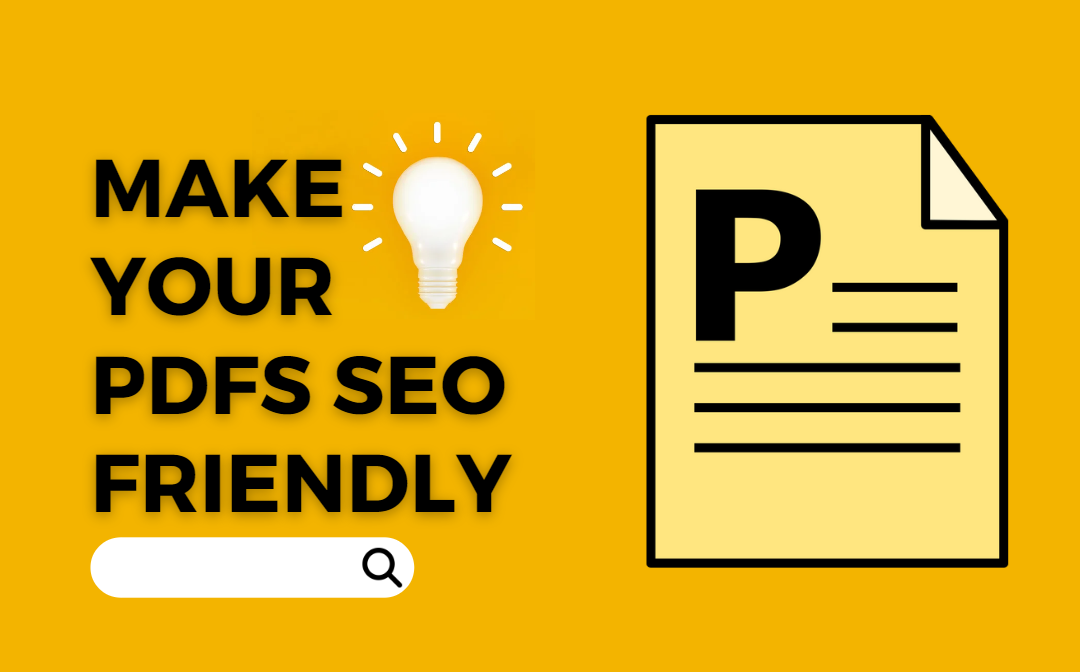 Importance of PDF Search Engine Optimization
PDFs are a standard, secure, portable, and convenient way to store and share information. This is especially true for reports, whitepapers, legal contracts, etc. While it's true that some SEO experts recommend other more search-friendly file formats, it doesn't mean that you shouldn't bother with SEO for PDFs at all.
Since 2001, Google has indexed millions of PDF files, some of which have ranked higher than regular web pages. This is what proper PDF search engine optimization can do.
Optimizing your files to be easily discoverable and drive traffic to your site is possible. Think of it like niche-related blog posting, where not everyone will have the same interests as you. Yet, with the right SEO techniques and good link-building, you can expand your audience and even build a community for people like you. Besides, PDF search engine optimization can turn your documents into valuable linkable assets that boost search rankings.
How to Make a Google Searchable PDF for Beginners
There are many good suggestions for creating a Google searchable PDF document that pops up at the top of search results. Here are some tips you can use right away.
SEO-Friendly Title and Name
The first step towards a Google searchable PDF is to use an SEO-friendly title and name for the file. Include the primary keywords in the first part of both. This makes it index-friendly and provides context about the document.
Besides, with the right keywords, you increase its chances of appearing during searches for that phrase. Ensure that the keywords for each page are unique to avoid cannibalization. Remember to use underscores or hyphens in the name instead of spaces. Keep the filename between 50-60 characters and the title between 55-70, and try to match the URL with the title.
More Text-Based PDFs and Less Image-Based Files
Today, tons of online software and desktop, iPhone, or Android PDF editor tools make creating and editing PDFs easy. While it's pretty cool that technology has made it possible and convenient to turn pictures of files into PDFs quickly, the truth is that there are still some limitations with image-based files. For one, it is easier for the search engine to access and index your text-based PDF. So, for better results, opt to use the text formats.
Accurate Metadata
Accurate metadata is an essential aspect of SEO for PDFs. It helps make your document easily identifiable and provides vital contexts about the file for humans and search engines. Ensure that the meta descriptions like title, author info, subject, and other required information are correctly filled. Insert keywords in strategic places to help the ranking factor and show up in a Google search for PDFs.
Compress Files for SEO Rankings
Often, people are surprised to find that their large files are not SEO-friendly. This is because they can take a long time to load, and faster load times are essential to search engine rankings. A good tactic of SEO for PDF is to compress your documents, as this will make them load faster.
Thankfully, many free software on the internet will do the job without compromising the quality of your file. Plus, you can use Google Search Console to track the performance of your PDFs. It only takes a few minutes to read more about it if you don't know how to use it.
Turn Your PDF Into a Link to Your Website
It's no news that many websites use PDFs (e.g., cheat sheets and checklists) during link-building to earn backlinks and boost search rankings. You can do the same. One way to make your PDFs rank and turn them into a linkable asset is to link them to your website.
This signals to the search engine algorithm that the file is highly valuable and increases its indexability. This way, it shows up on search results pages when users type in the relevant keywords. You should also embed links that lead to relevant pages on your website.
Take Time to Optimize Your Content and Layout
You will find that it is easier to get information on how to optimize your web content than on how to create Google-searchable PDFs. For example, AdsTargets recommends prioritizing SEO optimization aspects like keywords, mobile responsiveness, and structure.
But some of this advice also works for PDF files. Just like regular websites, optimizing your PDF files can help to improve Google-friendliness. To enhance SEO for PDF, you must consider the layout, font choice, styles, and images used, if any.
For example, some experts recommend Times New Roman and other similar easy-to-read fonts. Since most PDF readers use standard fonts, you should use the same ones for better readability across many platforms and screen sizes. Also, keep the style simple and utilize high-quality vector-based images. Remember to include alt-texts for the pictures.
Conclusion
Working on SEO for PDFs may seem challenging. Yet, as this article shows, PDF search engine optimization is doable once you know the right tips and tricks. Your goal should be to make documents that both humans and search engines will understand and love. Use the steps shared today to optimize your PDF files for better search rankings.