According to Statista, TikTok has been downloaded over 3 billion times worldwide as of mid-2021, and users spend more than 850 minutes per month on TikTok. With more than 1 billion monthly active users, TikTok has become one of the most popular social platforms in the world.
Have you ever thought about uploading TikTok videos to other applications? Besides TikTok, there are also many video-sharing platforms, such as Instagram Reels, Facebook Reels, YouTube Shorts, etc. If you want to reshare the TikTok videos on other platforms, you need to remove TikTok watermark in advance.
So, how to remove TikTok watermark? You may be puzzled before asking for help from Google. Fortunately, this post offers several helpful ways to remove watermarks from TikTok for free on all operating systems.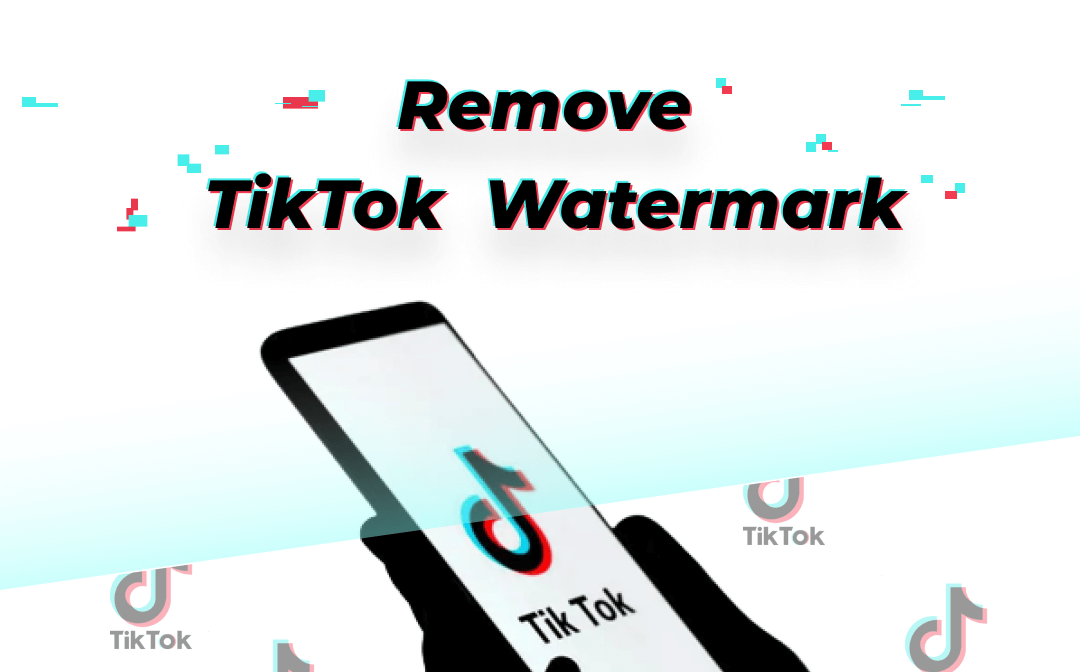 What is a TikTok Watermark?
A TikTok watermark is a text that contains the TikTok logo and the username of the video creator, which is superimposed onto the uploaded videos. Usually, the watermark will be on the top left or bottom right corner of the video.
Watermarks can protect the video from being stolen and guarantee the copyrights of the video owner. In addition, it's easy for users to find the video creator by searching for his/her username on TikTok with the help of watermarks.
How to Remove TikTok Watermark for free?
There are many workable methods to remove watermark from TikTok. In this article, three major ways to do so are presented thoroughly:
Crop the watermark out of the video directly
Use a dedicated tool to remove the watermark
Download TikTok videos without watermarks
For the first two ways to remove watermark from TikTok, you need to save TikTok videos in advance.
How to save TikTok videos?
When opening a TikTok video, click the "Share" icon, and a new pop-up will appear at the bottom of your screen. Find "Save Video" and press it to save the TikTok video to your phone easily.
Crop the watermark out of the video directly
This is the easiest way to remove TikTok watermark on a mobile device. Follow the steps below to remove TikTok watermark for free:
Step 1. Open the video with the Photos app;
Step 2. Click Edit in the upper right corner;
Step 3. There are four icons with different features at the bottom of the video. Click the fourth one, which is used to crop the video. Then crop the watermark out of the video;
Step 4. Click Done to apply the operation.
Note: Albeit this approach is the simplest one, it's not that perfect. Cropping the watermark from a video will change the video's aspect ratio. In addition, it only applies to videos where there are no important elements around the watermark because this part will be cropped out.
Use Watermark Remover Tools
There are many specific tools designed for removing watermarks from TikTok videos directly. By this means, watermarks on TikTok videos can be easily removed.
Here, we are about to introduce you to a free TikTok watermark and logo remover, Media.io TikTok Watermark Remover. Released by Wondershare, it's an entirely free tool that is available on all devices, including Windows, Mac, Linux, iPad, iPhone, and Android. It also offers an online version, so you don't have to download it if you only use it once.
Quick steps to remove TikTok watermark with the online version of Media.io TikTok Watermark Remover:
Step 1. Navigate to the TikTok Watermark Remover page and click Upload Videos Now;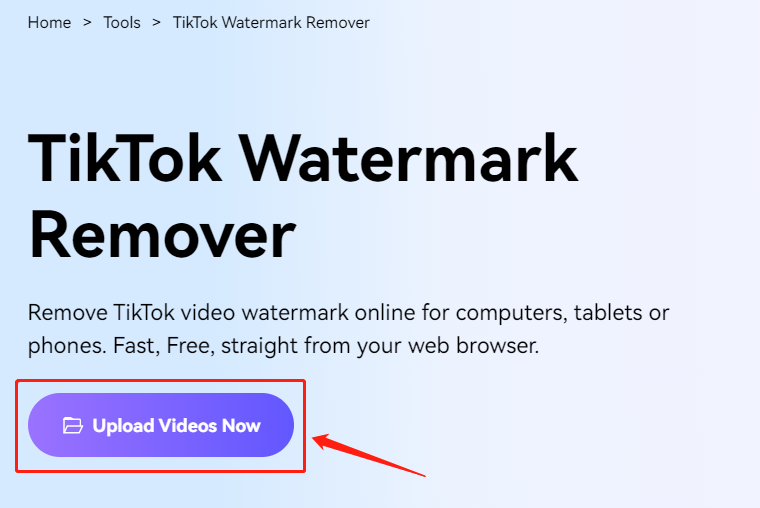 Step 2. Upload or drag a video to the operating area;
Step 3. Click Add Area to select the watermark area. You can remove all watermarks once by adding multiple areas;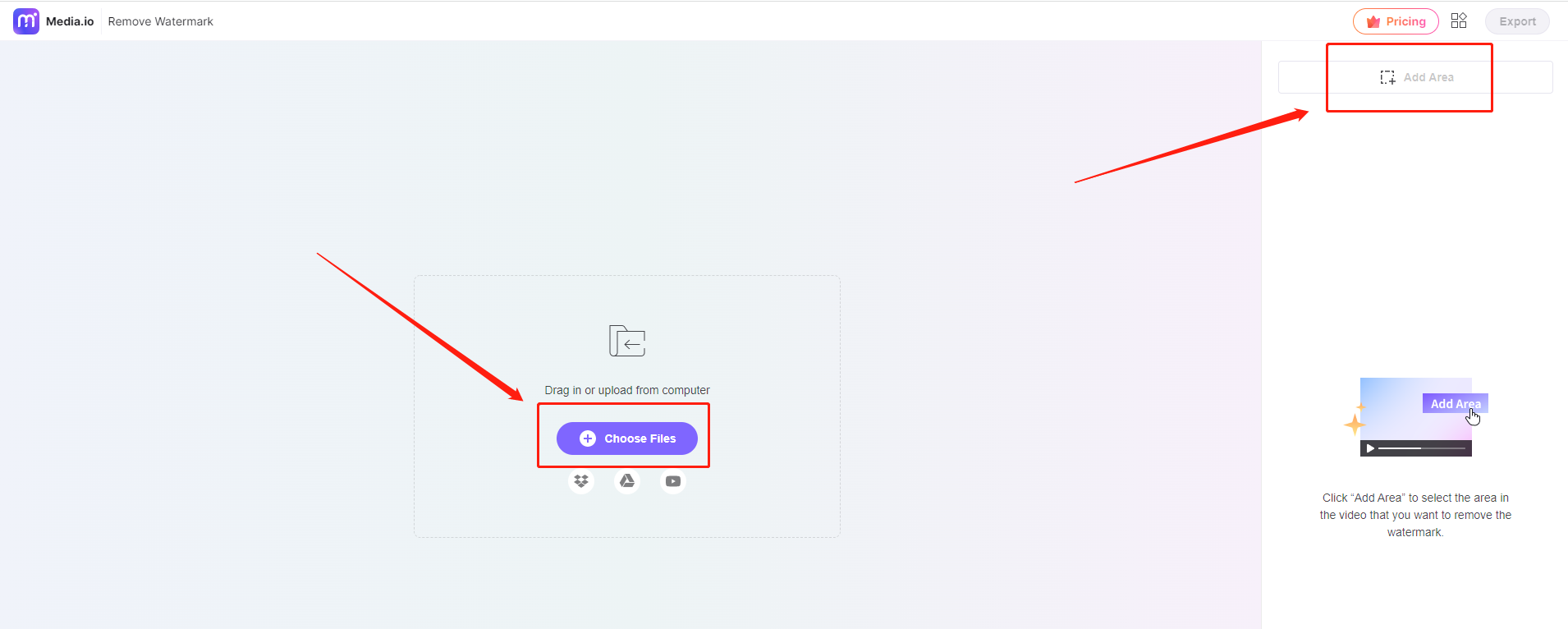 Step 4. Click Export to save your watermark-free TikTok videos.
Note: Media.io TikTok Watermark Remover also supports uploading videos from Dropbox, Google Drive, and YouTube directly.
With the help of Media.io Watermark Remover, you can easily remove TikTok watermark online for free. It can also be used to remove videos' watermarks for other media platforms.
Download TikTok Videos without Watermarks
The first two approaches require users to save TikTok videos first and remove the watermarks with a dedicated tool. However, the third way of removing watermarks from TikTok videos is much easier, that is, downloading TikTok videos without watermarks in the first place.
SnapTik is an online tool to help you download TikTok videos without watermarks for free. Besides the online tool, SnapTik is also available on Google Play for Android, but it hasn't released an iOS version yet.
Download TikTok videos without watermarks by SnapTik:
Step 1. Open TikTok and copy the video link, then go to the SnapTik page;
Step 2. Paste the video link to SnapTik, and click Download;

Step 3. It offers you three different downloading paths. Click one of them to download the TikTok video.
By using SnapTik, TikTok videos without any watermark have been downloaded successfully. You don't need to worry about how to remove TikTok watermark anymore.
SnapTik requires no fees and is easy to use. The only annoying point is that there are some ads. If you don't mind advertisements, SnapTik is perfect for you.
The Bottom Line
When uploading TikTok videos to other media platforms, it's essential to remove TikTok watermark. We've offered three ways to remove TikTok watermarks in an efficient manner.
While it is easy to remove watermark from TikTok, please don't publish other people's TikTok videos because it is not officially allowed by TikTok.