In 1978, Micronet. Inc., an automated office equipment company, first uses the term "The Paperless Office" in commerce. It's easy to understand what it is. However, how much do you know about it? Do you know how to run a paperless office?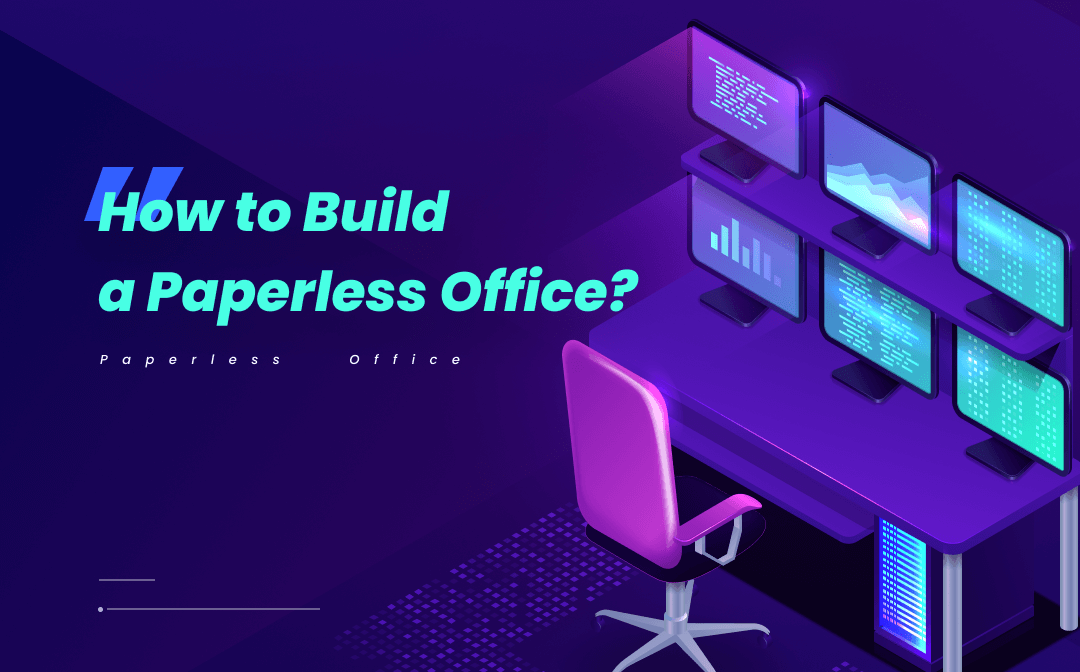 What is a Paperless Office?
As its name suggests, a paperless office, also known as a paper-free office, is to work in an environment that greatly eliminates or reduces the use of paper. The reduction in paper usage is also a step toward digitalization. Running a paperless office means storing files in the "cloud" as well as receiving and sending files via email. There's no need to print or archive them on paper.
What are the Benefits of Paperless Office?
Here are the major benefits of running a paperless office:
Save Money. When using paper documents at work, you will require printers, filing cabinets, shelves, and other related accessories, which will raise the cost accordingly. However, since paperless offices use very few paper documents and all processes are completed online, you spend less and less on paper. Albeit the cost of a single piece of paper can be ignored, it makes a difference when millions of paper documents are created. You cannot brush aside the cost, for sure. Paperless workplaces, on the other hand, employ extremely few paper documents and complete all procedures online, so you end up using less paper.
Boost Productivity. By going paperless at work, enterprises can share resource information and collaborate on work efficiently, so that complex and heavy work can be made easier with just a few clicks. This working mode greatly improves work efficiency and reduces your burden. You can digitize the entire workflow and have more time to focus on more meaningful work instead of searching for documents.
Save Space. A paperless office means using electronic documents to replace paper documents. With electronic files, you only need enough disk space on computers, and many of them are not too large. For paper files, however, you need filling cabinets to accommodate them. On the other hand, the pile of paper documents is too heavy.
Protect Environment. A paperless office uses very little paper when working. As we all know, paper is made of wood. The more we use paper, the more trees need to be cut down. For this planet and human beings, trees have many benefits. They produce oxygen, store carbon, stabilize the soil, and so on. That's why people keep planting trees every year.
Share documents and information easily. The traditional way of sharing documents and information is to send them by mail or fax, which is time-consuming and wastes paper if there are any typos or mistakes in the paper documents. If you adopt a digital office, you can share files with just a few clicks. It only takes a few seconds to send the file to the recipient.
Keep personal information more secure. By going paperless, you don't need to store files in filing cabinets anymore. This traditional storage method can easily leave those documents vulnerable to theft. The new way of cloud-based project management can help you store all your files with advanced passwords. Normally, these programs have the greatest security protocols in place to prevent files from being stolen. Document security may be considerably enhanced in this manner.
How to Achieve Paperless Office?
Going paperless is never a simple thing for companies that are used to traditional ways of working. They had been using paper to power their business processes for a long time, and the sudden shift was not a breeze.
Here are 3 easy steps for building a paperless office:
1. Reducing Printing
One of the indispensable materials for printing is paper. As we need to go paperless, we can reduce the use of printers from the beginning and promote the use of easy-to-share file formats, such as PDF. In addition, when there's a need to send notices to the public, you can choose to use electronic documents instead of paper. By this means, the cost of paper and ink is also saved. Once all employees are accustomed to this way, the use of printers and paper will decrease, speeding up the transition to a paperless office.
2. Using Paperless Office Software: Electronic Signature
Electronic signatures provide a way to sign your name on electronic files using a touch screen and dedicated tools. They are highly efficient and time-saving. Using e-signature software eliminates the need to print files on paper. You can easily complete this process with a specialized tool to open the document and sign it with an electronic pen. Some software is capable of protecting the file and tracking the source of the signature, as well as the signer's details.
3. Digitizing Everything
To achieve a paperless workplace, you'll need to digitize all the procedures and paper documents you'll come across while working.
In other words, you may need a professional document management program like SwifDoo PDF to go paperless. It helps you scan all data from paper documents with the built-in OCR technology and store them as digital files.
Digitizing documents means using PDF scanners to extract all the information and convert paper documents to PDF in just a few seconds. Though it takes time to proofread and sort different files, once they are processed, it only takes a few seconds to find and share them. However, if one insists on using paper to store files, it will take a long time to find the document every time you need it.
Besides, it is also important to send emails instead of letters. Sending emails requires only an email account and the Internet, and the messages sent and received can be saved indefinitely. If you are writing letters, you will squander roughly 90% of your time and find it impossible to discover the information you need in a sea of letters. However, with emails, you only need to type in the keyword(s), and the matched results will be provided seconds later.
The End
By achieving a paperless office, you can save both time and money to a great extent. For entrepreneurs, fewer costs mean more profit, and the time saved can be used to create greater revenue. You can also adapt to going paperless by adopting a more modern and collaborative way of working. In addition to the benefits for businesses, the paperless office also has an enormous impact on the entire society because it is environmentally friendly and highly efficient.
Of course, we cannot deny that there are also some drawbacks to running a paperless office. For instance, people will easily get tired when reading on electronic screens, the high cost of advanced equipment, and so on. But they shouldn't be the reason to stop you from going paper-free!
Take an action from now on! The paperless office is an inevitable trend!