Before embracing the new opportunities, you should make sure to settle the older ones carefully. Everyone loves financial independence. But often, circumstances arise when you have to resign from your jobs. Whether you are happy to embark on a new journey or sad to leave your uncountable memories behind in, either way, you need to draft a resignation letter to announce your decision formally.
Although you can choose to resign anytime without stating the reason for your resignation, you must always take considerable time and thought to maintain professional relations and retain their warmth for an unforeseen future. It is a part of the basic courtesy and professional etiquette to write a letter of your resignation stating your intention of quitting your job.
Irrespective of the circumstances for your departure, you can craft a decent letter for resigning from your job with the help of a resignation letter template. Here we will be enlisting all the possible scenarios where you can write a letter for leaving your job position with a different resignation letter example to suit one. But before that, let us quickly check what a resignation letter is and when you should write it.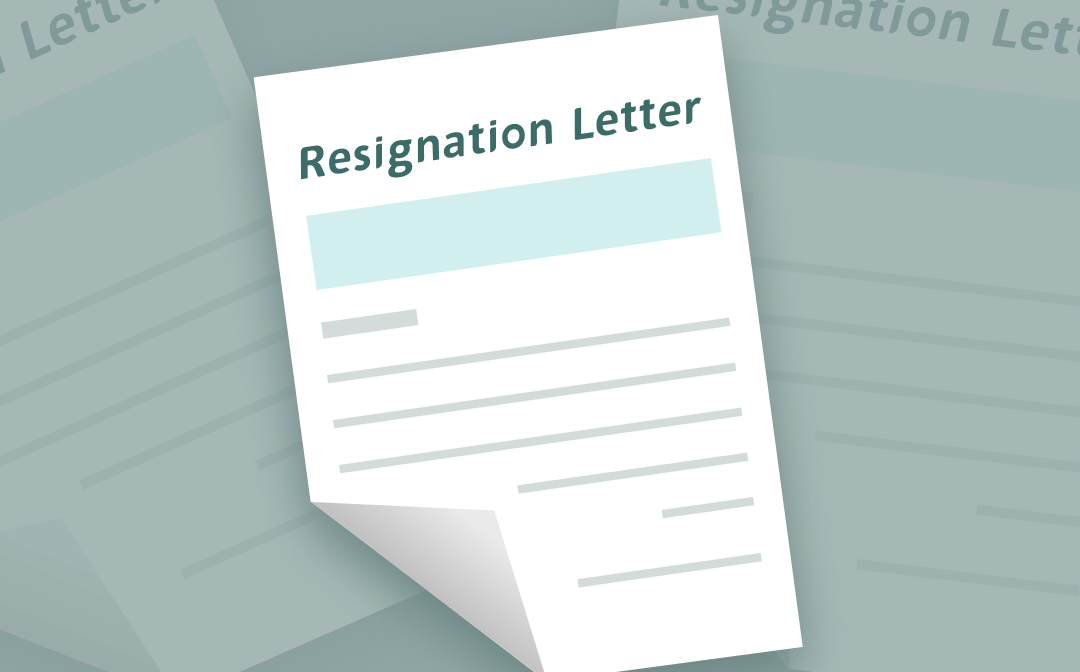 What is a Resignation Letter?
Simply put, a resignation letter is a formal way of quitting your job. It is a part of an official procedure where an employee drafts a letter stating that he will no longer work for the current post or in the current organization.
Drafting a formal letter before resigning from your job helps the organization take necessary actions in due course. It also helps build a positive and harmonious relationship with the employer, securing your chances for a letter of recommendation comparatively high.
Multiple Conditions Following a Resignation Letter
Nobody intends to resign from a well-settled and stable job unless the circumstances provoke one to take such necessary action. Whether planned or unplanned, any situation can arise anytime that provokes your need to draft a resignation letter.
Some situations that may need you to resign from your job include:
Career change
Transfer of spouse or family member
Maternity or paternity leave
Travel and commute issues
Board resignation
Poor health and stress
Resuming education or studying overseas
Career growth
Retirement
Company environment
Unethical work practices
Personal or family reasons
Low salary and poor employee benefits
Resignation Letter Template
A resignation letter template can help you customize and tailor your own letter of resignation. A few websites that can assist you in downloading these resignation templates online include:
Michael Page
Resume genius
The balance careers
Seek career advice
Corporate finance institute
The Muse
Total jobs
Acas
Careers NZ
A resignation letter template is generally in PDF format, and you may need professional PDF reader tools like SwifDoo PDF software to open and read such templates. In addition, it can edit many different languages and convert the Word file of your resignation letter to a PDF format.
With SwifDoo PDF Reader, you can create and edit your letter anytime and add your digital signature electronically when you deem fit. This software also helps you to protect the privacy of your resignation letters.
How to Design a Resignation Letter Format
With the help of a resignation letter template, you can create a customized letter to leave your job with prior notice.
Write your contact information:
You should begin your letter by writing your full name and address at the top in the center of the page.
Add the date:
Next, you need to add the date you resign from your job under your address left-aligned. This date helps HR to commence your notice period.
Include the company's address:
Under the date, include your company's address in the below-stated format:
Company's name
Company's street address
City and zip code
Address the letter to your boss:
Generally, you should address your resignation letter to the manager, but you can also address it to the team and company. Include a salutation like Mr / Ms or Dr and write their first or last name depending upon your relations with each other.
Get straight to the resignation point:
You need not build up a story or an explanation to state your resignation. State that you are resigning from your job.
Mention the date of your resignation:
Ensure to mention the date of your resignation in your letter. Preferably it should have a two weeks margin unless in exceptional cases.
State your reasons for resignation:
Though it is optional, you can always choose to state your reason for resigning from your job. Sometimes general reasons make place for themselves to be listed in the letter, but unhealthy reasons are better avoided before they raise a controversy or conflict.
Thank your employer:
It would be best if you always concluded your resignation letter b:
Thanking your employer/ manager
Recognize how the company helped build you opportunities
Help with fruitful recommendations and transition process
Express your desire to keep in touch
Include your signature:
In submitting a hard copy, you can place your signature right above your name. Your name is essential for submitting a written or soft copy of your letter.
Resignation Letter Example
Based on your job and reasons, there could be many ways by which you can state your resignation. Some of the famous examples of a resignation letter example are listed below:
Based on Job Title:
Teacher
Pastor
Nurse
Chef
Volunteer
Police officer
Based on Time:
Immediate resignation
24 hours
Two weeks notice
Part-time job
Short notice resignation
Based on Format:
Simple resignation
Formal resignation
Heartfelt resignation
Based on Reasons:
Personal reasons
New career opportunities
Toxic company environment
Job dissatisfaction
Voluntary resignation
Vital Rules to Follow Before Writing a Resignation Letter
Some rules that you should follow to write a professional resignation letter to maintain your grace and integrity include:
Always talk to your manager stating your resigning decision before drafting your letter
Settle for a one-page and to-the-point resignation letter
Keep your letter simple
Remember to thank your employer and organization for the work opportunity
Give at least two weeks' notice before resigning
Firmly state to help with your duties until your due notice period
Always write your letter on a positive note
Be professional in framing your letter
State your last working day clearly
Offer to help with the transitions
Always proofread your letter before the final submission
Submit the hard copy and a soft copy of your letter
Prefer to seek legal advice
Additional Do's and Don'ts Practices Concerning Your Resignation
Some unstated rules exist to maintain professionalism and your name in the company's good books for eternity. But we are stating those rules, so you can be careful with your resignation process.
Do's:
Discuss your final employment details
Help find your replacement
Provide a substantial notice period
Arrange your desk and wind up the personal affairs
Don'ts:
Avoid criticizing your employer and the organization
Don't avoid discussing the transition plans
Don't back out from serving your notice period (unless you asked)
Don't boast of new opportunities
Don't spread rumors
Don't persuade your peer mates to resign their jobs
A Quick Sum Up
A resignation letter served well in time is genuinely approved. But it would be great if you always took enough time to think about your decision wisely. Once you are thorough with your decision, you can move forward with drafting a letter of your permanent leave.
You should always take the help of some resignation letter template to form proper formatting for a business resume. No one ever opposes a well-crafted letter. However, you can always follow the essential tips to customize your letters to serve the best of your needs.
Whether you are a student or a full-time employee, a resignation letter example can help you know the scenarios when you can write an official letter stating your intent to quit.