With a 75% market share, Windows is one of the most used operating systems. Despite how supportive it is, it's common for Windows users to encounter many errors in daily use. Out of all problems, error code 0x0 0x0 may be the most common one that Windows users will run into.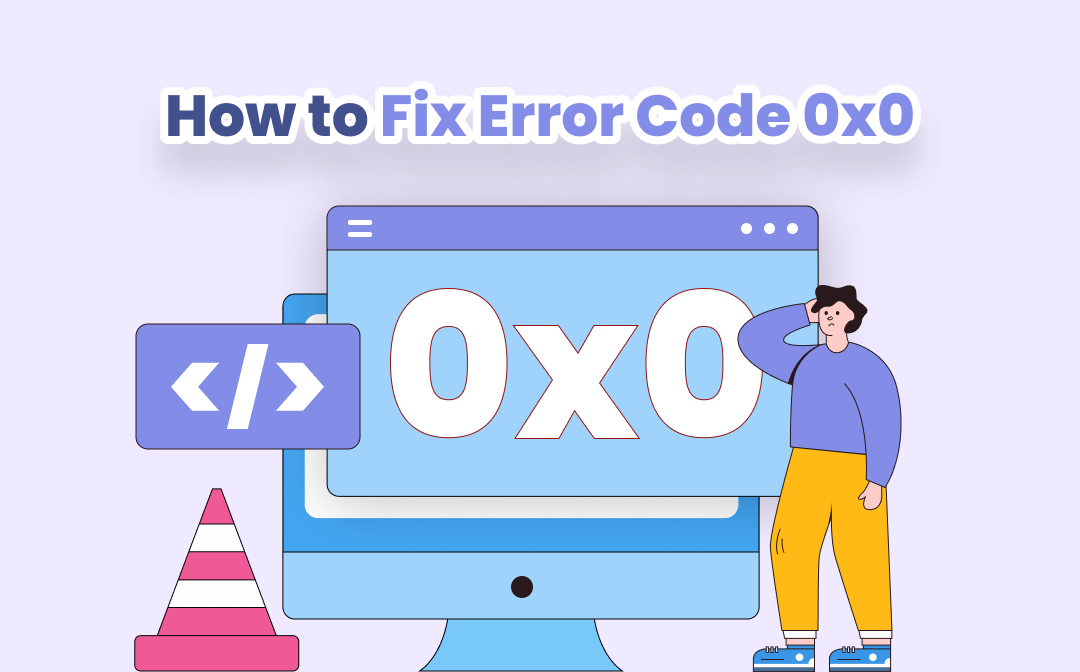 What Is Error Code 0x0 0x0?
The full name of Error Code 0x0 0x0 is Runtime Error 0x0 0x0, which means there's a malfunction in the operating system. If your computer has a 0x0 0x0 error, it will lead to a blue screen of death.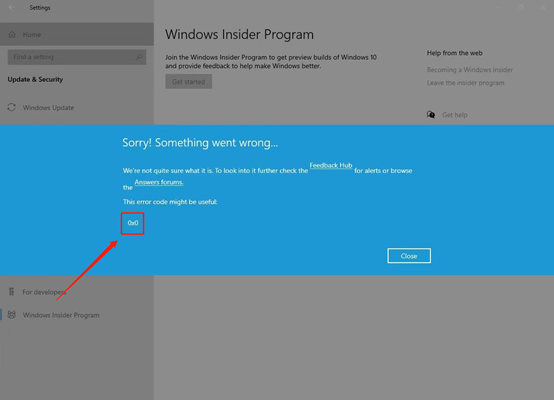 It is indeed alien to Windows users, and it may be complicated to fully understand it, but it doesn't matter. This post will give you a brief introduction to the causes and solutions to this error.
What Causes Error Code 0x0 0x0?
Many factors contribute to this error, and we have listed several possible causes in this part. Check the points below to find out the common reasons:
The computer shuts down by accident.
Users delete system-essential files by mistake.
There is a missing part of the registry on the system.
The computer has been invaded by a virus or malware.
Incomplete installation and uninstallation of any software.
How to Solve Error Code 0x0 0x0?
Don't panic about the possible causes. We have offered you five easy ways to solve the error code 0x0 0x0. Keep reading; you will find it's easy to restore your system.
#1. Clean up the disk
If you have used a computer for a long time, it's not strange that there are junk data and unnecessary files on your disk. They may slow down the Windows system and overload the hard drive, leading to the error code 0x0 0x0.
You can use the built-in tool, Disk Cleanup, to clear out the unwanted files on the target disk. It will scan the disk that you have selected and list all the additional files you may want to delete. When you click a file, there will be a description in the lower part of the pop-up window, which helps you fully understand what the file is.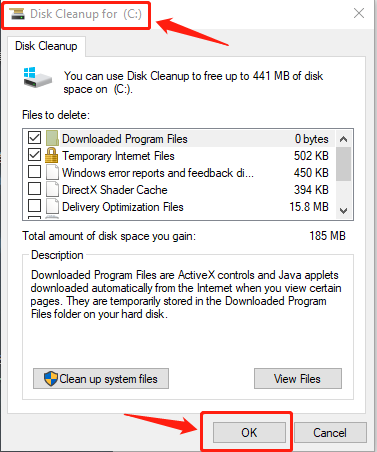 #2. Close all programs
If you're not sure which program is going wrong, you can choose to close all programs.
Follow the below guide to know how to close them:
Press Win+R to open Run, input MSConfig and click OK to access System Configuration. Click Service, leave Hide all Microsoft services on, then Disable all.
Usually, the error code 0x0 0x0 problem has been solved now, but you need to reopen the programs one by one to find the wrong one, and then uninstall it.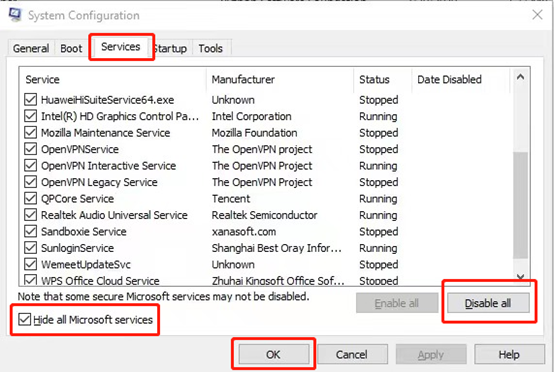 #3. Update to the latest version
New versions always provide high-level security patches that can repair common errors in systems. If there's any update, it's highly recommended that you download and install the latest Windows version. You may have "error code 0x0 0x0" solved easily by this means.
#4. Using a third-party tool
By downloading and using a dedicated repair tool, you can solve many problems on your computer. There is a lot of useful software on the market which can be used to scan and repair any errors with one click. For example, Outbyte PC Repair is a comprehensive computer repair tool, and it is fully compatible with Windows 11/10/8/7.
#5. Reinstall Graphics Driver
A graphics driver is a program to control graphics components and work well with the rest of the parts of your computer, like monitors. If the graphics driver goes wrong, you need to remove it and install a new one.
The End
Now you have a clear idea of how to solve error code 0x0 0x0. You can try the methods that are mentioned in the article yourself. Hopefully, this post will give you a hand to fix the error code 0x0 0x0 issue. Of course, you can subscribe to SwifDoo PDF to keep pace with the newest technology news and how-to guides easily.