In October 2021, Microsoft launched Windows 11, the most recent major release of its Windows NT operating system. Compared with Windows 10, Windows 11 has made great improvements both in its performance and appearance.
Though Microsoft claims that Windows 11 offers users the highest level of security, It's still not as welcome as Windows 10. By April 2022, Windows 10 remains the most popular Windows version in the US with 78.35% of users, followed by Windows 11 with 10.55%. Windows 11 is not even as popular as Windows 7 all around the world, as its installations reached just 2.6%.
Can I go back to Windows 10 from 11? You may have this question if you've been using Windows 11 for a few days while still not enjoying it.
If you upgrade your operating system to Windows 11 accidentally and find it less satisfying, it's necessary to learn how to downgrade from Windows 11 to 10.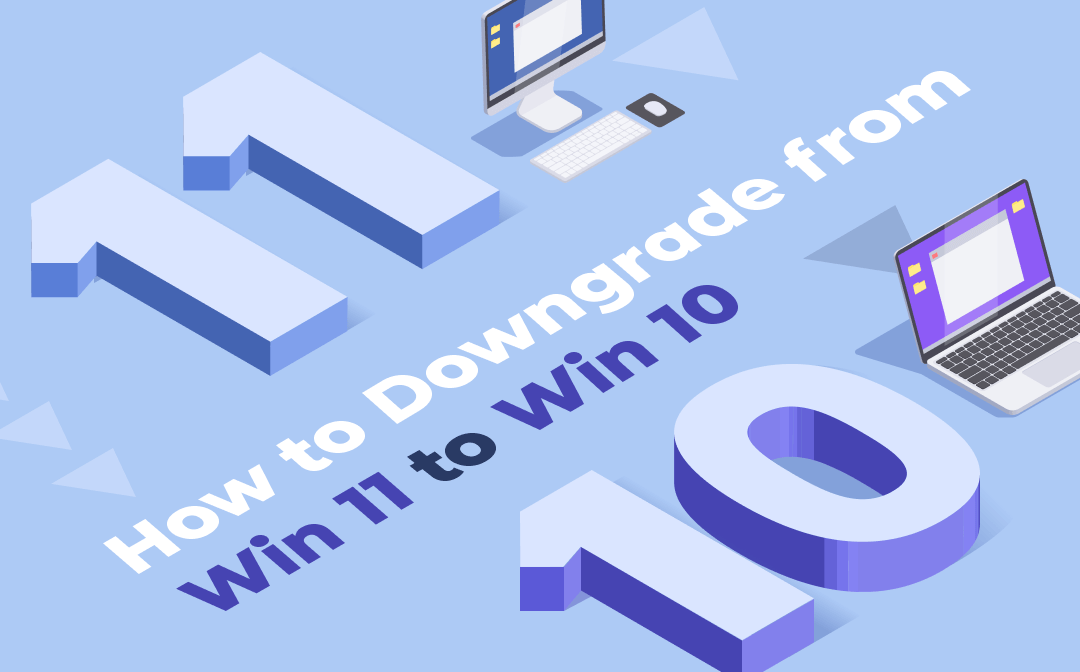 Three Solutions to Downgrade from Windows 11 to 10
According to Microsoft's official, it allows users to go back to Windows 10 with its built-in tools within 10 days. If you've been uploading Windows 11 for over 10 days, the downgrade process will be much more difficult.
Here are three ways to downgrade from Windows 11 to 10. Feel free to choose your favorite one!
Solution 1: Use Built-in Settings
With this approach, you can only downgrade to Windows 10 within 10 days after upgrading.
Step 1. Open Settings on your PC;
Step 2. Select System in the left navigation bar; then choose Go back;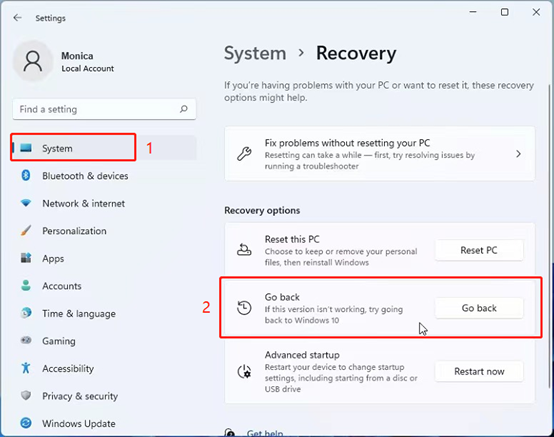 Step 3. There would be a pop-up window to make sure that you want to go back to Windows 10. You can select a reason and click Next;
Step 4. A new pop-up window will appear that asks you to check for updates, you can click No, thanks to downgrade your Windows system;
Step 5. A series of windows will show up to inform you of the must-know message. Just click Next until there's a pop-up that shows Thanks for trying Windows 11. Now choose Go back to Windows 10.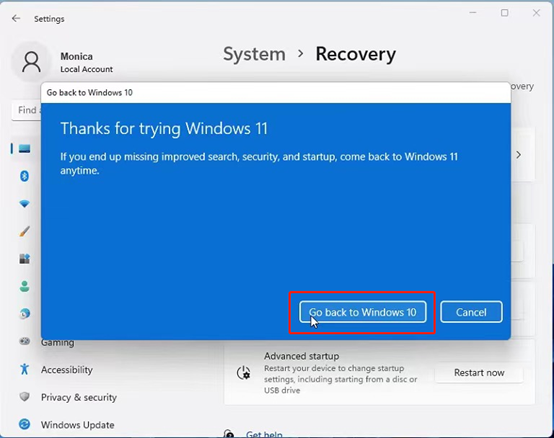 The computer will be rebooting, and it takes a while to downgrade from Windows 11 to 10.
Note: Theoretically, your files stored in the system won't be deleted by this means. However, it is also recommended that you should back up all your files in advance to prevent them from being lost due to improper operation.
Solution 2: Use Uninstall & Updates Function
With an output command, you can also only downgrade from Windows 11 to 10 within 10 days after you have installed Windows 11.
Step 1. Input Restore in the search box and select Restore option;
Step 2. Click Restart now in Advanced startup to access the Windows Recovery Environment;
Step 3. When entering the recovery environment, hit Troubleshooting, then select Advanced Options;
Step 4. There will be a new pop-up window. Click Uninstall updates to get Windows 10 back.
Solution 3: Reinstall Windows 10
If using Windows 11 over 10 days, you're not allowed to roll back to the former version with the above two methods. Under these circumstances, you need to clean the current Windows operating system and reinstall Windows 10. Before this operation, be sure to back up your files.
Step 1. Go to Microsoft's Download Windows 10 page;
Step 2. Find Create Windows 10 installation media and click Download tool now;

Step 3. Install and launch the downloaded MediaCreationTool.exe file and leave Microsoft's software license agreement on;
Step 4. Select Upgrade this PC Now, then click Next > Accept;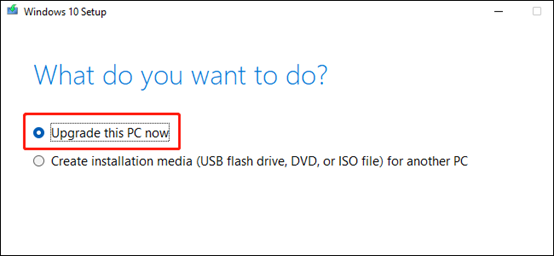 Step 5. There will be a new pop-up asking you to choose what to keep. You need to pick Nothing at this step and click Next. Select Install at the final step.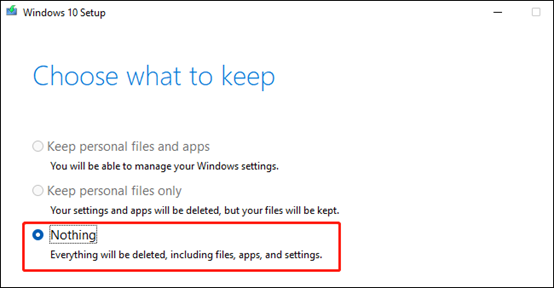 After these five steps, your device will reboot to install Windows 10. By this means, you can also downgrade your operating system from Windows 11 to Windows 10 smoothly.
Downgrading to Windows 10 from Windows 11 is not that difficult because there are many workable and simple ways. As for the time limits set by Microsoft officials, it's better to complete the downgrading within ten days since there are built-in tools to finish this process.
Besides these three methods mentioned above, you can also install Windows 10 from USB, especially for more than one device.
The End
Windows 11 was released not long ago, and it's quite understandable that there may be some bugs or errors when operating. Apart from downgrading from Windows 11 to 10, you can also wait patiently and give it time to mature. Microsoft is still working on improving Windows 11, and the user experience will be enhanced in the near future. By the time the next version is released, Windows 11 will definitely be smoother and more powerful.