Bingo will surely top the charts if anyone makes a list of the best indoor games with unlimited players. But, of course, nothing can match the charm of the classic Bingo game, but you can add a fun element by modernizing and customizing it to your audience's needs.
A Bingo template can further assist you in printing the readymade sheets within no time. Instead, you can edit them to customize them according to your requirements.
Suppose you are a novice or haven't played Bingo in a long time. In that case, here we are covering you with all the insights on this game. So next time anyone says 'Bingo,' do not forget to count yourself in. But before you start playing, let us quickly check what it is and how you can play it with a modern touch.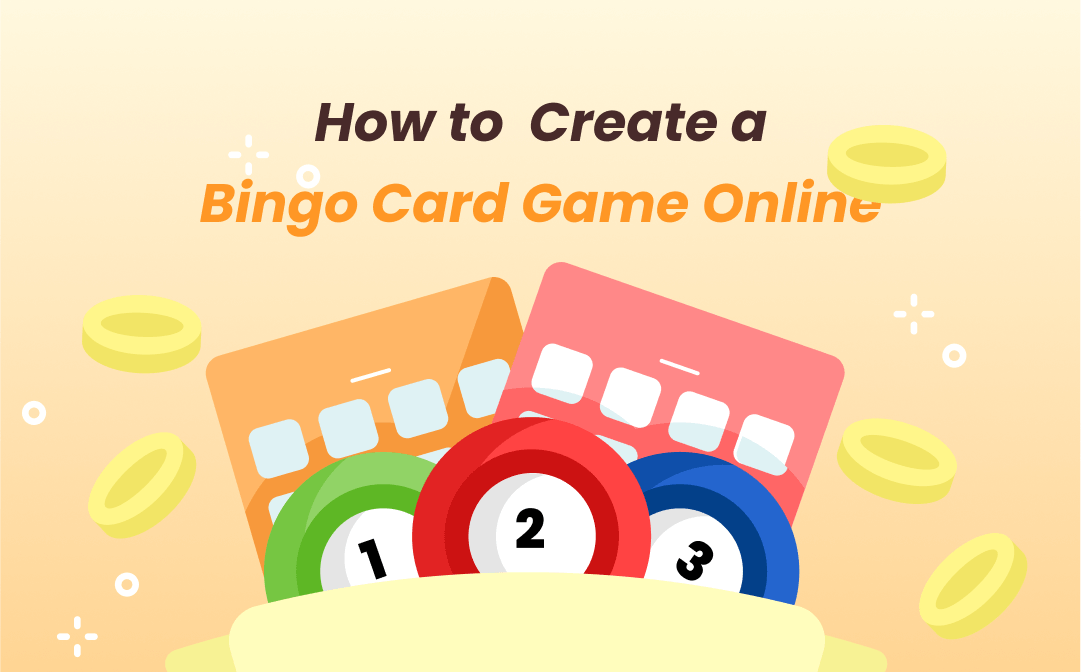 What is Bingo?
Bingo is a card game consisting of a ticket with 25 blocks and 24 numbers set in an arrangement of a grid of 5 x 5. The center block is either blank or includes the words' Free Space.' Traditionally, it is played with 75 balls. The significant part is that it does not limit the number of players— in fact, the greater the number of players, the greater the level of fun and excitement.
The numbers in BINGO are placed in a set columnar arrangement, where
● B: contains numbers 1 to 15
● I: contains numbers 16 to 30
● N: contains numbers 31 to 45
● G: contains numbers 46 to 60
● O: contains numbers 61 to 75
The host (i.e., Caller) calls out the numbers in funny rhymes, and the players must cover the number with a bingo chip or mark them with a dabber; if it exists on their card. The player who covers or checks all the numbers on his card with the bingo chips in the minimum time wins the Jackpot.
The popular Bingo games include:
● 30 ball Bingo
● 75 ball Bingo
● 80 ball Bingo
● 90 ball Bingo
● Slingo Bingo
While you can get the simple rules online, players generally customize them according to their gameplay- number of players, patterns, grids, etc.
The Bingo Calls: Adding the Nicknames and Rhymes to Numbers
Bingo calls are the numbers that are called during the game. The calls are either made through a spinner, random balls, or an electronic board. The calls are made fun, exciting, and rhyming to avoid confusion for similar sounding numbers. For example, 1 and 7 or 4 and 8 or 42 and 52 can sound similar when screamed from far away or on a microphone. You can customize your calling jingles depending upon your audience or use the traditional way. Here is how you can clear the air of any dubiety using different methods.
● Bingo calls based on rhyme: 17- Dancing queen, 26- Pick and mix, 51- Tweak of the thumb, 52- Danny La Rue, 62- Turn the screw
● Bingo calls based on numbers: 22- Two little ducks, 25- Duck and Dive, 72- Six dozen, 77- Double hockey sticks, 44- Droopy Drawers
● Bingo calls based on historical references: 1- Kelly's eye, 9-Doctor's orders, 21- Royal Salute, 42-Winnie the Pooh, 56- Was she worth it?
● Bingo calls based on Classic Calla: (13- Unlucky for some, 18- Coming of Age, 50- Half a century, 90-Top of the shop)
What Are the Most Famous Bingo Patterns?
While playing Bingo, you must be aware of all the possible patterns not to let go of your winning streak. Below are some of the traditional and modern ways you must know before playing the game.
1. One line (Horizontal/ vertical or diagonal)
2. Two lines
3. Four corners
4. Letters and numbers
5. Top, middle and bottom lines
6. Clock shape
7. Windmill pattern
8. Bell, pyramid, or arrow shape
9. Early 4, Early 5, or Early 7
10. Full House (Coverall)- BINGO
11. Outside edge (i.e., border or frame of card)
12. Number and letter patterns (4,7,8,13, L, H, I, X, and more)
Bingo Template: Availing the Preloaded Structure Online Easily
While everyone loves playing Bingo, it can be tough to create one if you are the host of another Bingo party. But you need not fear when we have you covered with the Bingo template.
While everyone is excited to play Bingo, you can raise the bar of excitement by adding modern themes to the regular game. For example, a Bingo template allows you to have a standard game structure. In addition, it provides you with several designs and themes to cut monotony. The significant part is that these templates are readily available at a click, and you can download them quickly with access to an internet connection.
You can either download a blank template to customize it according to your needs or scroll to search for modern themes and print them right away.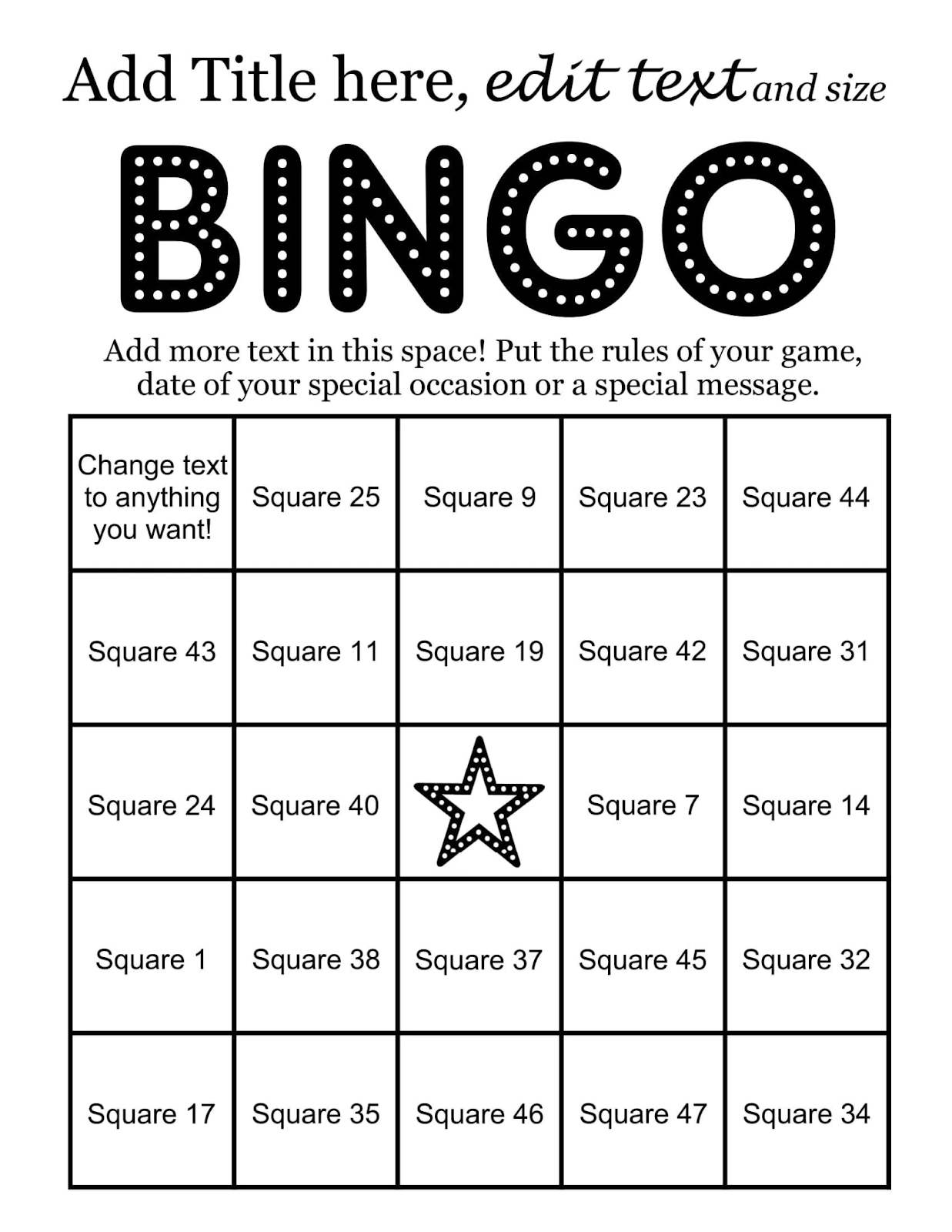 A few websites that can come in handy to download and print a Bingo template successfully are:
● My free bingo cards
● Freeology
● Bingo card creator
● Pinterest
● Education World
● Adobe
● How to Excel
● Bingo Baker
● Activity creation
● Etsy
● Tim van de Vall
● Canva
● Teachers pay teachers
● Twinkl
Since the Bingo template will be in PDF format, you can use a PDF reader tool to access the downloaded templates on your device. For example, you can use the SwifDoo PDF software to open and revise your template.
SwifDoo allows you to access all the preloaded documents and even segregate them neatly in an organized manner through its fantastic library feature. Instead, you can merge and compress your files without losing their font style, format, or original quality.
Finally, using the SwifDoo software, you can create your customized Bingo cards and share them online with all the players or print them to play for offline joy.
How to Create the Bingo Card Game Online: A Quick Guide to the Customized Digital Creation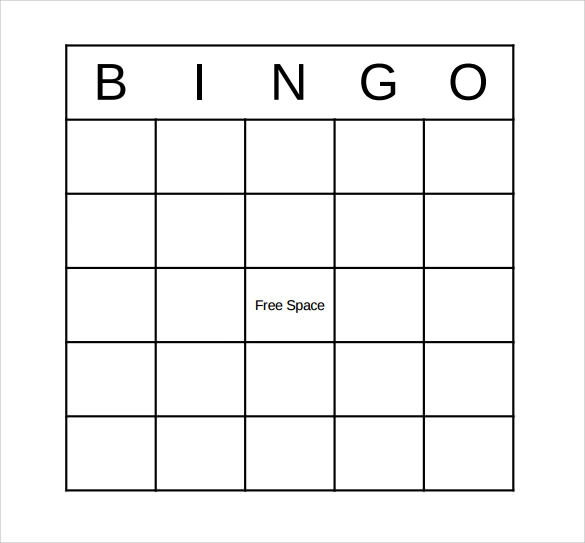 Now create a customized Bingo card game yourself digitally. However, you can also use a readymade Bingo template to edit it to your needs. Here is a quick guide to creating one on MS Word.
1. Open the Word document.
2. Create a grid of 5 x 5 using the Table option from the Insert menu.
3. Adjust the table size depending on your need.
4. Write the word BINGO at the top of the card.
5. Write the numbers randomly from 1 to 75 according to the game rules; and write FREE SPACE in the center square.
Note: If you are playing an offline game, you can also leave the grid spaces (squares) blank to write them manually after printing the ticket/card.
6. Adjust the font style and size of the card according to your liking. If you are creating it for your child, you can also add colors to add excitement.
7. That's it, save the ticket for future use.
8. You can also print it for an offline play.
9. Adjust and place the number of tickets on a single page setting and print it to get the maximum tickets on a single page.
Additional Tip: If you are playing Bingo with your child, you can add a twist by replacing the numbers with animal faces, food items, flowers, transports, alphabets, professions, etc.
Spicing Up the Traditional Bingo: Giving a Modern Twist to the Classic Bingo
Everyone loves playing Bingo. But there is no hard-and-fast rule to play it the old traditional way. Instead, you can spice it up with your own rules and themes. Here are some options you can resort to while you play Bingo the next time.
1. Make the players swap their places/cards: Players can exchange their cards with other Bingo players and resume the game with new (swapped) cards.
2. Auction your Bingo money: Instead of buying gifts and prizes for players, you can create a 'Play Money' to give to the winning players. Later, you can host a Bingo auction monthly for the players to buy anything from their play money.
3. Create new (customized) patterns for the game: You can add a fun element by changing the regular Bingo patterns. For example, you can ask your players for an L-shape, A-shape, an X-shape pattern, etc. Or number patterns like 4, 7, 8, 13, 10, etc. You can also make rules for early birds and four corners.
4. Two prizes: Add a double Bingo by giving two awards for a particular game.
5. Add food or drinks: You can replace the bingo numbers with players' favorite food items depending upon the range, like street/fast food, beverages, non-alcoholic drinks, main course dishes, etc. You can even keep the famous dishes or meals of a particular country.
6. Add song titles: Replace the traditional Bingo numbers with titles of songs. So instead of calling out numbers, play music to cancel the titles or cover them with a bingo chip.
7. Add state/ country/animal: You can even experiment with different names of states, nations, or even animals. Give popular hints to add fun and make the game more interesting.
8. Add photos: Add the pictures of people your audience (players) are familiar with, and then give clues about them to guess and cover the images with a bingo chip.
9. Add memes: This is another fun way where you can give a catch by hinting at the popular slogans or lines from the famous memes of all times.
10. Organize the regular Bingo game with a holiday name: You can create customized cards related to current holidays. For example, make 'BEACH' cards instead of 'BINGO' cards.
Helpful Tips to Make Bingo Perfectly: A player's Guide
While playing Bingo can be exciting, ensure you are thorough with the game's requirements to make the most of your gaming. Here are some quick rules you can be mindful of while playing your next game.
1. Be clear with the rules before starting the game.
2. Ensure to have a know-how of the Bingo lingo.
3. Be attentive to the calls.
4. In case of any query, ask the Caller before he proceeds to the following combination.
5. Remember to yell 'Bingo' once you cover all the numbers with the Bingo chips.
How to Be the Best Host for a Bingo Party: Quick Tips on Acing Your Hosting
Bingo can be much more fun if the Caller has that enthusiasm and energy that the game's excitement demands. While being a Bingo caller can be exciting and fun, ensure you are the best host your audience could ever have. So, finally, here are some easy and quick tips on how you can be the best host for a Bingo party:
● Introduce yourself to the audience (players). Consider giving yourself a nickname to add more fun. However, confidence is the ultimate key to keeping your audience engaged.
● Before starting the game, tell the players the number of games you will play.
● Clearly introduce the game and rules of playing it.
● Call out the numbers slowly and clearly using a specific style of funny word association to make it more interesting. Nevertheless, you can also opt for the traditional way the numbers are called.
● Be loud enough to reach your voice out to all the players if you do not have a microphone.
● While calling out the numbers, first yell the letter, and then the number follows. For example, B 11, I 21, G 47, O 65, etc.
● To avoid confusion, repeat the number at least three times, pausing a few seconds in between each call.
● After you have called out a combination, pause for roughly 30 seconds to make a new call each time.
● Repeat the process unless someone achieves a set pattern or yells 'BINGO,' and you finally get your winner.
● Cross-check and tally the numbers on the winner's card with the master card. Ensure that all the numbers are marked in the right combination. For full-house, check that all the numbers have been called for BINGO.
● It would be best if you kept a glass/bottle of water next to you in case you feel thirsty.
● Act according to the environment and your players' needs. Look out at the players after every couple of calls to ensure everyone's enjoying themselves.
A Quick Sum Up
Bingo is not a game for adults alone. Instead, you can even play it with children to focus on their growth in a fun and joyful gaming session. It will further help you to bond with your kids better. Customize the game for your kids by adding learning themes like numbers, alphabets, shapes, symbols, body parts, fruits and vegetables, flora and fauna, etc.
Using a Bingo template, you can create customized game cards without wasting much time and effort. We have already listed the gaming insights and unique tips on how you can be the perfect host.
So what are you waiting for? Host a party, get a hold of your cards, and indulge in fun, interactive and exciting gaming today.
Have a Happy Bingo Gaming!