Have you ever been in a state of affairs where you are stuck with your meetings, to-dos, or projects? Or do you need help to be organized, achieve your professional goals and get ahead? Evernote can be the most straightforward answer to all your problems.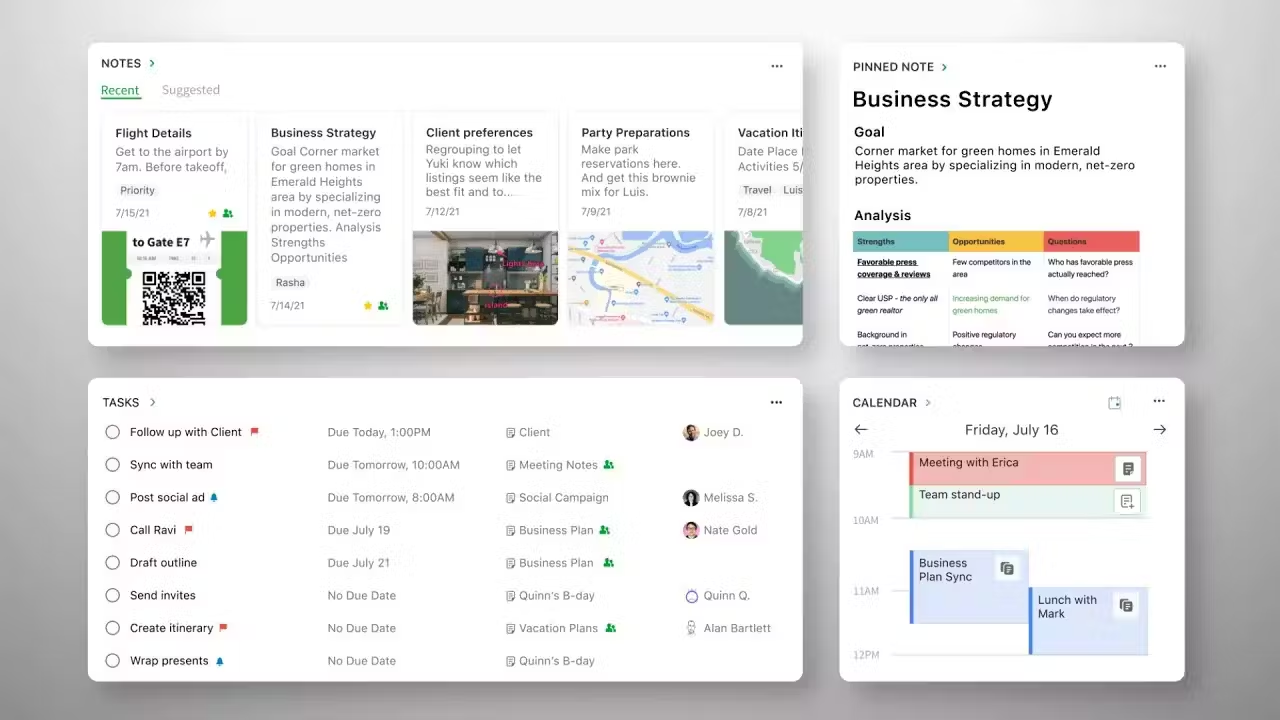 Evernote is a note-taking tool that comes in handy in all walks of life for anyone and everyone, including students, teachers, writers, travelers, employees, employers, and even for pet parents.
Whenever you have a thought, Evernote can help you express it better. It is created to sync you with your goals and achieve discipline with a better organization.
Let's know more about Evernote, its accessibility, and everything you can do with this platform to stay organized and create a healthy work-life balance. Let's dive in.
What Is Evernote?
Evernote is a renowned note-taking software owing to its existence since the time of the mammoths. Having more than 200 million users speak enough of its worldwide popularity and success.
Evernote is a cloud-based app to help you:
Create detailed notes
Helps in project planning
Organize your ideas and notes
Save your web clippings in an easily accessible space
It also supports multiple features, including:
Web Clipper
Templates, spaces, and integrations
Syncing notes
Character recognition
PDF and Doc Search
Document scanner and search handwriting
Notebooks and tags
Tasks, calendar, and home
Besides being a web application, this platform is also available as mobile and desktop apps for Android, iOS, Mac, and Windows users.
You can proceed with the Evernote download from its official site and start creating and managing your notes immediately.

Is Evernote Free?
The Evernote client comes with a free version to create notes and supports some limited features like:
Allows you to sync data across a couple of devices
Save notes only offline on your desktop
Your note size must be under 25 MB
Provides only 60 MB of new storage monthly for standard notes
You can upgrade to a premium or business plan to fully unveil its features and functionalities.
Evernote Premium Plan: 7.99 USD/user/month (provides 10 GB monthly uploads)
Evernote Business Plan: 14.99 USD/user/month (supports 20 GB of new storage monthly uploads)
If you have notes in a PDF format or other PDF files on your device, you can use Evernote PDF to create, convert, import, and edit them for excellent suitability and better management of your notes.
How to Convert Evernote to PDF
Evernote lets you control a massive collection of notes seamlessly. You can even export or convert Evernote to PDF on Windows or Mac in simple and quick steps.
Convert Evernote to PDF on Windows
Since Evernote cannot export as PDF, you can use a virtual printer to convert your Evernote notes to PDF.
Step 1: Open your Evernote program and select notes.
Step 2: Select File and click Print.
Step 3: Choose a Virtual Printer from the printer list.
Step 4: Lastly, tap Print to generate your notes as a PDF document.
Convert Evernote to PDF on Mac
Evernote generates PDFs on Macs directly but offers limited annotation tools.
Step 1: Open Evernote and select the note you want to export.
Step 2: Right-click your chosen note and tap Export note to PDF. Evernote will automatically convert it and generate a new (.pdf) file.
Alternatively, you can choose File and click Print, then select the Save as PDF option.
How to Import PDF into Evernote
Besides converting your Evernote notes to PDF, you can easily import PDF into Evernote through Android and iPhone devices, Windows, Macs, and Web browsers. Here are a few quick steps to import PDF files on Mac and Windows.
Step 1: Create a new note or open an existing note.
Step 2: Drag and drop the PDF file from your PC into the note body. Alternatively, open the note editor and click on the blue-colored plus icon.
Step 3: Now, manually attach your PDF file by selecting Attachment.
For older versions of Evernote for Windows or Mac, you can create a new one or open an existing note and drag your PDF file. Or manually import PDF into Evernote using the paperclip icon.
How to Annotate PDF in Evernote
Evernote lets you edit and annotate your PDF files through various annotating features. You can use Markup Tools like Arrow, Line and Shape, Text, Pen and Highlight, Stamp tools (to add text or pointer to a stamp), Blur, Emoticon tool, and Color and Stroke options.
Evernote enables its users to edit their PDF files using the options of Undo, Remove all markups, Rotate (exclusive for images), Crop, and Resize.
To add texts to your PDF files, you must:
Step 1: Click the Text tool icon.
Step 2: Next, select a place on your document where you want your text to display. A text cursor will appear.
Step 3: Enter the text you want to add to your document.
Step 4: After writing your text, you can edit it to change its format. To do so, select your text, and an options slider will display. Alternatively, you can click inside the text box to edit and change your text.
Step 5: Switch the text to toggle between outlined or plain texts.
Similarly, you can use the Pen and Highlight tool to mark the critical points of your notes by drawing a freehand with digital ink or adding a transparent color overlay.
Step 1: Click the Pen and Highlighter tools icon.
Step 2: Tap the Pen tool to add a freehand sketch/drawing, etc.
Step 3: Click the Highlighter tool to highlight the essential areas with transparent ink.
Step 4: You must hold and drag over your PDF file to use either tool.
You can click on any tool depending on your needs and requirements and edit your PDF files.
Is Evernote User-Friendly?
While Evernote is a great note-taking tool with features like web clipper, templates, Evernote helper for quick notes, and integrations with your chosen tools, you must still think while investing in this software.
Like other note-taking software, Evernote is not immune to limitations. And these loopholes might draw students and other users to find better alternatives.
Evernote offers limited free version features
Costlier pricing plans
It does not support a real-time collaboration on notes
Lacks productivity features that support only creating notes and a basic checklist
Instead, Windows users can try the SwifDoo PDF tool to take overall care of their essential PDF documents. With this software, you can create a PDF file and convert any format from Word, Excel, Image, and CAD to PDF and vice-versa.
But that's not it. SwifDoo PDF provides multiple features like merging, converting, cropping, compressing, editing, and annotating to provide complete care for your file. You can add texts, images, and links and edit them in a breeze.
Also, you can digitally sign your PDF files and forms and share your files online with the user community or your team, colleagues, and students. In addition, your critical files are password-protected from prying eyes with SwifDoo PDF software.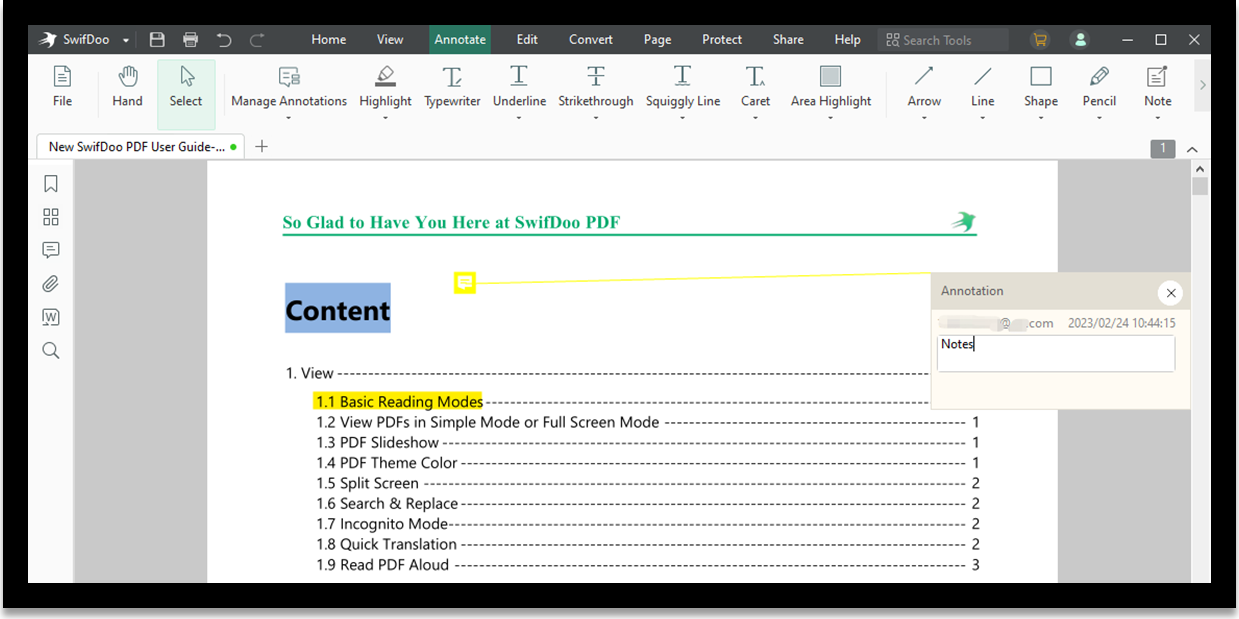 A Quick Wrap Up
Evernote is an excellent note-taker and organizer to plan a journal. Simply collect the information, organize it and locate it whenever desired. Moreover, you can play with your PDFs pretty well on this platform. And once done with creating and editing your files and notes, you can share, export, and print your notes via email or social networks.
You can also try SwifDoo PDF, a user-friendly tool for an all-in-one solution to all your notes, files, and documents.