To keep pace with the developing speed of high technology, there's a great need to improve efficiency and productivity in this digital market. In this situation, office productivity tools become more indispensable than ever.
There are countless productivity tools on the market today that you can choose from. So, the question is, how do you use these tools without knowing them? Did you ever notice that there may even be some new emerging tools that you have never thought about before?
Don't worry. In the following, I will offer you a detailed guide to get you familiar with several helpful office productivity tools. Let's check them out!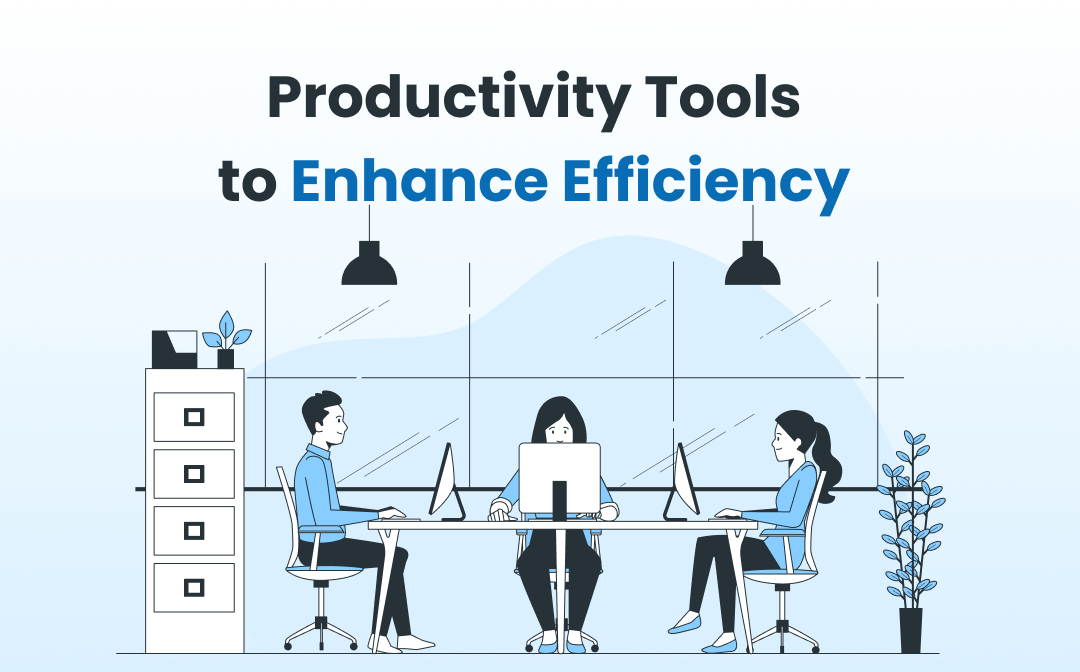 SwifDoo PDF: Ultimate Solutions for Your PDF Documents
Developed by an experienced team, SwifDoo PDF is an expert at solving PDF problems. You can use it for all your needs on PDF files, including converting, annotating, editing, and many other features. You cannot even imagine how powerful and helpful it is! What's more, SwifDoo PDF allows you to share your files directly to Dropbox, Gmail, and email, which saves lots of time! It's never too much to say that SwifDoo PDF is an all-in-one PDF software.
Major Features
Up to a 30-day free trial period.
No more bothersome advertisement pop-ups.
It offers comprehensive features, and all operations can be finished instantly.
Using SwifDoo PDF is safe for both the device and the files because all files are handled locally and will not be uploaded to the cloud server.
Compatibility: Windows 11/10/8.1/7/XP
Google Docs: Online File Synchronization Service
As long as you are connected to the Internet, you can use Google's built-in powerful products to create and share files.
Google Docs, Sheets, and Sides are similar to Microsoft Word, Excel, and PowerPoint, respectively. Furthermore, Google supports real-time collaboration, so users can work on the same document simultaneously. Files created by Google Docs can be sent easily by creating a shareable link, and people who have the link can view, edit, or add notes on them directly, depending on the permissions given by the file owner.
Compatibility: macOS, Windows, Android, iOS
Google Drive: Personal Cloud Storage & File Sharing Platform
Google Drive offers you a private way to upload and store your files in the cloud. All your Google Docs, Sheets, and Slides files will be saved to Google Drive automatically. Meanwhile, other users will have no way to access your account without your permission. There's no need to worry about any data or information leakage.
Google Drive provides 15 GB of free storage for every user. You can buy more if it's not enough.
Compatibility: macOS, Windows, Android, iOS
Dropbox: Keep All Your Data Secure in One Place.
Like Google Drive, Dropbox also offers cloud storage and file hosting services. You can upload all your files to Dropbox for file storage, and they are accessible from any device. You can use Dropbox for both work and personal use to keep pace with your teammates and clients and back up important photos as well as videos to it whenever you want. It can also guarantee file safety with high-level security.
Compatibility: macOS, Windows, Linux, iOS, Android
Google Calendar: Online Calendar to Make Schedule
Google Calendar makes it easy to create a schedule with a few clicks. It's a perfect time-planning app for individuals and even for small businesses. You can add a to-do list to Google Calendar for any specific time frame, and it will send notifications when the time you set is almost up. Furthermore, Google Calendar integrates with Gmail and Slack to better collaborate by scheduling all meetings and project discussions.
Compatibility: macOS, Windows, Android, iOS
Adobe Photoshop: Photo Editing and Design Software
Adobe Photoshop is one of the world's best photo editors. It's a super professional photo editor with more than 30 years of experience. Adobe Photoshop can perform almost any editing operation you want on images. Any ordinary image will become more artistic and commercially valuable when processed with Photoshop. You can use it for both personal and business purposes.
Compatibility: macOS, Windows
Zoom: Video Conference Tool
Sometimes, due to unavoidable reasons such as bad weather or COVID-19 in recent years, you are unable to attend offline meetings. A video conference tool is required when things like this happen, which allows you to be accessible to any meetings without distance restrictions.
Zoom is available both online and on the desktop, which means you can join a meeting wherever you are and whenever it is. It can accommodate up to 500 participants at a time and offers unlimited cloud storage.
Compatibility: macOS, Windows, Linux, iOS, Android
GoToMeeting: An All-In-One Phone, Meeting, and Messaging Platform
Like Zoom, GoToMeeting is also a conference tool to offer remote meeting services. It supports you in sharing the screen at the meeting without a hassle. What's more, there are highlight tools to mark any key points on the screen, which improves the efficiency to a large extent.
You can use its built-in tools to record all meetings for later review, and GoToMeeting also offers unlimited cloud recording.
Compatibility: macOS, Windows, Linux, iOS, Android
Infinity: One Tool to Organize All Your Work
Infinity is a comprehensive work management tool that allows you to add tables, calendars, lists, columns, charts, and forms that are all related to work in one place. By this means, you can check all the information about the project when needed in one shot.
Infinity makes it easier to manage your project. You can use it to do task/project/business/work management and planning, which helps you better sort out your workflow. It can be considered the perfect assistant for teamwork and task management.
Compatibility: macOS, Windows, iOS, Android
Slack: Simplify Teamwork for Everyone
Slack is also a collaborative software program to improve team efficiency. It supports large-scale collaboration and alignment for up to 500,000 users and has more than ten integrations with other apps like Google Drive, Office 365, Dropbox, etc. Slack allows you to chat, share your screen, as well as make voice and video calls with your teammates easily.
Compatibility: macOS, Windows, iOS, Android
Zapier: Connect Apps and Automate Workflows
Zapier is an online tool that automatically integrates almost all the web apps you use every day. In Zapier, you can use one program to coordinate over 3,000 apps, including Facebook, Gmail, Slack, etc. With this software, you won't miss any vital messages anymore, and you can easily automate your workflow.
Compatibility: macOS, Windows
Skype: Stay Connected with Free Video Calls Worldwide
Skype is one of the most popular apps in the world. It is a chat tool that supports you in sending messages and photos as well as making voice and video calls regardless of distance or time. In addition, you can use Skype as a meeting tool to create an online conference and invite up to 99 participants for free.
Compatibility: macOS, Windows, iOS, Android
Microsoft OneNote: Cross-Functional Notebook
Microsoft OneNote is a digital note-taking app that can be used to replace traditional notebooks. You can write and draw with this software just as you would on paper. OneNote also serves as an audio/video recorder, and the OCR feature allows you to recognize text from images easily.
Compatibility: macOS, Windows, iOS, Android
Hunter: Find Email Addresses in Seconds
It's highly suggested that you use Hunter as your go-to tool when looking for the email addresses of hundreds of sites. By utilizing Hunter, you can find all the link addresses of a site by just entering the domain name. Besides, it also comes with a Chrome extension, so it's extremely convenient to get the link addresses of any sites you're browsing with a single click.
Compatibility: macOS, Windows
Freedom: Block Websites, Apps, and the Internet
Freedom is a tool to help you concentrate on what you're doing. It can block all messages from websites and apps to make you more focused and productive. With the help of Freedom, it's easy to maximize your efficiency. There's no need to spend time checking new messages or ad pop-ups from time to time, so you can get more work done.
Compatibility: macOS, Windows, Linux, iOS, Android, Chrome
Forest: Stay Focused by Planting Trees
Forest is a mobile application that helps you stay focused while working or studying. It blocks new messages from all apps on your device when using. In this way, you can focus on your work without distraction. While you are using this application, it will start planting trees, and the planting process will stop if you use other apps. What's more, Forest cooperates with a tree-planting organization. Once you reach the goal you've set before using Forest, this app will plant a tree somewhere on the earth. Plant trees while learning, sounds environmentally friendly, right?
Compatibility: iOS, Android
Let's Wrap It Up
Learning to use suitable office productivity tools will improve the efficiency of the whole team and make you more productive!
There are still a lot of office productivity tools that you can use to enhance your productivity. What I have mentioned in this article is just a drop in the bucket, and you can almost get all the tools you need on the Internet to finish your tasks easily.
Follow SwifDoo PDF now to get the latest news and expand your business!