Introduction:
PDF files are designed for easier cross-platform sharing with consistent formatting and layout. However, when it comes to translating a PDF, it can be challenging due to the trouble of copying and pasting text into a translator. If you wish to translate PDFs to Vietnamese, the language you or others can read, it pays to know what the capable translator to use.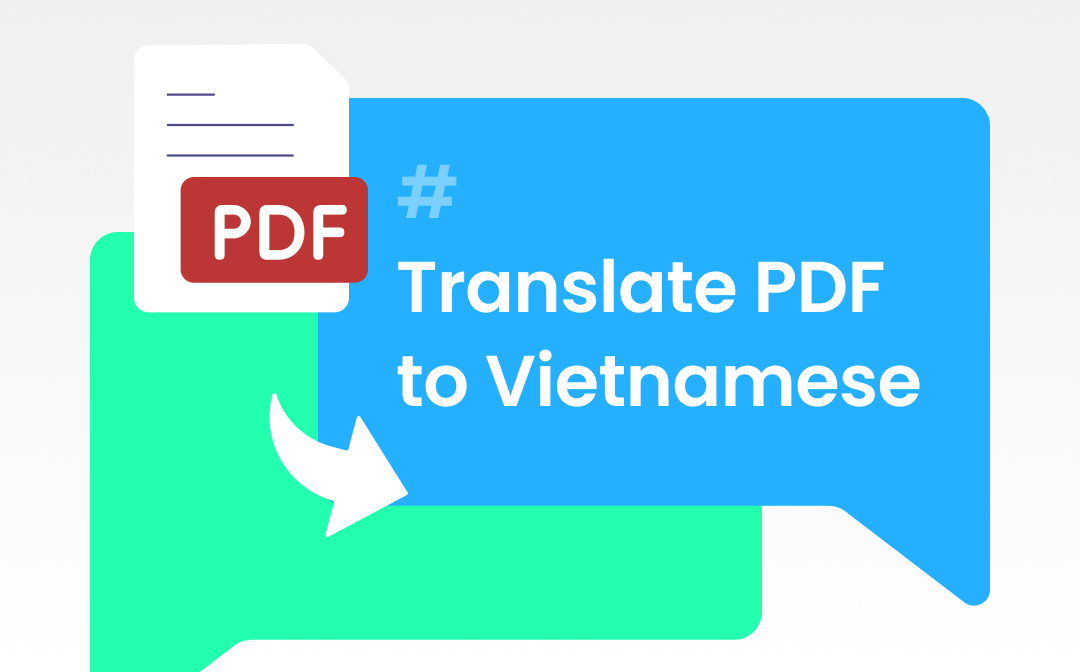 Whether you want to do the translation with an offline app or online tool, this post has you covered. You can even get comprehensive PDF editing software to deal with many other document works. Now check the 3 methods to translate PDFs to Vietnamese effortlessly and efficiently in a step-by-step manner.
Translate PDF to Vietnamese with SwifDoo PDF
SwifDoo PDF is a powerful but tiny PDF software application trusted by reputed software review sites like PCWorld, which contains a PDF translator. The Windows-based app allows you to translate PDFs to Vietnamese from English, Chinese and other 100+ languages. You can choose to translate text as you read or directly translate an entire PDF into a new copy. What's better is other features like e-sign, OCR and annotation are offered.
No complicated process or learning curve and the file handling is fast. Just download SwifDoo PDF and follow the steps below to translate PDFs to Vietnamese in a few clicks.
Step 1: Drag and drop your PDF file into the software;
Step 2: Drag over to select the text you want to translate on a page;
Step 3: Choose Quick Translation and select the document language and the target language as Vietnamese;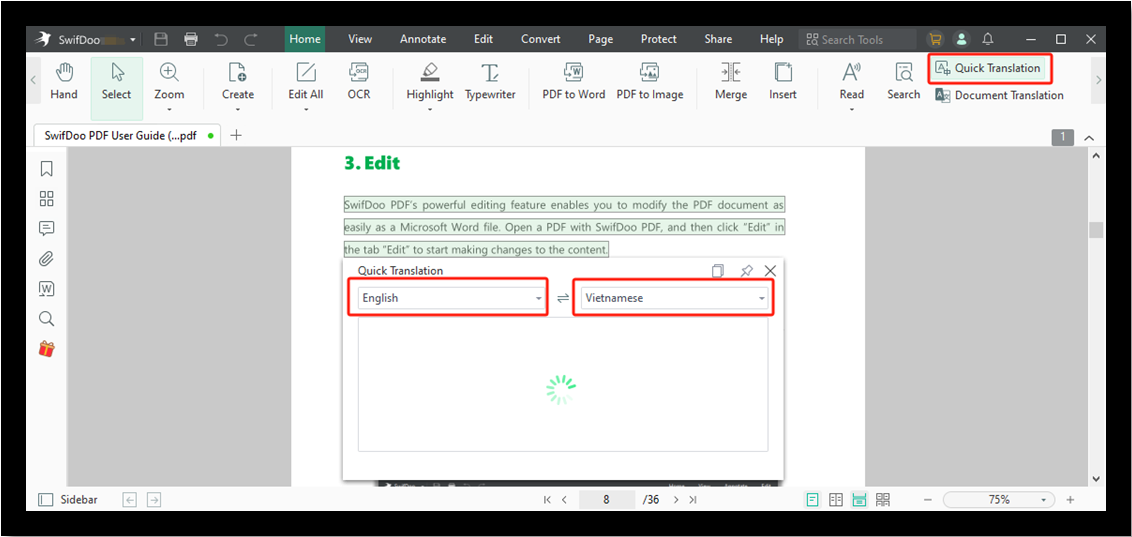 Step 4: The translator starts to translate the PDF file to Vietnamese at once.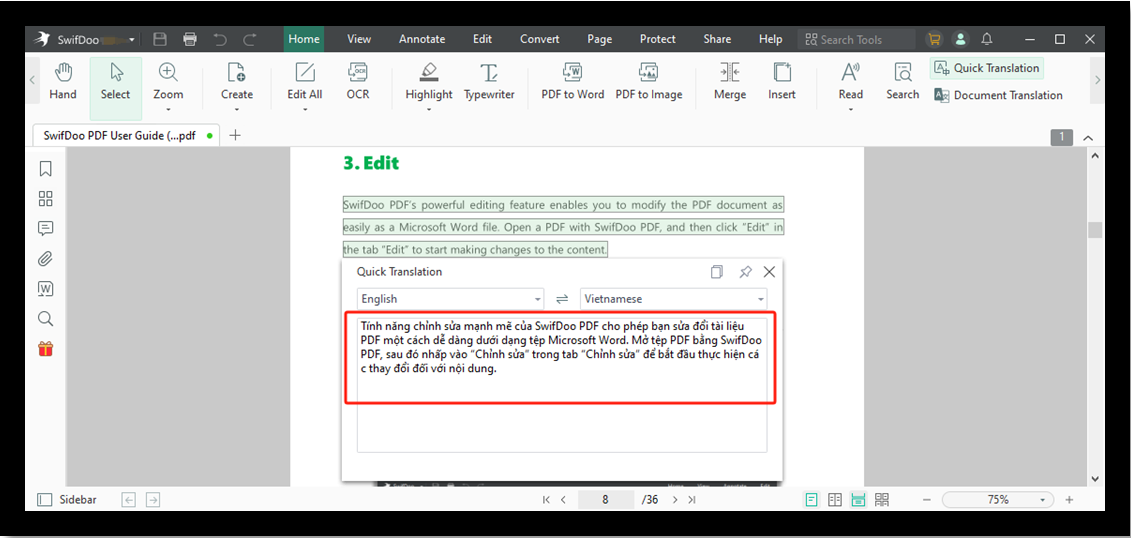 The other tool to translate PDFs to Vietnamese in SwifDoo PDF is called "Document Translation". So here is the guide to explain how to translate whole pages or a full PDF using it.
Step 1: Launch the PDF translator and click Document Translation;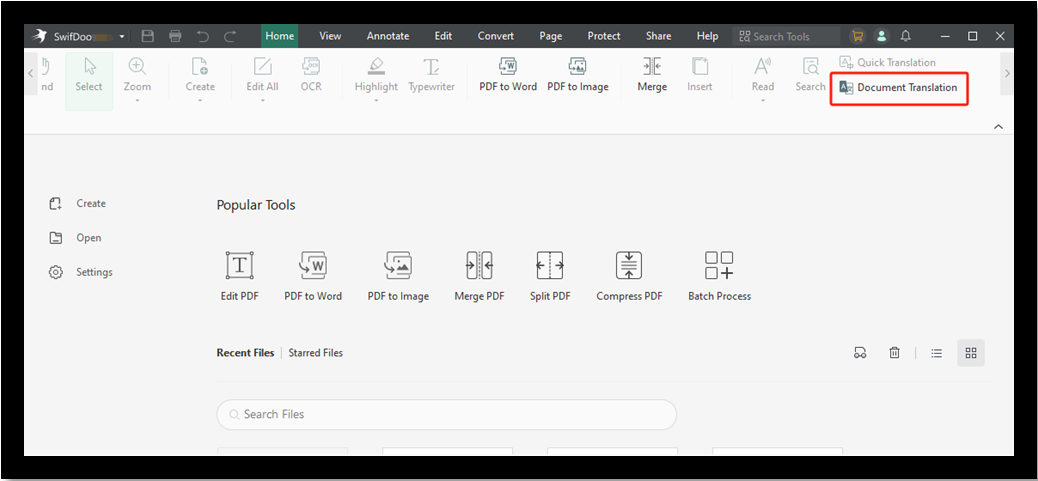 Step 2: Add your PDF and specify the input and output languages;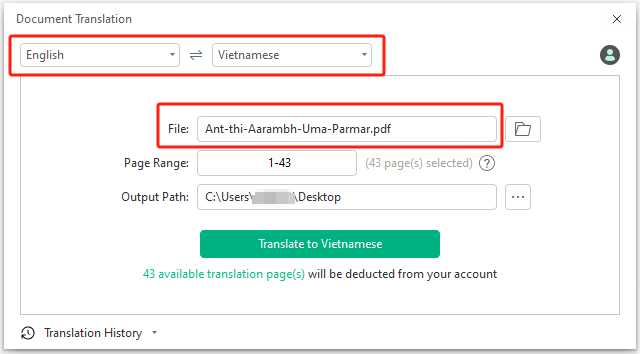 Step 3: Choose the saving location and hit the Translate to button to translate the PDF from any language including English to Vietnamese.
After you translate PDFs to Vietnamese, you can highlight, draw on and add notes to the PDFs.
Translate PDF to Vietnamese with Yandex Translate
To overcome the PDF translation hurdle, Yandex Translate steps in. This is an online dictionary and document translator that can convert and translate files in PDF format from English, Chinese or another language to Vietnamese. It benefits you in the comparison feature for clearly finding the inconsistencies and making adjustments.
The method to translate PDFs to Vietnamese using the online PDF translator is as follows.
Step 1: Choose the Documents option on the website;

Step 2: Select which languages to translate from and to;
Step 3: Upload your PDF file and the translation begins.
You can translate English or another language to Vietnamese for a PDF sized up to 5MB. The translator has fewer available languages than competitors, making it less good for professionals.
Translate PDF to Vietnamese with Google Docs
Google Docs helps convert and translate PDFs to Vietnamese and caters to your diverse needs. The online free word processor offered by Google allows you to create, store, and view documents. The software can function as a PDF editor enabling you to open PDFs and edit the content freely with similar options included in MS Word. A translator is built into it.
Here is how you can translate PDFs to Vietnamese with Docs.
Step 1: Upload your PDF to Google Drive with an account;
Step 2: Right-click the uploaded file and open it with Google Docs;
Step 3: Choose the Translate document tool, and select the language to translate into as Vietnamese;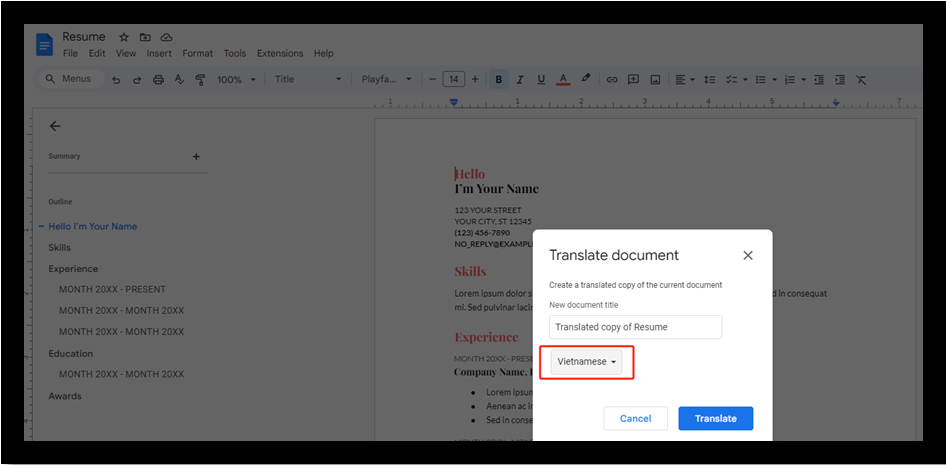 Step 4: Start PDF translating from English or any document language to Vietnamese and a translated copy is opened.
Note:
The translator has its drawback: after you translate PDFs to Vietnamese, the word spacing, formatting and layout may be lost according to some users. You need to spend a lot of time correcting them.
Which Is the Best Translator for PDF
With the introduced three ways, it's no longer tough now to convert an English PDF or a PDF in a different language to a Vietnamese PDF. However, you might be wondering which the best is and how would you choose from them.
Comprehensively, SwifDoo PDF is your top pick to translate PDFs to Vietnamese, manipulate, read, protect and share PDFs. It excels at translating English and any of 100+ languages to Vietnamese or vice versa for words or all pages in PDFs depending on your needs. The best thing is it's super cost-effective and affordable that won numerous users. But those who occasionally translate documents can turn to online translators.
Final Thoughts
Before you choose the best PDF translator and method to translate PDFs to Vietnamese, you'd better understand what your or your team's requirements are. That includes pricing, features, translated layout, offline or online, etc. If you regularly work with PDF documents, you may need advanced features like PDF converting and organizing. Take what you care about into consideration and start to translate a PDF document from any language to Vietnamese with ease now.
FAQs
Is Google Translate accurate for Vietnamese?
Google Translate has the ability to translate a document into Vietnamese and translate between any pair of over 100 languages. It is not as accurate as dedicated Vietnamese translators. Translations of simple sentences mostly are accurate but translations of long content with compound structures will be confusing.