Introduction:
International trade
is a long-lasting topic that dates back to ancient times. In the simplest of terms, whenever there's a need or want for goods or services, there is always trade. Conceptually, international trade refers to exchanging capital, goods, and services beyond national borders or territories.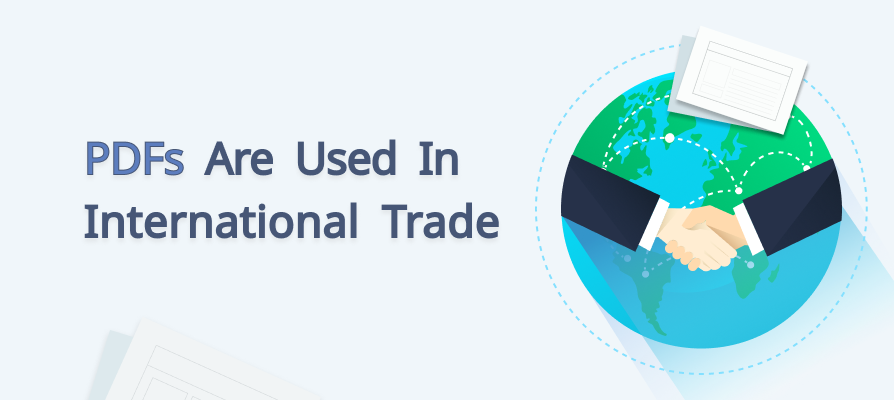 Prior to the creation of electronic files, people had to rely on paper for transferring files when interacting with overseas partners. However, the whole process eventually gave rise to time and efficiency issues: in some cases, for example, senders couldn't do anything but wait for important signed documents from transnational partners to arrive, and no one ever knew exactly what to expect during international delivery.
The numerous uncertainties brought forth practical document management technologies, in which PDF is the main force to be reckoned with in the document management industry.
When Are PDFs Needed in International Trade?
Many may question the correlation between PDFs and international trade. In fact, PDF is a crucial vehicle for storing information, and the trade industry wouldn't survive without its various documents. International traders will undoubtedly deal with several types of files, such as analysis reports, invoices, certificates, and bank drafts, just to name a few.
Without exception, these files are usually presented in PDF. Everything boils down to the PDF's core competence: compatibility and the ability to retain the original file's layout and content. Below are several PDF usage scenarios within international trade.
Analytical Report
The analytical report, a type of business report, involves qualitative and quantitative company data, which is designed to scrutinize, analyze, and evaluate a business strategy or process while enabling employees to make data-oriented decisions based on evidence and analytic results.
All things considered, an analytical report serves as a lighthouse for decision-making. For instance, a business owner may notice a decline in sales, thus making a new marketing plan to increase business based on the report. Forms, graphics, and diagrams are utilized to better visualize the information provided within the report. However, this report may not contain the expected content if both senders and receivers aren't using the same device or software to open it. Consequently, one can turn to PDF.
Invoice
Invoice offers detailed information about the price of goods such as unit rate, total amount, and discount amount. It also provides information about other possible charges to be paid by the buyer or importer. An invoice creates a basis for keeping a record of total purchases and the sale of goods.
In a typical export exchange, everything starts with the reception of an inquiry about one or more products. Such an inquiry may include a request for quotation but must be displayed in PDF. If you're in a position that requires approving and processing several invoices, the safest way to go about the latter is using PDF.
On the other hand, a paper invoice can easily get lost when transited to the customer and even more likely to get buried in a pile of files. This may result in a delayed payment that can require several collection calls to rectify. Once an e-invoice is created, there's nothing simpler than attaching it to the PDF file in an email and sending it to the customers. Within seconds, the invoice has already landed within the recipient's mailbox.
Instruction Manual
Linguistically, an instruction manual is a typical informative text. The essence of an instruction manual is to familiarize the users with the product and educate or guide the user step by step, ultimately bringing about completing a task. It looks like a how-to article, which explains all the functions and operation procedures of a product.
That means an instruction manual is full of illustrations that may contain images and forms. Images and forms can be easily distorted and changed during document transmission, particularly when this document is opened and viewed on different devices and platforms. Messed-up formatting won't help with understanding and can potentially mislead users in the wrong direction, thus exerting a negative impact on sales. Hence, producers tend to employ a stable and consistent format - PDF.
What Can SwifDoo PDF Do?
SwifDoo, as an all-in-one PDF tool, can help improve work efficiency by providing a multitude of different options such as View, Annotate, Edit, Convert, and Page features. Despite being a new force in the document management industry, SwifDoo aims to meet versatile needs for all walks of life, including users in the trade industry. The following functions are what SwifDoo provides:
Stamp
Akin to Highlight and Sticky Note, Stamp belongs to the Annotate feature. Applying a stamp or official watermark on your PDFs allows you to label the document with important information, such as the document's approval status or confidentiality level. Furthermore, SwifDoo provides several commonly-used stamp choices, such as APPROVED, DRAFT, FINAL, and CONFIDENTIAL.
The fast-changing business world makes frequent communication with team members and clients necessary, which equally involves the constant sharing of PDF documents. No matter what kind of files are being shared, the ability to imprint stamps upon these documents is incredibly advantageous.

File Security
File security is another common pain point that can be aided with SwifDoo. For multinational business owners, file security is equivalent to money and time. Long-distance affairs and different time zones can bring about certain complications and may lead to economic losses.
For example, a counteroffer should be sent directly to a candidate client. However, information leaks or premeditated changes made in the PDF counteroffer can rob someone of such a valuable opportunity and make it impossible to move forward with the client.
In this case, there is an urgent need to encrypt PDF documents by all means. Fortunately, SwifDoo is at hand. By offering three ways of adding e-signatures, SwifDoo allows anyone to leave their mark on the document. What's more, SwifDoo PDF enables the locking of a PDF document by providing two-level passwords: open password and permission password.
Without the required authorization, making any PDF changes is out of the question, which completely wipes out uninvited or untrustworthy access to the document. Ultimately, client communications can be well-protected thanks to the options found within SwifDoo PDF.