Nowadays more and more people are getting used to watch movies online from an online streaming website. One among so many streaming sites is YesMovies, a popular place to watch a wide range of movies and TV shows online for free. However, you may sometimes experience the site is not working well or want to look for sites better than it. If so, you can find a YesMovies alternative to use from this post.
Here we introduced 8 YesMovies alternative sites to provide you with similar features and services to the site. So you can access your favorite movies and other videos without a hassle. Please note that the sites like YesMovies and YesMovies itself may have copyrighted or illegal content. We do not encourage you to stream illegally distributed and pirated movies.
1. Watchfree
Watchfree is a top YesMovies alternative to watch over 10000 movies and TV series in HD quality online for free. There is no registration, fees or subscriptions required. The website covers a wide selection of genres such as action, romance, sci-fi, animation, and comedy. Like YesMovies, it organizes the movies and videos by genre and country and has the similar layout. You can filter by release year and watch the most popular movies on IMDb from the site.

This YesMovies alternative site updates the content library on a regular basis so you can enjoy the latest movies in time. Same as YesMovies, the Watchfree site allows you to search for your preferred movies by entering keywords in the search bar. The free movies streaming site's interface is clean and has zero ads.
2. MyFlixer
MyFlixer is another YesMovies alternative that shares the alike layout and services with YesMovies. The website offers free movies and TV shows for online streaming in HD quality. No need to sign up or pay anything. You can download movies to watch later if needed. The site allows you to sort movies by all the popular genres including horror, fantasy, thriller, and adventure.

When you have chosen a movie on the YesMovies alternative, you can change different servers to play the video smoothly. New HD movies and TV shows are updated on a daily basis on the MyFlixer site.
3. Tubi
If you want a legal movie streaming site as safe as something like Netflix, the YesMovies alternative, Tubi is an option. The website is a leading American content streaming platform with free and premium services. As one of the sites like YesMovies, it has 50000+ movies and TV shows in its content library. Thousands of movies are free to watch from the place. No subscription fees or credit cards asked. You can watch free live TV from this site.

This YesMovies alternative also comes as an app for download and free movie streaming on Android and iOS. It can also be used for Roku, Apple TV, Amazon Fire TV, Samsung Smart TVs, Sony Smart TVs, and PlayStation.
4. Plex
Plex is one of the best YesMovies alternative websites where you can watch over 20000 free movies, TV shows and Live TV online. The streaming media service rivals YesMovies in terms of the film genres. It categories the movies into drama, crime, comedy and many other genres. The site is ads-supported to offer the free service.

As you may know that YesMovies app or APK is available for download. Similarly, this YesMovies alternative is free to download and access as mobile apps for Android and iOS. With it, you can watch free live TV channels, sports, and entertainment videos as well.
5. SFlix
Many people are fond of SFlix as a YesMovies alternative. It is one of the best new sites to watch movies and TV series online for free. Over 10000 movies and TV shows are accessible. Movie fans can type the keywords of the movies, or select the specific genres or countries to find specific movies. Like the YesMovies downloader, the YesMovies alternative website also allows you to download videos online.

6. MoviesJoy
MoviesJoy becomes successful thanks to its easy-to-navigate interface and great number of movies. The YesMovies alternative lets you binge-watch more than ten thousands of movies and shows online on any device. It is mobile and Chromecast supported. The site's filters are straightforward to use and enable you to stream a video in your interested genre, IMDB rating, country, etc.

Movie enthusiasts can enjoy nearly all the features that this YesMovies alternative offers without spending a dime. MoviesJoy deserves to be one of the best YesMovies similar websites.
7. 123movies
123movies is among the best websites like YesMovies with a fast and stable movie streaming service. With free and tons of movies and shows, the YesMovies alternative has nearly 0.1 billion users at its peak. You can find almost anything you want to watch here. Never need to create an account on this site. Along with some other sites like YesMovies, the site may include ads in the streamed videos in order to keep itself free.
8. Vumoo.to
Vumoo.to is an alternative to YesMovies that you can try. As you watch movies on YesMovies online for free, the site makes it easy to do the equal things. It doesn't have annoying ads or complicated interface. All you need is to drag the scroll bar or utilize the search bar to reach the movie or TV series you want to stream. The basic information about each movie like the director and actors will be introduced on the YesMovies alternative.

The downside of the YesMovies like website is it doesn't have filters. But it is still worth picking if you have no other choices.
How to Add a Movie to a PDF
For presentation purpose, you may at times need to add a movie to a PDF document. When you have watched or downloaded a movie from a YesMovies alternative, you can do that with a PDF editor, SwifDoo PDF. The software enables you to add movies using two methods.
One is that you can add the movie as a hyperlink to your PDF. So when anyone opens the PDF and clicks on the link, he or she will be directed to the online movie and can stream it as normal. To make this happen, just open your PDF in SwifDoo PDF, choose "Edit" and "Add or edit link", draw around text where you want to link to a movie, check the "Open a Web" option, and enter the movie URL. Then click "OK" to add the movie from any YesMovies alternative as a link.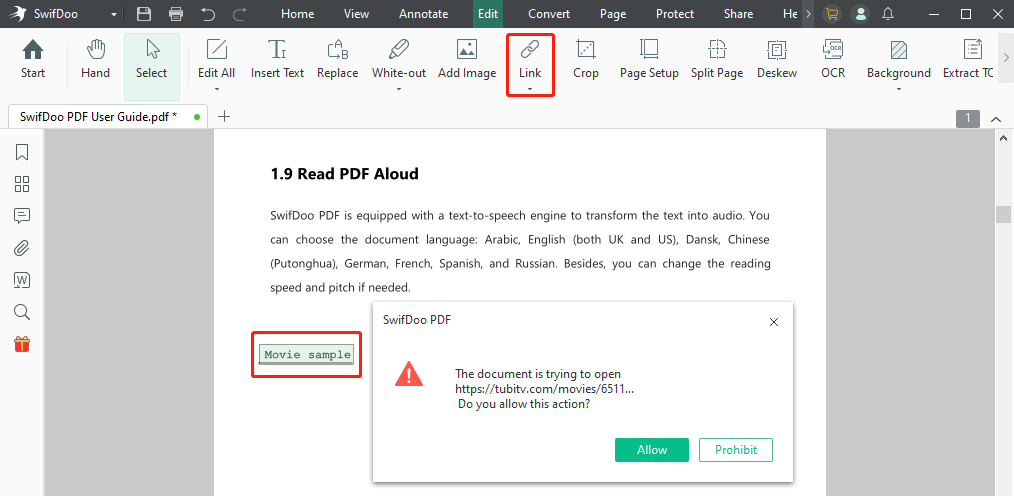 You can also add a movie downloaded and saved from a site like YesMovies to a PDF. The feature of adding an attachment to a PDF in SwifDoo PDF allows you to embed a video as an attachment. You can double-click on the attachment icon within your PDF to play the movie offline without opening the web.
Conclusion
Are you struggling to look for an excellent YesMovies alternative to watch movies online? Sometimes you spend hours to find one but it doesn't work. That's why this article is written, to help you narrow down the selection.
With this list of 8 alternatives to YesMovies, you can always enhance your top-notch streaming experience. They all let you watch movies online for free and some provide downloadable apps. Among them, the first two and the NO.7 are the closest to YesMovies in terms of design and features.
FAQs
Q: Is YesMovies safe to use?
A: Regardless of the online website or the YesMovies app, no one has reported a security issue with it yet. There are no viruses or malware found when streaming movies. The only problem is that it provides pirated movies illegally. To ensure it is safe to use, better not to register or register it with an unimportant email. Try to get an ad blocker and anti-virus software.
Q: Is YesMovies illegal?
A: As the website offers many illegally issued movies, television shows, and other content so it's not totally legal. Some people reported that the site contains cam rips or pirated films. Depending on the laws in your country, you are liable to prosecution or not due to streaming the videos on YesMovies. Do not share or download content not legally licensed ever. To advoid any possible trouble, you should rather use a legal YesMovies alternative like Tubi and Plex.
Q: What is better than YesMovies?
A: Most of the introduced sites similar to YesMovies in this post seem better than the site, such as Watchfree and MyFlixer. Because they deliver you almost the same good movie streaming and downloading service faster.
Q: Why is YesMovies so slow?
A: The main reason why the website is so slow is due to its poor server where the movies are hosted. Or, it may be because your slow internet connection. Sometimes if overwhelming user traffic comes in to the site, it's also difficult to load the videos. When you face the challenge, turn to the YesMovies alternatives mentioned in this article.