Writing is never an easy task for most individuals. You may not produce good content without enough experience and knowledge. Thankfully, there are lots of tools available to improve your writing skills.
People always make mistakes in writing, even the most experienced writers. However, writing tools are developed with the most advanced algorithm, and their database has remembered almost all the writing habits, uses of grammar, and vocabulary.
In this article, we've listed the 6 best writing tools in all aspects to solve your problems with writing. Most of them are completely free and compatible with all operating systems. Let's see how these tools help improve your writing skills.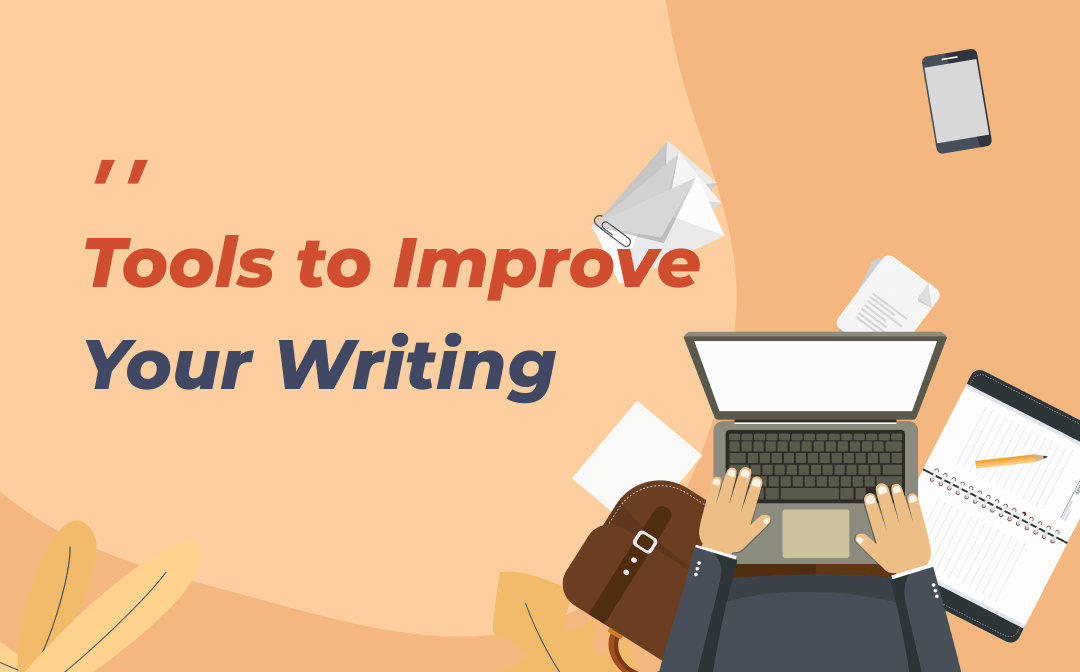 1#. Grammarly: Free Online Writing Assistant
You must have heard of Grammarly a thousand times, but we still put it first for its outstanding performance. Grammarly is a free typing assistant that checks for problems in spelling, grammar, punctuation, clarity, engagement, and delivery.
With the help of Grammarly, you can avoid those fundamental mistakes in your writing and make your work more readable. Grammarly isn't tailored to any particular profession, and you can make full use of it to improve your writing regardless of who you are or whom you're writing for.
Grammarly is also fairly simple to use. All you need to do is to copy and paste your writing content to the operating area or upload your document directly. It will start checking the content within several seconds. There's no need to pay for those basic writing suggestions on spelling, grammar, and punctuation.
However, if you need premium services for changing the writing style, tone, clarity, etc., a subscription plan is needed. The details are listed below:
Monthly Subscription: $30
Quarterly Subscription: $60
Annual Subscription: $144
2#. ProWritingAid: The AI-Powered Writing Assistant
Like Grammarly, ProWritingAid also aims to solve problems of grammar, spelling, writing style, and other issues. Besides, it goes far beyond a vocabulary and grammar checker by assisting you in improving your writing through a more complete approach.
ProWritingAid is also suitable for all kinds of writers. With advanced algorithms, it can understand your writing without breaking a sweat. In addition, ProWritingAid will also offer you 25 different types of in-depth analytics reports to help you improve your writing from all aspects.
ProWritingAid is an online tool compatible with almost all browsers, including Chrome, Safari, Firefox, and Edge. It also has a desktop version, so you can download and use it even if there's no network connection. However, it doesn't offer any mobile applications.
As for the subscription plan, you can try its free version or get a paid plan. They have two subscription plans for their users: For Private and For Team. More importantly, you can get your money back within 14 days if you aren't content with the service.
For Private:
Monthly Subscription: $20
Yearly Subscription: $79
Lifetime: $399
For Team:
Individual: $6 per month
Teams: $24 per month for 3 users
Custom package
3#. Hemingway Editor/App: A Distraction-Free Writing and Editing Tool
Hemingway Editor is an entirely free online tool that works well on Chrome, Safari, and Firefox. The Hemingway app is a paid desktop app available on both Mac and Windows. Unlike Grammarly or ProWritingAid, Hemingway doesn't have a browser plugin or extension, nor does it have a mobile version.
Hemingway aims to make your writing bold, clear, and direct. It focuses more on your whole writing style instead of any single word or grammar. Hemingway is much more of an editing app than a proofreading app, with tagging for 4 common writing errors to help you improve your writing style, including adverbs, passive voice, complicated words & complex phrases, and long, rambling sentences.
Hemingway will offer a simple analysis report regarding the readability score, reading time, and number of letters, characters, words, sentences, and paragraphs. So, you can easily avoid writing hard-to-read content.
The online Hemingway editor is completely free, and you can use it without paying. Hemingway app, however, will ask for the subscription fees. But don't worry, it only charges $19.99 for one-time use.
4#. Answer the Public: Search Listening Tool for Market, Customer & Content Research
For those who are writing blogs for websites, especially when writing SEO content, it's important to find out what users are curious about. If you want to gain high traffic, you must write good content that answers searchers' questions best. One of the most important things is to do comprehensive keyword research.
Finding out what topics users are interested in is critical for website bloggers, especially when generating SEO content. You must develop good content that best answers searchers' questions if you want to drive more traffic to the website. One of the most crucial steps is to conduct extensive keyword research.
In addition to those well-known keyword research tools like Google Keyword Planner, Ahrefs, SEMRush, etc., you can also use Answer the Public to get a thorough view of topics. It shows you all the relevant questions that searchers have asked on Google, and these questions will cover 10 aspects, including when, where, why, which, who, what, is, how, can, and will. For example, if you search for "chocolate" on this platform, you will see the results below:
Answer the Public allows you to search for three topics a day for free. If you want to get unlimited searches, you can purchase a subscription plan. No matter whether you buy it or not, you can download and save the report images for free.
Answer the Public offers you three subscription plans, and it allows you to cancel whenever you want. Check the following details:
Monthly Subscription: $99/Month
Annual Subscription: $79/Month
Expert Subscription: $199/Month
5#. Cliché Finder: A Simple Tool to Polish Your Work
To develop a well-written piece, it's important to avoid clichés in your writing. A cliché is a phrase, remark, or expression that has been overused. Cliché degrades the quality of your work and makes it difficult to read. If you could eliminate all the clichés in your writing, it would be ideal.
Fortunately, we have Cliché Finder to solve this problem. As its name suggests, it can help you find and highlight all the clichés in your writing, so you can easily remove them. By this means, you can improve your writing skills quickly.
It's simple to use Cliché Finder because you just need to copy and paste your content into the workspace and click the "Find Cliché" button. Watch out that no HTML is allowed, and you are limited to checking 10,000 characters.
Cliché Finder is a free online tool that you can use as long as there's a network connection. You don't have to worry about any additional charges. The only headache is that there are many advertisements on its interface. If you don't mind these ads, you really should use Cliché Finder every time you finish writing.
6#. Brainyquote: Quality Quotes at Your Fingertips
Usually, your writing will be more convincing if you include good quotes from famous writers, politicians, and celebrities. However, the question is, it's almost impossible to remember all the sayings and write them down correctly.
Brainyquote is a library with millions of unique quotes on a variety of themes. You can search for names and topics there. Then all the relevant quotes will be displayed, and you can choose the most preferable one.
As for the quotes, it allows you to copy them directly, which is very convenient. In addition, it also provides you with image results; that is, the quote is displayed on a picture, and you're free to choose the background that you like the most.
Brainyquotes also offers free services for users. So, you don't have to spend any money on it.
7#. SwifDoo PDF: An All-in-One PDF Tool
You may need to use PDF documents when writing, especially when sending your work to other people. PDF documents can help you maintain the original format of your writing because they remain self-contained on all different operating systems.
SwifDoo PDF possesses all the PDF-related features to solve all the problems you will encounter with PDF documents. Out of all its features, we must point out that you can use SwifDoo PDF to encrypt your PDF documents with passwords to improve security.
SwifDoo PDF offers all new users a 7-day free trial and a 15-day free trial for registered users. If you want to use it all the time, it also offers quite reasonable prices:
Monthly Subscription: $8/Month
Annual Subscription: $41.4/Year
Perpetual License: $119/Perpetual
Final Words
Using writing software isn't considered cheating. These tools use a variety of algorithms to check all the mistakes in your writing. By correcting them all, your final work will be perfect.
Of course, you shouldn't rely on those tools completely. The most effective way to improve your writing skills is to practice as much as you can. When using the mentioned software, you need to keep in mind the mistakes you've already made and avoid them next time you write.