Audiobooks have become an essential part of life for every person to quench the thirst for knowledge. With the help of audiobooks, users can easily unplug from their hectic schedules, relax and listen comfortably to a good story at their comfort.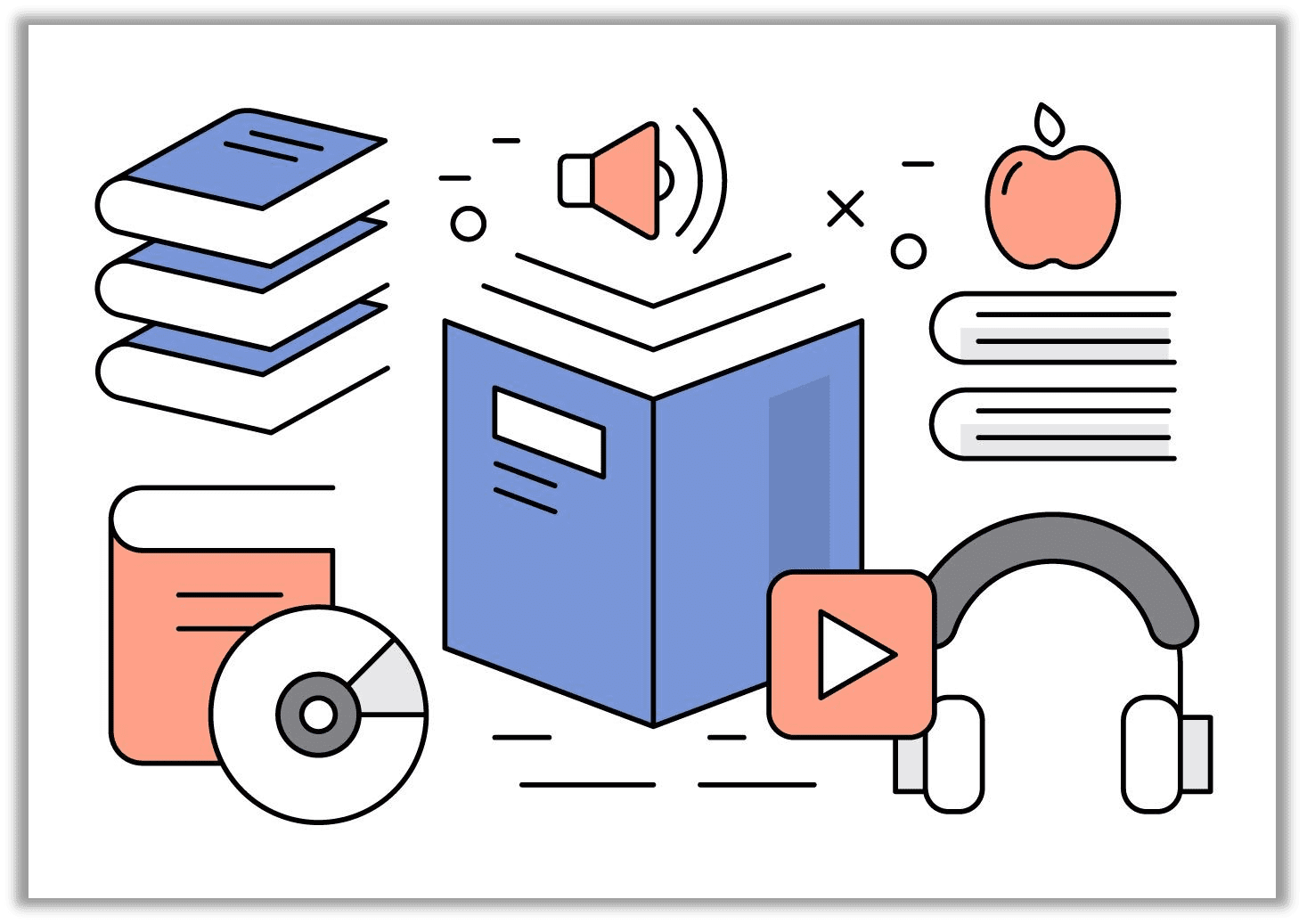 Audiobooks account for an excellent option for bibliophiles and people who aspire to read more but always find their feet occupied with multiple tasks. So here is a complete overview of audiobooks, their meaning, and sources to access them anytime. Stay tuned to engage in an exciting read ahead.
What Is an Audiobook?
An audiobook is an e-book that is available as digital audio files, and you can actually listen to them rather than read them. They are voice recordings of the book texts that can be easily played on computers, tablets, smartphones, home speaker systems, and even in-car entertainment systems.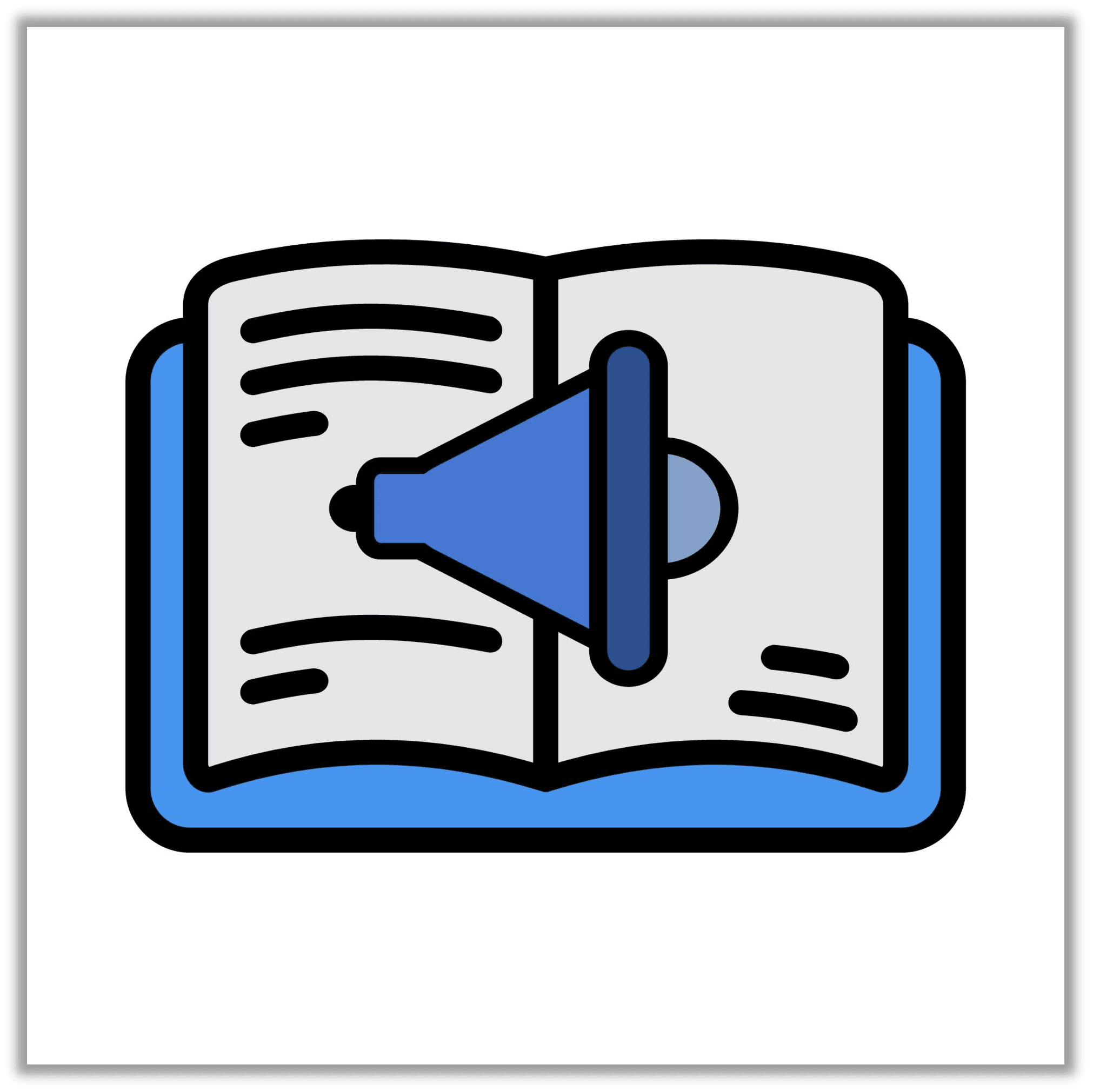 They are books you love reading but prefer to avoid reading a physical copy of a book or falling short of spare time to engage in a comfortable read. Audiobooks are a great source of podcasts to grasp awareness and feed knowledge on the go.
Where to Buy Audiobooks
You can easily satiate the cravings of your increased desire by getting audiobooks on your devices. You can easily buy audiobooks on multiple platforms like:
Amazon's Audible
Apple Books Audiobooks
Google Play Books
Kobo
Walmart Audiobooks
Libby by OverDrive
Audiobook.com
Why Are Audiobooks So Expensive?
Though audiobooks are a great experiment and a boon to knowledge lovers globally, users may find them expensive for multiple reasons. Many factors account for making an audiobook and its availability to users.
Cost of audio production of proofreaders, voice recorders, sound effects, famous narrators, etc.
Higher royalties for authors
Lower demand in comparison to printed books and hardcovers
Typically, the prices of audiobooks vary by book and the platform on which it is provided. Audiobook apps work on subscriptions to provide you with the best audiobooks and start your journey swiftly. In addition, you can avail of Amazon's Audible at $8 and Scribd books at $11.99 with a 30-day free trial.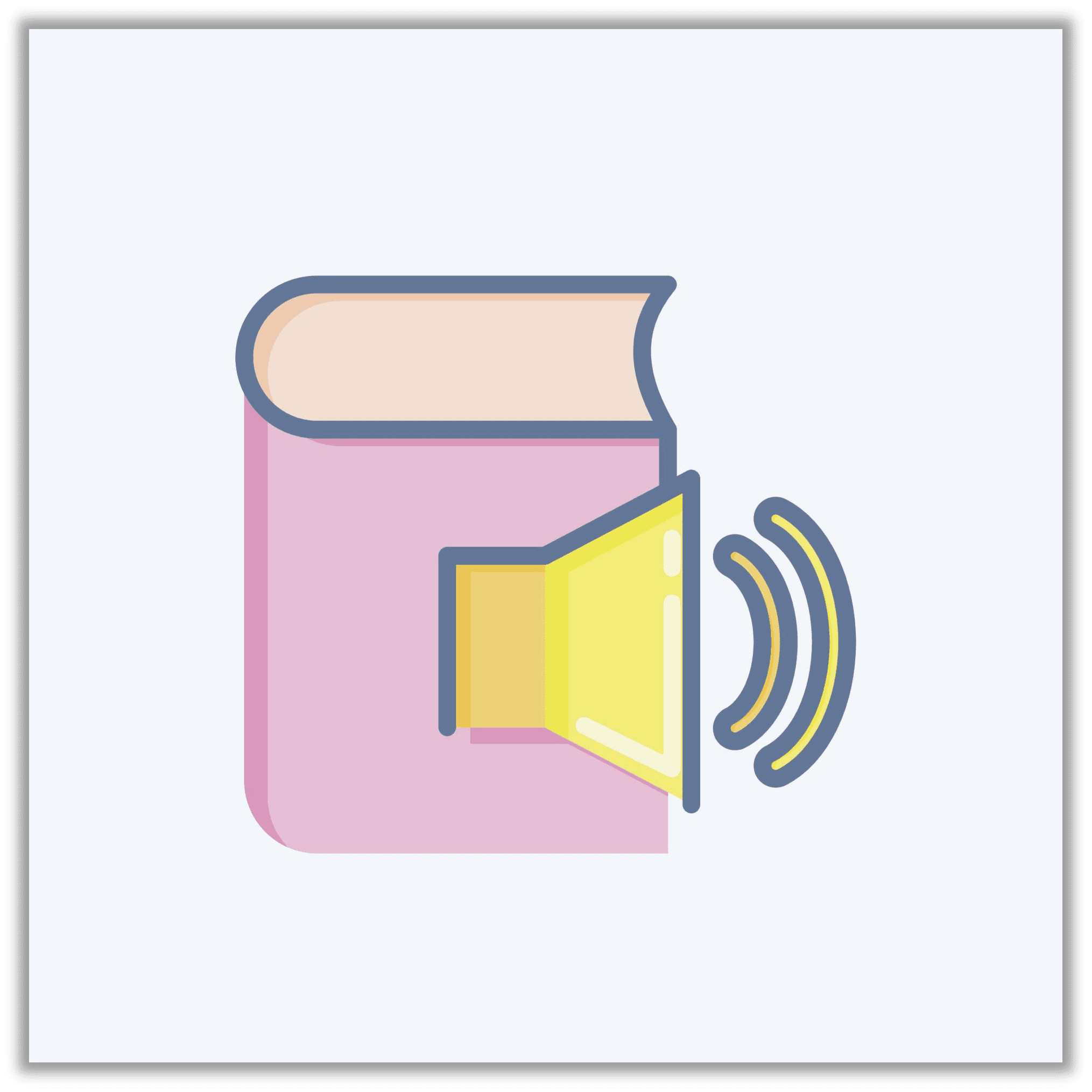 Here's a comparative table to give you an idea of audiobooks, their prices, and available platforms.
Book Titles

Audiobook Platforms and Prices

Where the Crawdads Sing (by Delia Owens)

Amazon: $27.56 (Free with Audible trial)

Google Play: $14.95

Apple Books: $14.99

The Only Plane in the Sky: An Oral History of 9/11 (by Garrett M. Graff)

Amazon: $24.80

Google Play: $16.95

Apple Books: $22.99

Harry Potter and the Sorcerer's Stone (by J.K. Rowling)

Amazon: $29.99

Google Play: $25.95

Fairy Tale (by Stephen King)

Amazon: $28.94

Google Play: $25.95

Apple Books: $19.99

Becoming (by Michelle Obama)

Amazon: $31.25

Google Play: $16.95

Apple Books: $16.99
How to Download Audiobooks for Free
Multiple sites exist to provide you with access to thousands of free audiobooks on their platforms. So instead of paying a visit to the bookstore, you can download these audiobooks to your device and listen to them in your comfort anytime. While even YouTube provides free audiobooks, you may find a download option absent.
Instead, you can download and get audiobooks for free through multiple sites like:
Digital Book
Loyal Books
Overdrive
LibriVox
How to Get/Download Audiobooks for Free From Open Culture
Here's a quick example to help you download and save audiobooks through Open Culture:
Step 1: Visit the official website of Open Culture. Select Audio Books from the main menu (horizontal bar menu).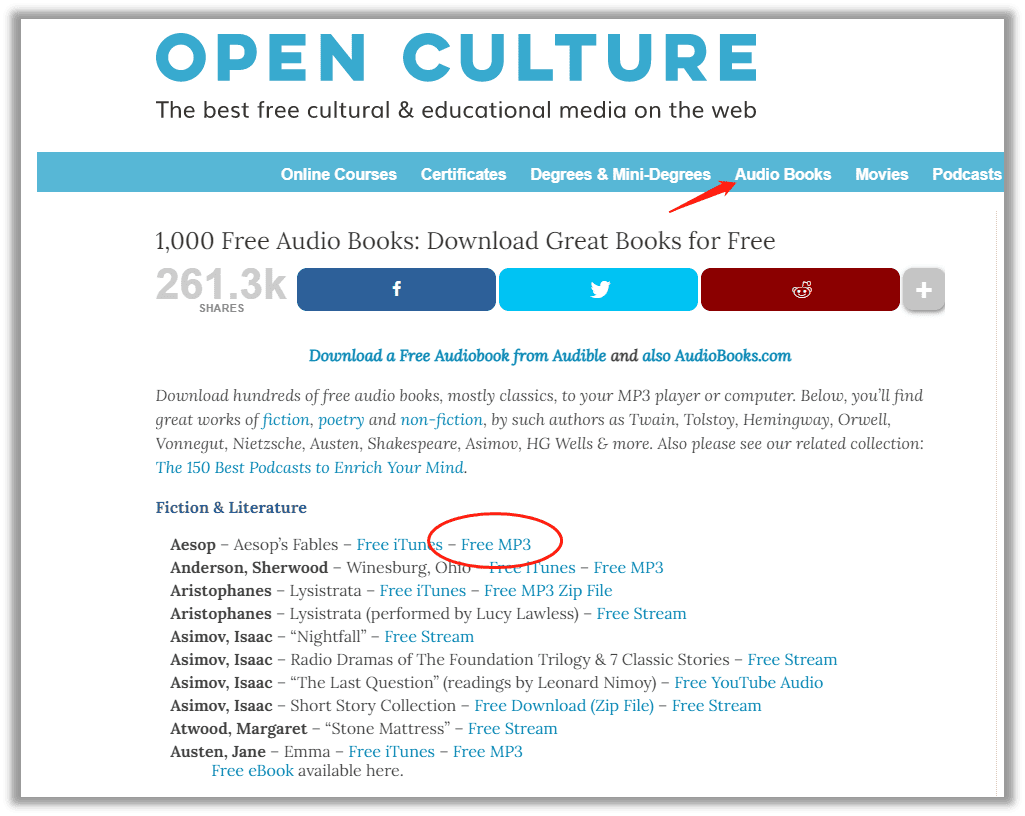 Step 2: Scroll down the list of available audiobooks depending on the genre, author, and book title.
Step 3: Select and click an audiobook to download and save it to your device. Here, we take Aesop's Fables as an example. When you are redirected to a new website, scroll down the webpage and go for DOWNLOAD OPTIONS.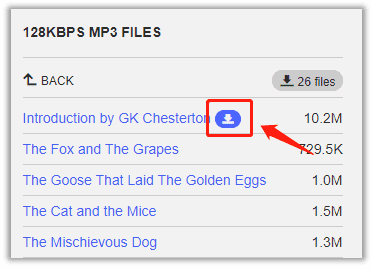 Step 4: Place your cursor over any item and select a sound source. Then click the download icon. When you arrive at the following page, press the three-dot icon and choose Download to save the audiobook podcast.

How to Listen to Audiobooks
You can download the audiobooks in their PDF format and let the SwifDoo PDF app work its magic. It is a blessing for Windows users to provide complete care of PDF files, books, and documents. So let's explore the feature of SwifDoo PDF and how to listen to your audiobooks.
SwifDoo PDF: The Best Way to Listen to PDF Ebook
SwifDoo PDF is a program for Windows users to read PDFs aloud by converting the text to speech. With the help of SwifDoo PDF, users can select to listen to a specific text portion, a PDF page, or the entire book effortlessly. Its auto-scroll feature enables the users to find where the readings end so they can resume their reading quickly the next time. The app supports over 15 languages and voices, including French, German, and English.
Step 1: Download and install the SwifDoo PDF app on your device.
Step 2: Click the left corner of the application and tap Open to select and view your PDF book or document.
Step 3: Now, under the Home menu, navigate to the Read icon at the right and click the drop-down triangle under it.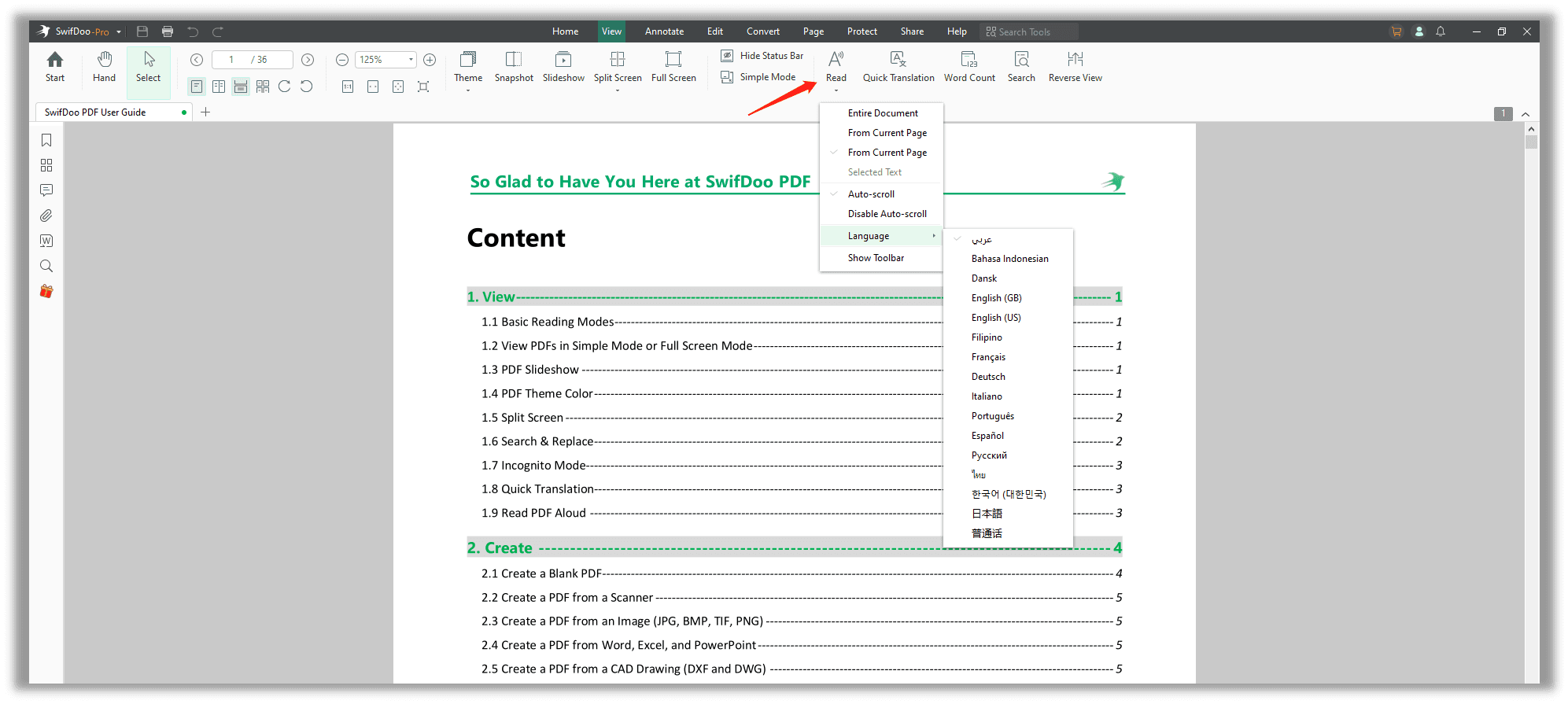 Step 4: Select Language in the pop-up menu to specify your document's language.
Step 5: Finally, choose whether you want the app to read the whole book or the current page only. You may also drag to select the text.
Once done, the PDF voice reader converts the text to speech and reads the PDF out loud.
You can also adjust the voice volume, pitch, and speed by clicking the "Show Toolbar" option in the "Read" menu. It also lets you pause and resume your reading.
Besides reading your audiobooks aloud in PDF, SwifDoo PDF allows you to annotate your PDF documents freely. You can add notes, underline and highlight texts, and add bookmarks to your PDF files. SwifDoo PDF is a soothing solution to view your files comfortably by changing the theme color.
Wrapping Up
While audiobooks are an excellent investment of time and knowledge, multiple websites offer them for free. You can download and save your treasured audiobooks to listen to them while working, while you travel, or when you run errands to stay updated and feed your mind with sprouts of knowledge and some valuable data. Also, you can use the SwifDoo PDF tool to read your audiobooks out loud and share them with your loved ones.