As a business owner, if you're looking to expand your operation and get your business up and running, it pays to have the right contracts and agreements in place. For those in the construction industry, there are different types of construction contracts. To start a law firm, be sure to know about full types of contracts in law. Regardless of the business field, you should get to know some basic and essential types of contracts that every company may require.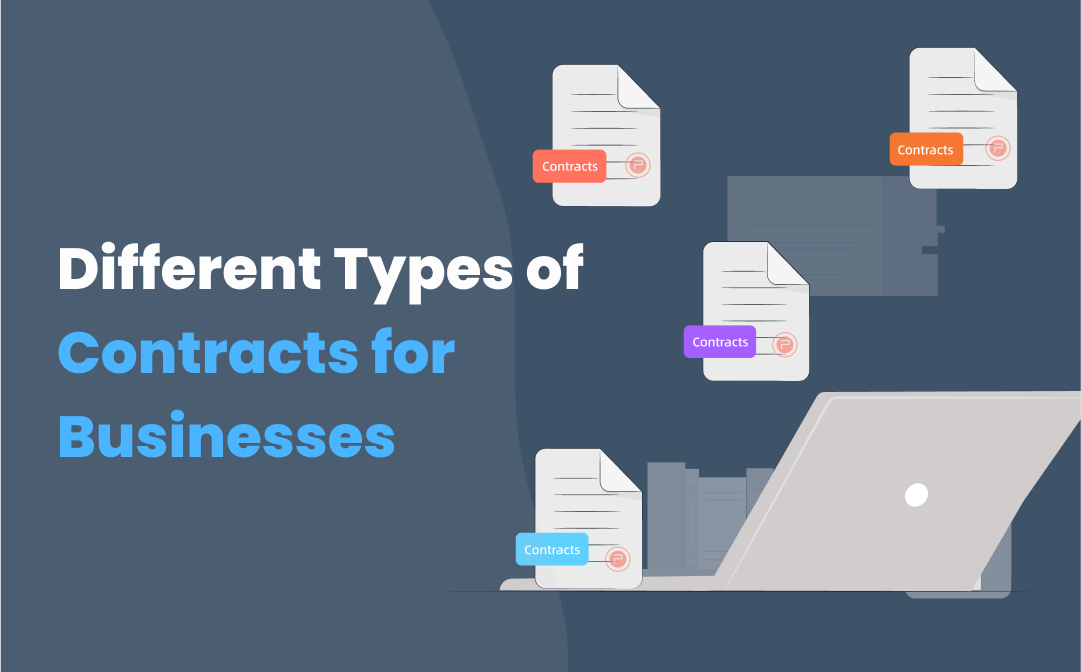 Here's a look at several important types of contracts for almost all businesses, especially for small and expanding businesses and how to utilize contract templates. The quality PDF software, SwifDoo PDF helps create all manner of PDF contracts from scratch or edit printable contract templates.
Service Contracts
Up first, we have service contracts. If your business provides services, as opposed to selling actual physical products, service contracts need to be put in place.
As far as importance goes, service contracts are certainly up there due to the fact that it lays out all of the conditions and the terms under which you provide these services for. Basically, it puts everything in black and white regarding what you provide, liabilities, and various terms and conditions.
Service contract is one of the most common types of contracts. Needless to say, you need to have a good service contract in place here to avoid any misunderstandings.
Sales Contract
A sales contract is an agreement between a seller and a buyer when a buyer decides to buy certain products. The contract covers the delivered product information such as category, quantity, price, etc., delivery date, delivery method, payment terms, transportation insurance, etc.
It also contains buyer and seller's contact details, addresses and even the seller's bank account. Some small companies use purchase orders or invoices as sales contracts. For larger purchase amounts, it is recommended that both parties create a formal purchase and sales contract. While there are many different types of contracts, a sales contract is almost a must for every business.
The sales contract includes:
Buyer and seller's information
Items sold
Repair and maintenance service
Warranty
Shipping method
Delivery terms
Solutions for delayed delivery or product quality issues
Supplier Contract
Most small and medium-sized enterprises do not produce all the product accessories themselves, but purchase them from suppliers, assemble them and sell the finished products. In order to guarantee product quality and on-time delivery, you need to ensure that suppliers deliver parts that meet requirements in a timely manner.
Therefore, supplier contract is another integral part of important types of contracts. It's an agreement between a business and a supplier. This contract also ensures that the supplier can receive the payment from a company. Things to state in a supplier contract include:
Information of both parties
Product specification, price, quantity, etc
Quality standard
Delivery time
Confidentiality clause
Compensation for non-compliance with agreed terms
Lease Agreement
Small and growing businesses start without sufficient funds to build their own buildings, they always need to lease a space for their office or business operations. That's where a commercial lease agreement comes into play among various types of contracts. The contract can be used for offices, warehouses, workshops, retail stores, warehouses, etc.
In order to avoid possible future disputes and misunderstandings between the two parties, the contract should specify the obligations and responsibilities of the business and the landlord such as the conditions of the lease for a space, payment terms, deposits, insurance, damage and maintenance liability, etc.
When creating a commercial lease, you should make sure:
The space meets your current and development needs in the near future
The agreeded types of business you can conduct on the premises should be as broad as possible
The proper lease term, whether it is auto-renewal or fixed end date with the right to extend
How deposits and utility costs should be paid
Whether you are allowed to sublet part of the space
Employment Contract
When learning about types of contracts, employment contract must be covered. The growth of a business requires the recruitment of more and more employees. A written employment contract legally defines the relationship between the company and an employee, and their respective responsibilities and obligations.
It clarifies the benefits that the company provides to its employees and the scope of employees' work. Signing an employment contract protects the labor rights and interests of employees and thus is crucial to attracting and retraining talents.
Here are some considerations to include in an employment contract:
Salary and bonus
Benefits
Contract duration or the employee's working time
Full-time or part-time, daily and weekly working hours
Employee's job description and other responsibilities
Attendance
Non-disclosure agreement
Confidentiality Agreements
Confidentiality agreements among main types of contracts are also potentially very important when it comes to running a business.
Confidentiality agreements are required when you are sharing information which needs to be kept confidential. Having somebody sign one means that, if they do share this info with other parties, they are liable and legal action can be taken.
When drawing up a confidentiality agreement, it's recommended to use a PDF writer to write all the content directly in a PDF. Even if you create the agreement in another format, saving and sharing it as a PDF is common.
Contract Templates
As society in general is becoming more reliant on modern technology with each passing day, finding ways of streamlining our operations, saving time, and simplifying everyday business practices can only be a good thing. Having contract templates ready to go, will not only save you time, it could also potentially help save you money.
From sites such as Jotform, Signaturely, etc, you can free download and save a construction contract template, employment contract template, rental contract template, service contract template, invoice template, business plan template, and any other type of contract template. Most of the time, they are available in PDF format.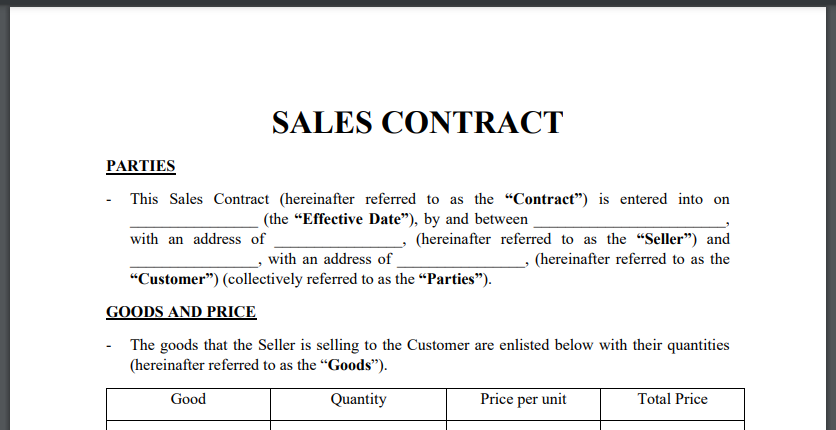 In terms of how to utilize a contract template, you can open, view, edit the text and font in a template PDF as per your needs using a PDF editor. PDF software also allows you to convert your contract template PDF to editable Word, Excel, PPT, or some other formats.
Types of Contracts in Business Plan
Okay, so say you're a small business and are looking to expand, having a business plan in place is crucial.
A business plan not only helps lay out your plans and strategies for your new venture, it can also help land you funding. If for example, you require a business loan to get up and running, a business plan template in PDF format is ideal because you can send/print off the plan and show it to the bank/potential investors.
When securing a loan, a business plan is your pitch and is what you need to use to convince your investors that your business is going to be a success and that you know exactly what you're doing. Considering all necessary types of contracts can be part of your business plan so that the investors will know your determination and professionalism to run your business.