The writing industry is quite aware of proofreading as it's an integral part of writing. Proofreading is an editing job that proofreaders perform to make the write-up free from grammatical errors, punctuation errors, spelling errors, etc. A proofreader's job is not easy, and it requires special attention and analysis power.
Things have changed after introducing digital tools in proofreading, and these tools make the job easier for proofreaders. If you want more information about proofreading and proofreading tools, stay with the blog and get the insights.
Proofreading is a time-consuming task in overall aspects. Hence, a digital tool comes forward to help the proofreaders shrink the time for the complete evaluation, and you can detect the errors, and work on them to fix the errors. Before going for a digital tool, let's know what proofreading is.
What Is Proofreading?
After finishing a content, you need to scrutinize the text to check for typographical errors, mistakes in grammar, punctuation marks, capitalization errors, numbering errors, spelling errors, etc. This overall evaluation process is called proofreading. Proofreading is the final phase of any write-up, mainly focusing on making the content error-free.
Proofreading is an essential part of any content before publishing. It is called the final phase, as typo errors can damage your impression among your readers, and you may lose your credibility as a writer. To avoid such an awkward situation, you must strengthen your proofreading skill and proofread the document before sending it to the publisher for publishing.
You need to follow a checklist while you sit with your document. To keep your creative production sublime, you need to check:
The tone of your write up
The logical flow of the writing
Style guide consistency of the write-up
Specific spelling and use of jargon
Correct data
Grammar, spelling, capitalization, spelling
Your personal opinions
Relevant images
Any broken lines
A co-relation between introduction and conclusion
These are essential points you must keep in mind while you are with your document for proofreading. Earlier proofreading was a hectic task that consumed lots of time and couldn't produce desired results. The entire process was manual; therefore, the chance of mistakes remained in performance.
Thanks to digital technology, you can proofread your document, and it takes less time than the manual process. Let's understand how digital tools are helpful in the course of action while you are banging your head for proofreading.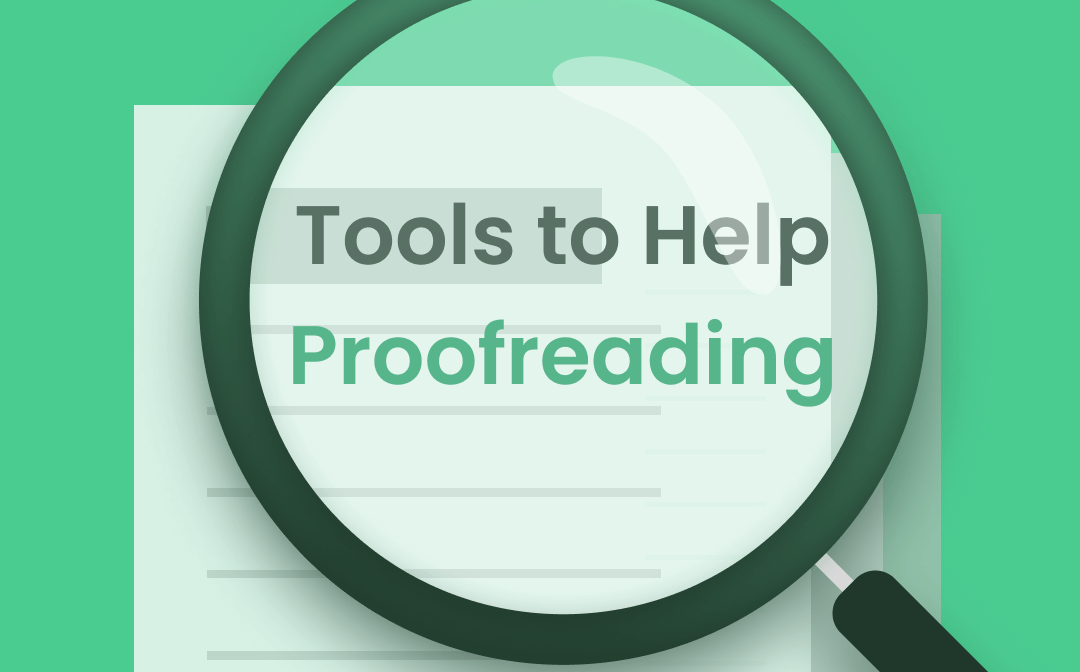 Microsoft Word for Proofreading
If you're a Windows user, you can avail Microsoft Word for proofreading. Microsoft word offers a few primary and elementary methods to proofread your document. If you know how Microsoft word works, you can quickly proofread your document and evaluate your own creation.
Microsoft offers the primary proofreading option by providing spelling and grammar checks, adding a dictionary, and the overall tone of the document. If you use the latest version of Microsoft word, you can avail a few modified features like track changes, viewing different versions, reviewing your changes, etc.; you can add a personal comment in the box while you make the changes that help to understand the writer why you modify the segments.
A personal dictionary has millions of words stored. The plus point is you, too, can add you're known words to the dictionary while verifying the document. New, unique, and relevant terms can make sense of the specific area in the content, which readers may find helpful. While using a personal dictionary, you can avail the tool's suggestion or apply your self-stick of words.
But there are some significant downsides to working with Microsoft Word. Proofreaders often find them feel difficult to deal with. Despite the version, it offers the spelling and grammar part essentially.
Though it's available with the latest version, it still needs modifications to produce a professional proofread method. Sometimes, it cannot sense the complex sentence structure and suggest modifications that can damage the context of the paragraph's tone or the document's subject line.
Working with PDF: SwifDoo PDF Tool
Modern technology must come with a current solution that the SwifDoo PDF tool can provide you with utmost flair. The all-in-one, free PDF editor SwifDoo, can produce the desired results you're looking for.
The free PDF editor tool can do all these basic proofreading tasks and offers an advanced method to prepare the document errors free before publishing. First, you can convert the simple word file into a PDF file to secure its access.
The text's shape, size, and color can define the tone of your writing up which SwifDoo PDF editor will polish and redefine the overall structure. Once you are done with the basic and primary changes in grammar and spelling issues, you can move forward further to make it more readable.
It offers an optical character recognition feature. This OCR technology scans the document and converts it into an editable format for advanced editing. Before opting out of OCR, you need to select the language. If you want to insert links or images in your write-up while proofreading, the tool can help you add all these components to your write-up.
The background color affects the readers and influences them to read the full document. SwifDoo offers a background color change and makes the read more eye-catching and attractive. Background color with relevant font attracts readers to glued with the write-up.
Lastly, before sending it to the publisher's house, you must protect it by applying for password protection. The double-layer password helps secure your unique and creative creation from unwanted access or stealing while you exchange with your publisher.
While you ready the entire proofread document, enter your digital signature to ensure that it's you sending the publisher to publish the manuscript. The digital signature helps the publisher navigate your documents easily from others as publishing houses get thousands of papers to post daily.
Bottom Line
Errors can spoil your name and fame as a writer once your book is published and readers place an order for the copies and find mistakes. The above-stated digital tools can be your two companions while you get onboard for proofreading. While Microsoft Word can provide you with the essential elements for proofreading, SwifDoo would take you to the advanced level.
Proofreading is the final stage before final publication. It should meet the concluded evaluation process, eliminate all the original manuscript errors, and produce an error-free proofreading document for your publisher. Using the tools, you can utilize the most out of its functions and make your documents error-free from all the proofread aspects.