An exotic trip to another country with your partner and exploring new places are the two sides of a coin. People love to travel to de-stress for a few days or simply business trips to meet clients and close deals. Despite the reasons, preparing for a trip to another place or country needs precautions, and it all must start from the pre-travel time until you reach your home.
Are you thinking about what should I do? No worries, if you are planning to go somewhere, narrow down your trip preparation as we will suggest a guide to travel, including all the crucial measures you must consider before flying off to an unknown land. For example, you can utilize SwifDoo PDF software to store your documents required for travel in digital format for safety.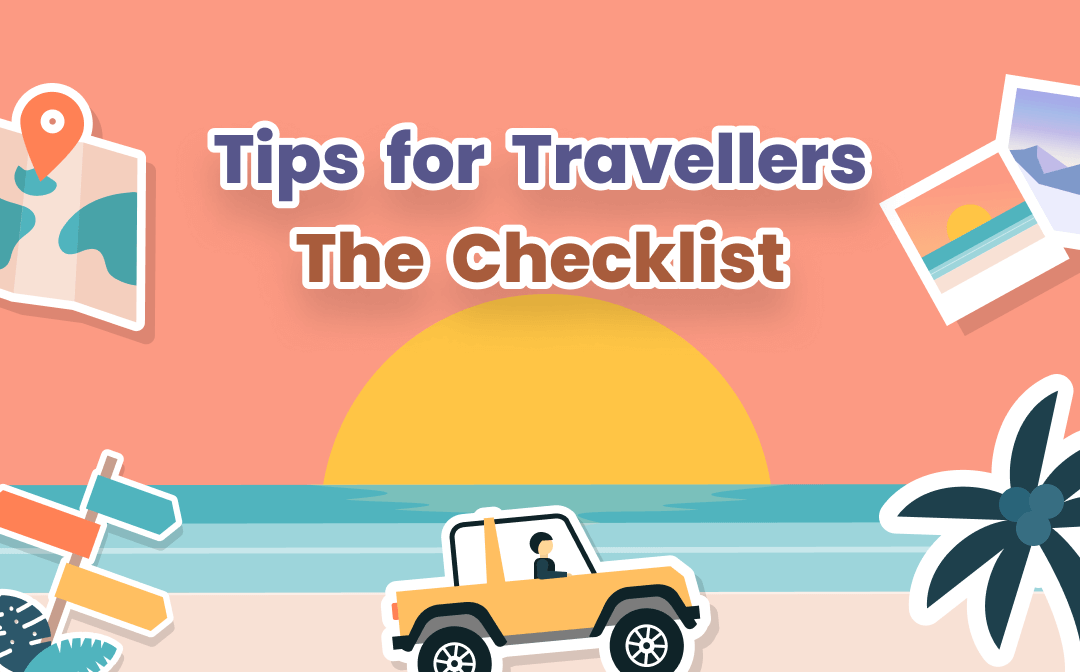 Destination travel always brings a fresh mood and boosts a monotonous routine. The sublimity of the new place or country can break the anxiety level, and you can enjoy the trip to your fullest. But, after the Pandemic visiting a new country, well-researching is a must to avoid unwanted hassles and worries.
Make sure you pack aptly before running to the airport. If you are in a dilemma, let's discuss the tips for travellers so that you can find your answer. What should I do before I go on a trip?
Tips for Travellers: Checklist before Starting off
A few things are pretty typical for the tour and travel, but we often miss them. To charge up yourself, plan accordingly so that you should not miss anything to add to your backpack. Let's see what you can furnish preparing for a trip.
Check Your Passport and Visa Status
A passport and visa are two gateways to entering a new country. So they are two of the prime documents you must ready handy wherever necessary to show the officials of that country. You need to check the expiry date of both documents. If you find they expired, you need to re-apply for renewal. Let us inform you that renewing takes a little bit of time, so apply accordingly.
Now move to the next part, scan your passport and visa's copy, save them in PDF format and store them in a separate folder that you can access from anywhere. Softcopy of these two vital documents can be a savior if you don't want to carry them wherever you go. For that, while planning your trip, install a lightweight software SwifDoo PDF, a free PDF converter tool that can convert these prime documents into PDF for safe access.
Keep up to Date on Your Travel Insurance
While you ensure your travel, check what they will cover and how much you will get if anything terrible happens. Further, the Pandemic has brought a few changes to every insurance policy. So, make sure you are aware of all those parameters for your health and safety the policy will cover. Before heading to your destination, scan the policy copy and take the print scan copy of the paper.
For further safe storage of such prime document, convert it into PDF using SwifDoo PDF converter, and save the copy in your personal digital locker. Insurance papers are essential documents to keep safe, especially when you cross the border and don't know much about what is awaiting you. The security can assure your family, and both can enjoy each other's company while setting the anxiety aside.
Scan Your Personal ID Proof
It's mandatory to carry your personal ID wherever you go, and it will have your personal details and make it easy to understand which country you belong to. Scan this vital document before starting off towards your destination. Use the PDF converter, scan the ID card, and save it in your storage.
Ensure you can access your folder anytime if you lose the ID and make a duplicate copy wherever necessary. It would be better to scan the image to PDF with SwifDoo PDF converter, keep the original at home, and travel with the identical copy of your original ID proof.
Register Your Travel with the State Department
The US Department of State allows you to register your travel details if you're going to a remote area. The registration will ensure your safety and security, and if any emergency requirement is there, you can alert the department and ask for necessary help. They can even monitor your movement and stay alert for your protection.
Share the registration numbers and other details with your family members so that, in any case, they can contact the local State Department with the necessary documents. You can scan your State Department Registration copy and convert it into PDF using the free PDF converter SwifDoo PDF. Don't forget to give your family members access to this vital copy.
Know the Emergency Health Advisory of the Country You are Entering
Pandemic has brought a drastic change in a few sectors, and tourism is one of them. Earlier, what was easy access, now it will not. Read the Pandemic statutory warning details before entering the new place or cross-border country and follow the rules and regulations to avoid hefty fines.
Pack Your Cecessary Items
Packing is the most tiresome affair while you go somewhere. Some people enjoy it, and some feel bored. Whichever category you fall, pack all the necessary items one by one. Make one list of things you want to take and keep ticking after keeping it inside your bag. The checklist will never let you skip any essential items, especially medicine and healthcare.
Keep Your Wallet Complete with Currency and Payment Cards
Different countries use different currencies. Know the currency of the country you will visit and keep all the changes inside your wallet. Don't forget to take your payment cards and check the balance before reaching the airport. Keep all the toll-free numbers of credit and debit card companies to corner the card-denied problem. Don't take unused cards or those cards which cannot accept international payment. Be wise enough to note down the PIN of the cards you are carrying in your secret notepad.
Apart from these tips, a few more measures are there, including avoiding unauthorized agents, local thieves or goons, or any fraud scheme people around you try to sell you out. Don't forget you are the guest of that country, enjoy your stay and avoid any conflict that may land you in trouble. Know where to contact if any unwanted things happen and protect yourself and your family members.
Final Words
Travel to another country could be a relaxing affair if you know how to visit the place with proper arrangements while preparing for a trip. Garner information as much as possible to know the site better. We hope our trip preparation will help you on your next onboard trip to an unknown country.
The tips for travellers have covered all the essential parameters to keep you safe in a strange land. Further, use a PDF converter SwifDoo PDF to keep all the crucial travel documents in PDF format to get secure access wherever you go.