Each year thousands of business ideas are proposed, but only a chosen few come into action. What is the difference that those few made it to the limelight while others got shelved? Probably the pitched proposal.
A successful business is not only about a successful mission and vision but also about the strategic planning and its execution. Irrespective of the film and entertainment, education and business industry, storyboard has never run out of fashion.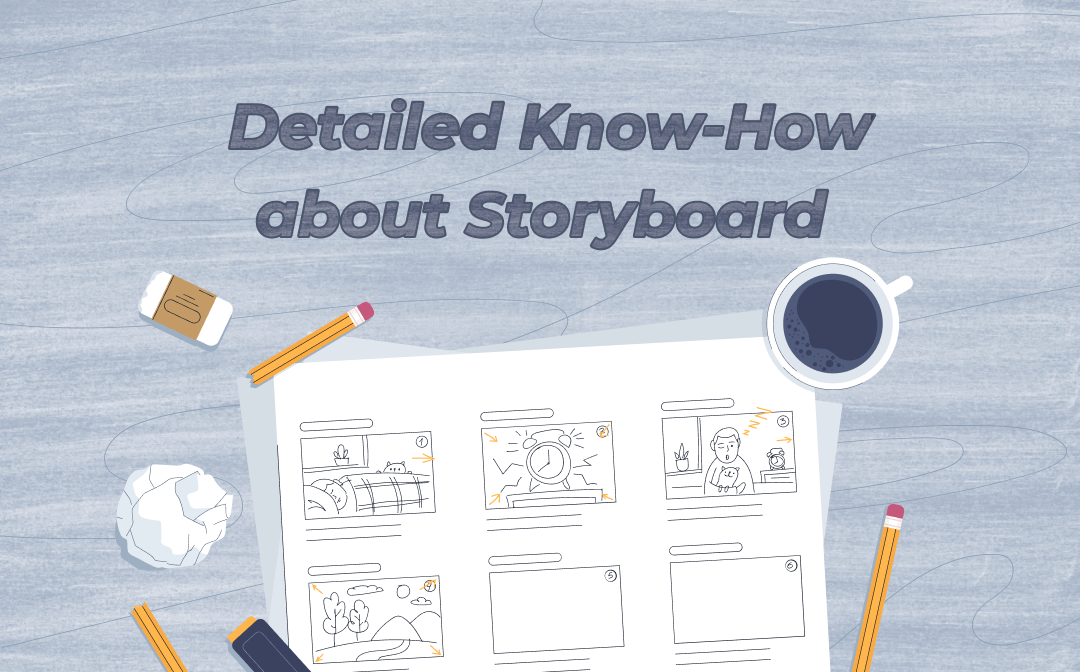 If you are a budding artist or a struggling entrepreneur by now you should be asking what is a storyboard, to work upon your dreams as swiftly as possible.
Storyboard: Your Exclusive Video Planner!
Storyboard is a graphical illustration of your thought that is set to be designed as a narrative to your streamline story. It got its relevant share of due concerns only after the recent developments in technological advancements and increased motion designs and video contents.
Storyboard helps you design your thoughts sequentially carving them in broken pieces on a board to set the right frames for your story. Each square and block depict a picture of what is taking place in the scene.
Storyboards work on the concept of block pieces, where each block depicts a part of the story. It is then placed in a sequential order to make sense out of the broken story pieces. Usually additional notes are tagged with each block to set the guidelines for its placing.
It helps organize your thoughts of information graphically, sequencing them orderly to make a powerful impact with the passage of time with each frame. It aids the artists to maintain their focus on the core theme and plot of their story.
History of Storyboard
The term storyboard was coined back in the 1930s, when it was first used to draft the idea for storyboard animation. Though the debate is ongoing whether Walt Disney or Howard Hughes can be cited to be the father of storyboards. Even the filming of the first live action movie, Gone with the Winds, owes its success completely to the storyboards.
Benefits of StoryBoard
Storyboard is a broader term and is used in multiple fields to create frames for the systematic organization of the information.
Storyboards set the stills and images planning the instructions before filming a video.
Entails graphical details:
A motion designer jots down the frames graphically to prepare the required frames for the animation of a well researched static data.
Storyboards are not restricted to scientific experiments alone. They are used in many experiments such as evolution processes, military tactics, cyclone movements,migrations, etc. It also experiments with the dynamic data.
For creative learning and the understanding of scientific projects, teachers usually take help of storyboards to make the lessons more interesting for their students.
Storyboards are also used to create softwares. Engineers often rely upon the storyboards to have a greater understanding of the software for a better user experience.
Storyboard Artists
Storyboard artists are the people who convert a script or a concept to a potential story. They hold a perception to view the message in its best interest. They need to have a wider clarity of the concept to turn it into an engaging storyline.
With the help of frames, storyboard artists work on the planning of the project to create the story and its characters. It is only their creative vision that adds life to a lifeless image.
Storyboard Examples: How People Use Them in Different Industries
Storyboards are not confined to a particular industry alone. Rather they are used in various industries including:
Many students are better visual learners than the classic rote learners. To enable a better and wider learning practice in such students, teachers resort to illustrate their teachings and ideas through storyboards.
They plan narratives, summarize texts, organize information and create instructional graphics to help their students learn the concepts in a smart manner.
Storyboard animation is designed to have a clear view of a full motion animation picture and includes shorts for comics, graphic novels, video games, televisions and films. To aid in an inexpensive creative process, animators edit their animatics and other stills through an anime storyboard.
Storyboards assist the animators to have an idea of the shot sequences and camera angles to be added in the animation production.
From a creator's camera, the storyboard holds a key role to play. A lot of efforts are put in by the actors and the creative team to create the perfect storyline to grab their audience.
Storyboards help the cinematographers to create the perfect frames for the film and edit it as per the needs.
In the theater industry storyboards assist the directors and the artists to understand the theme of their potential plot. Many times even the theater artists take the help of storyboards to structure their acts better.
Even the stage managers and improv troupes rely on storyboards to quickly jot down their creative vision for an organized and a smooth performance.
Advertising industry includes commercial production, event launches, films, new media, etc. Where the media campaigns hold a powerful influence, one cannot afford to ignore the importance of storyboards.
With the integration of digital technologies, traditional art cannot be compromised upon. Storyboards help the advertisers to maintain a sync between their thoughts and their actions on camera.
Advertisers generally take help of still photographs to edit them in a sequence to help them narrate a story. It is one of the popular storyboard methods to indulge in before creating an actual storyboard.
It helps the advertisers to know the effectiveness of their storyline and the campaign to run.
Job of one, is the business of another. Apart from the planning of events, commercials, campaigns and presentations businesses also use storyboards for various other departments like accounting, production, etc. to help them optimize their performance by having a track record of their routine working.
Storyboards derive a striking similarity with comic books and cartoons. They can be interchanged to create one another. Creating graphical illustrations of a thought perspective for a smooth storyline is what the storyboard artists derive their inspirations from.
No wonder why some storyboard artists choose to start their careers as cartoonists initially before growing and spreading their wings to several other sections of the media industry. .
Now that you have seen multiple storyboard examples, even you can create your own storyboard with the help of Storyboard That at the comfort of your ease. Ditch the traditional storyboard learning methods and learn storyboard skills yourself at a click.
How to Make a Storyboard
If you are clueless regarding how to make a storyboard, you can simply follow these steps to successfully create a storyboard of your own:
Step 1: Set your goal:
Before creating a video you need to be clear of your goals to act accordingly. Defining your goal with utmost clarity should be the priority in the strategic planning of your storyboard.
Step 2: Draft your idea:
Once you are set with the goals, brainstorm your brain and briefly draft your idea. Make sure that you are clear about the plot and message of your story that you ought to create and present to your desired audience.
Step 3: Sketch your thoughts:
With the help of your preferred storyboard template, set a layout of your ideas. Sketch your thoughts on board to provide stills and base to your story. With stick figures, you can have a basic start to your storyboard. You need not get fancy with the blueprint.
Step 4: Include Notes:
Be careful to include additional notes underneath your sketch boxes. The details include camera angles, screen texts, transitions, shot size, special effects, etc. This process helps you depict the peculiar details of the ongoing scene and further guides the production process.
Step 5: Seek others' opinion:
Take help of your peer mates to help you guide for the better with their honest opinions. Improve on the areas that have a scope for a better depiction of your efforts and ideas. Be open to criticism and feedback unless the opinion of others does not deviate you from the flow of your story.
Step 6: Implementing the feedback:
Implementation of the necessary feedback is a must to make your video sensible enough. The storyboard illustrates a raw version of your production. Make sure it is flawless to avoid making necessary changes during its filming.
Step 7: Final Output:
Following these simple steps you have successfully created your own storyboard to be produced before the clients, production houses, etc. to depict a picture of your thought process.
Storyboarding is indeed a time taking process but the patience put in is worth it when you communicate your message smoothly and get to encash your efforts.
Storyboard Template
There are several websites available across the internet to help you create and avail printable storyboard template PDF easily. Not only do they assist you with their PDFs but also provide you with a blank storyboard to help you customize the graphical representation of your thoughts wisely.
You can take an idea for your storyboard template from a few listed websites as well:
If you have saved or created a customized storyboard template of your own, you must have saved many storyboard template PDFs as well.
With SwifDoo PDF you can use a storyboard template with a lot more ease. SwifDoo PDF helps you convert, print, and even customize the templates as per your needs.
Final Note
Storyboard was, is and will always be a top-notch priority before drafting and scaling your ideas on a bigger screen for a wider audience. It is a vital part of production that cannot be skipped in the creative process, especially for a new project.
Storyboard helps you plan your strategies and help plan the campaigns and event launches as well. They are your go-to plan of action before revamping changes in any industry or work including a creative process.