With the rise in technologies, searching for a job and securing one is not at all an easy task in this competitive world. But a software engineer has always been in high demand for his power to build an online reality. Are you too aiming to become a software developer? Well, it takes proper knowledge and analytical skills to help you land on the right platform.
With the help of a perfect software engineer resume, you can translate your academic qualifications into the job industry and secure one by impressing the recruiters with your knowledge and prowess. All you must have is the potential to sell yourself.
If you are in dire need of a job or looking for one for your friend or loved ones, you have arrived at the right corner. Here we will explain everything you can prepare before applying for your required software engineer job.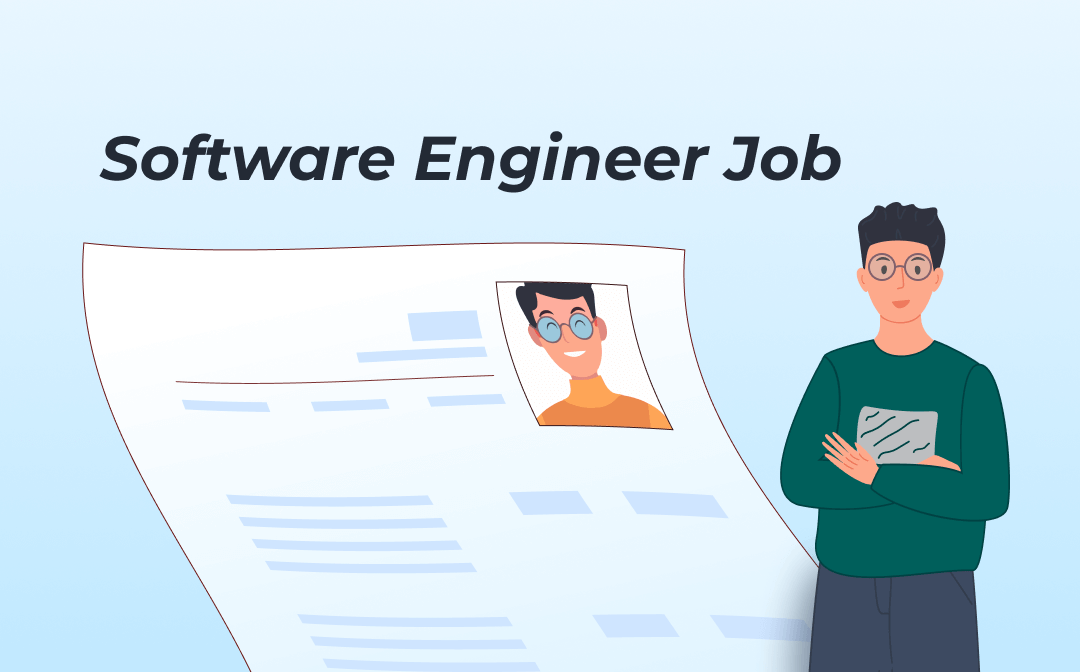 Software Engineer: Qualifications, Jobs, and Industry
Being a software engineer, you are supposed to solve real-world problems through your knowledge and skills applied to computer systems. The job of a software developer is highly rewarding as it requires analytical thinking.
But before heading to find a job in the web industry, you must be aware of the various roles and responsibilities that the IT industry demands, so you can brush up and polish your skills before seeking one:
Design, modify and maintain software systems
Evaluation of new software programs
Regulate the system performance standards
Code writing and testing
Software optimization for scalability and speed test
Presentation of new ideas to clients and stakeholders
Software engineers are not typically labeled or confined to the IT sector. Undoubtedly, the IT sector is the go-to place for a software developer. Still, there are many other industries and organizations also where you get a scope of exploring some other sectors as well.
Self-employment
Freelance work services
Government
Defense and security
Research and development
Manufacturing
Financial services
Healthcare
Medical insurance
Media
Utilities
What Capabilities Should You Possess to Qualify for a Software Developer?
Anyone can hold a degree in a relevant subject, but it takes fundamental skills and capabilities to become a software engineer. To become a professional web developer, you need to have the necessary skills:
Excellent research expertise
Encryption and cryptography
Understanding and basics of all OS
Knowledge of databases
Understanding of Networking
Process of cross-platform software
Structuring data and algorithms
Knowledge of UI framework and toolkits
Concrete knowledge of Java
Excellent knowledge of programming languages
Analyze complex technical data
Troubleshoot and debug
Ability to work and grow in a complex environment
Understand and write technical specs and documentation
Team spirit and cooperation
Career Choices Related to Software Engineer Jobs
Once you have completed your graduation, or if you are looking for a job change, there are endless options to explore. Some of the multiple options available that you can try your hands on while searching for a job in your field of expertise include:
IT consultant
Web developer
Web applications developer
Web designer
JAVA developer
Systems analyst
Front-end Web developer
Back-end Web developer
Game developer
Cyber security analyst
IT technical support officer
Multimedia programmer
Forensic computer analyst
Software tester
Sound designer
Database administrator
Software Engineer Resume Templates
While making a resume, you must clearly understand what you should write and where to place it. The software developer resume is a little bit different from other resumes. For this, you can take the help of some fruitful ideas from the readily available software engineer resume templates.
Many websites can assist you in getting these templates online. Such as:
Indeed
Enhancv
Job seeker
Live career
Forum for pgemv
Kick resume
Resume lab
Novo resume
Arc dev
Such templates for a software developer are generally in PDF format, and you can download and print it to be readily accessible on your devices. You can also rely on a PDF Reader, say SwifDoo PDF Reader, to open and read them to take a clear view of the resume while making one.
With SwifDoo PDF software, you can edit your saved resume template PDFs to customize them according to your needs and preferences.
Software Engineer Resume: Guide, Tips, and Tricks
A resume is the first step of translating your theoretical knowledge into a perfect set of words to help communicate with your recruiters better. But there are specific tips to be followed while writing one to help impress your employers and leave a killer impact on them.
Let us learn the art of writing the perfect resume to apply for a job in the technical web industry.
How to Write an Ideal Software Engineer Resume
Whether an entry-level web engineer or an experienced web developer, you can customize your resume according to your skills. Here is an ideal way to write your resume to help you get hired in a jiffy.
Tailor your resume:
While there might be numerous applicants, you must be the one who gets hired in the first place. At least your resume should speak loud and radiate your spark. In that case, you must customize your resume according to the description of the essential role and write what is necessary and fits the position for the job.
Go through the demands of the job role and make sure that your resume possesses those necessary skills, language, responsibilities, and programs mentioned in the description. You must add your experience in the relative field to increase your chances of hiring.
Include relevant keywords:
Selection of the relevant keywords depends highly upon your area of expertise. For a quick start, you can resort to some below-given options:
Front End Keywords:
Coding
Javascript
Search engine optimization
Creation of web pages
User interface
Back End Keywords:
Back end framework
Hosting environment
Back end programing language
Database administration
Security compliance
Web Keywords:
Debugging
Responsive design
Modules writing
LAMP development
DevOps practices
Sport your technical skills:
Highlight the section on technical skills in your resume, as the recruiters will focus keenly on that. Invest time and expertise to create an excellent technical area that will include your skills regarding the knowledge and understanding of languages, programs, and systems. You can also add the training course if you have attended one to add a certificate to your skills.
You can also subdivide the various sections to give a broader view of the specifications. It will help the recruiters to engage in your resume better.
Peculiarly define your accomplishments:
Instead of writing a bland resume, you must define your accomplishments with real-life problem-solving cases. Your work experience can count on how you dealt with a situation before and what was the relevant outcome.
Having skills is great, but putting them to use right in time calls for applause. Compellingly craft your accomplishments to help the recruiter understand your skills and how they may fit best in the job and company.
Select the suitable resume layout:
Always follow the classic chronological resumes if you are out of new ideas. At times simplicity is the key to helping understand the narratives better and avoiding any formatting that makes it tough to read and understand.
Always focus on your skills and experience. Prefer creating separate sections for each parameter, say, education, skills, accomplishments, experience, etc., to ease the recruiter is going through your resume specifics.
Stick to a basic resume framework:
Some resume rules that you must remember before you draft your resume includes:
Always make a single-page resume
Focus on your crucial achievements
Highlight your technical skills
Remember to proofread your resume
Create the Perfect Software Engineer Resume
With the help of some resume templates, you can customize and create your own resume.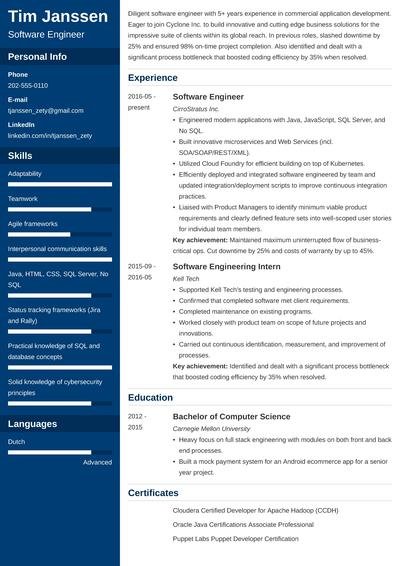 Design a resume structure- create a blueprint/ layout of your resume
Start with introducing yourself- name, contact information, email ID, etc.
State your work experience - State your job experience to date
Define your education - school, college, and extracurricular activities
Include your exclusive skills required for the job - soft skills, hard skills, programming languages, etc.
Add extra necessary skills- relevant hobbies and interests
Be creative with a resume summary- summarize your skills, accomplishments, and experience
Well-written cover letter- additional information about your skills, abilities, and achievements
Essential Tips to Secure a Software Engineer Job
Creating a resume might be the first step toward finding a job, but there is more to it. You must be alert to the opportunities and help yourself grab one quickly by being prepared beforehand. Some essential tips that can help you to design one and land a job are:
Be clear of your priorities
Set your area of work interest
Focus on your knowledge, skills, and abilities
Increase your job search platforms
Communicate directly with the recruiters
Be professionally active on social media (e.g., Linked In)
Learn new programming skills
Follow up with your recruiters and interviewers
Where Do You Find the Software Engineer Jobs?
Finding a real job for your skills is not an easy task. But online freelancing platforms have made the job much easier. You can try searching for the jobs based on your skills, experience, and qualifications through any of the following online platforms:
Linkedin
Monster
Arc dev
Glassdoor
Zip job
Career builder
Flex jobs
Recruitee
Skill crush
Snap hunt
Upwork
Better teams
Interview Tips to Crack a Software Engineer Job
Getting your resume shortlisted for an interview is just half a job, and landing the job is the real deal to crack. Apart from confidence being the key, you should be tuned in to the interview needs to avoid the common mistakes and exhibit your technical skills in a timely fashion.
Here are some quick tips to help fix your job right away.
Always revise and be thorough with the fundamental concepts, especially coding.
Master your command of at least one programming language.
Prepare and rehearse a brief self-introduction pitch.
Take time to think before answering.
Don't give unclear and vague answers.
Be transparent about your technical skills and knowledge gaps.
Practice the art of answering short and to the point.
Answer behavioral questions from your personal experience stating a specific situation and how you accomplished the result.
Maintain a conversation by asking meaningful questions to clarify doubts with your interviewers.
Don't bluff your interviewers by bragging about something you have little to no knowledge about.
Never speak ill of your former employers, clients, and organization.
Prepare relevant and thoughtful questions to ask the interviewers at the end of your interview to know more about the work and company culture.
A Quick Wrap Up
Finding a job might not be difficult, but getting the right one based on your knowledge, skill, degrees, and abilities sets the bar high. Here we have explained everything you might require to get a software engineer job.
It would be best if you always were thorough with the job profile and company that you are applying to. You never know when new opportunities may evolve with their ongoing or upcoming projects. If you are an experienced engineer looking for a job switch, you must always carry a portfolio of your work experience and achievements. Sometimes testimonials from your former employees and colleagues add a cherry on the cake.
Apart from the required qualifications, we have also assisted you in preparing a software engineer resume yourself. With the help of some templates and tips, you can easily create one for yourself and appear for a job confidently.
So hurry up! Fetch yourself a job now.