As much as a trade fair might excite you, it can be challenging if you fail to hit the bull's eye. When attending a trade show abroad, you must leave no stone unturned to seek every opportunity to win over your clients and leave them chuffed. But for this, you must have a compelling product booklet in hand.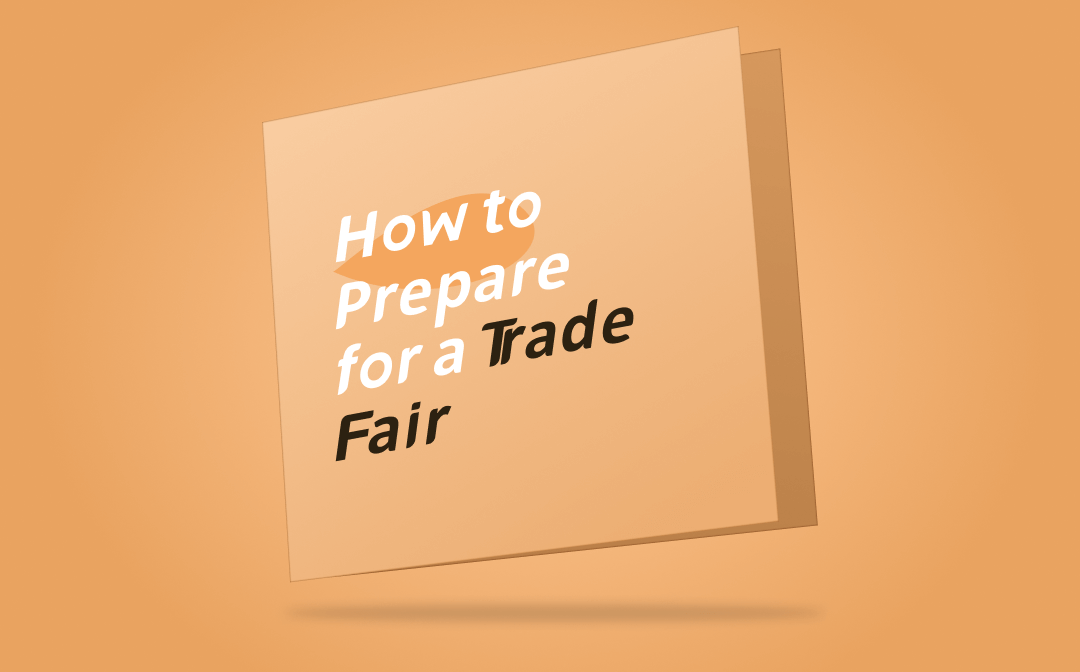 Here we have provided you with some websites that can assist you with a readily available template to design one. In case you are waiting for the opportunity to attend a trade fair abroad, we have listed the guidelines to help you prepare for one.
But before that, let us quickly check what a trade fair is and why it is valuable to have a product booklet before orchestrating your products in such a mega event.
Trade Fair: Where Businesses Meet the Potential Clients
A trade fair is a business exhibition where businesses from a specific industry come together to advertise their products and services and meet new prospective clients. It is also known as a trade exhibition, trade show, and trade expo (exposition).
How to Prepare for a Trade Show Abroad: Quick Tips and Guide
Trade shows are not a tough nut to crack, especially when you are prepared with the basic guidelines. A thorough knowledge helps you be confident and have the edge over your competitors. So, for example, suppose you are planning for your first trade exhibition abroad. Here is a quick guide to support you for a thrilling experience.
Determine the goal of your trade show
Research on the country where the trade show will take place and its business cultures
Understand the demographics and language expectations of regional trade shows (abroad)
Start promoting your trade fair in advance
Be considerate of the timing for passport, visa, and product shipment
Choose and book the location for your booth wisely
Decide whether to buy or rent your booth
Design the booth considering your target audience
Give expert training to your sales team
Connect with local suppliers, retailers, and logistics providers
Use the power of social media to attract visitors
Build network connections and convert them into opportunities
Offer an engaging experience
Follow up after the event
Product Booklet: The Hero of Your Trade Fair
Even before you, the essential element in a trade fair is your product booklet. Because people are not attending it for you but for your company's possibilities. So you must present your hero most handsomely.
A product booklet/brochure/catalog is a marketing tool used by the corporate sectors to promote their offerings, i.e., products and services. It contains detailed information about your company's products and services, including specifications, explanations, prices, etc. It is a pocket-friendly booklet with images of the brand's products.
Brightening the Future of Your Business
In case you are into any of the following businesses, you must not refrain from making a product booklet. Instead, these catalogs are not restricted to the FMCG industry alone. Rather you never know when a brochure might spark your business's future with prosperity and growth, and its flame might empower the world.
Product catalog
Sales catalog
Jewelry catalog
Makeup catalog
Interior design catalog
Printing services catalog
School catalog
Kitchen product catalog
Art catalog
Training catalog
Thinking What to Wrap in a Product Booklet?
A product booklet is one of the most cost-effective and versatile marketing tools that can catch on with your potential clients and consumers and, in turn, flourish your business in a New York minute. If you need some clues to know what you can include in your product brochure, here is an exhaustive list.
Feel free to add and experiment with anything of your choice stated below and watch yourself running out of space.
Specifications of products
Features and benefits of products and services
Product dimensions (size)
Usage of a product
Delivery of a service
Short description of products/ services and exhibits/attractions
Product/services pricing (including discounts)
Itinerary/ narrative
Pros and cons
How-to specs
Care instructions and safety precautions
Standard certifications
Questionnaires and checklists
Illustrations, charts, graphs, maps, and images
Frequently asked questions
Case studies, media quotes, and testimonials
Executive bios and client list
Call to action like 'book a demo call' or 'buy now
Why You Must Take the Load of Making a Product Booklet
A product booklet is more or less similar to a product catalog. You never know when a little-looking brochure can work wonders and boost the sales of your company's products and services. It will be your company's impression and might hold the weight of your company's overall image in the eyes of clients and consumers. So ensure it is worth all the attention.
Whether you are a new entrant in the market or an ace player ruling the market, you must always have a product booklet updated and ready as it is of vital importance to you.
Holds complete information
Affordable product and services promotion
Assists in the usage of product through a quick guide and explanation
It helps to attract potential customers
It allows customers to compare the products and services of two or more companies
Booklets assist in product consultation with friends and family members
Builds consumers' confidence
Creates a deeper product understanding in consumers' minds
Attracts the attention of clients, investors, and consumers
Assists in the company's growth and development
How Can You Design Your Product Booklet Smartly?
Having a set standard structure eases your load to a great extent. However, there are many ways of structuring your product booklet. But here we are mentioning the trendy ones. You can choose any among these depending upon your products and services.
Gate-fold brochure (8 panels): For high-end marketing purposes
Bi-fold brochure (4 panels): For multiple advertising products
Tri-fold brochure (6 panels): For displaying functional information
Z-fold brochure (6 panels): For an image-heavy information
Product Booklet Template: Websites, Usage, and Designs
While plenty of brochure designers available may charge you a handsome amount for creating or customizing your product booklet, you can ditch them easily by being independent and acing your game. With the help of a product brochure template, you can tailor-make your company's booklet and save time and budget.
Some websites that can assist you with the downloading and printing of the templates for a product booklet/brochure are:
Pik to chart
Pinterest
Design tutsplus
PS print
Adobe
Designs hack
Graphic river
Lucid press
The goodocs
Freepik
Redokun
Stock layout
Venngage
Etsy
Elements Envato
Vecteezy
Canva
Template lab
Vista print
Slides go
Flip snack
Brother creative center
Dribbble
My creative shop
Template net
The internet is flooded with websites to pour out help from any corner. But unfortunately, these templates are available only in PDF format. So even if you had downloaded a handful of templates for assistance, you would need a professional PDF tool to have ready access to these templates.
So you can use the SwifDoo PDF reader to open these templates on your devices anytime. It can also help you read and edit them quickly anywhere. For example, suppose you have a meeting with your foreign clients, or you happen to meet some random investors. You can pop your PDF version of the product booklet in such a case. You can even edit it on the spot to customize your client's needs.
Suppose you forget to hand over the physical copies of the flight tickets to your employees. In such a case, you can share the soft copies of tickets in a PDF format and save their day. Similarly, this fantastic editing tool also allows you to create a schedule of your meetings with the clients and helps you to follow up.
With SwifDoo PDF software, you can seamlessly create and customize your product brochures and share them with your teammates, employees, and potential clients anytime and anywhere. These files are entirely secured on your device.
How to Create a Successful Product Booklet Template
You can make a product booklet quickly using a template. However, if you opt for the conventional method, we have a foolproof structure to guide you all along the way. For example, you can create an effective brochure in minutes following a few simple steps.
Chalk out a plan of attack (outline):
You must compile the product data like its dimensions, composition, prices, images, etc., that will take place in your catalog. Do thorough research on your visual brand identity to use fonts and colors in a similar tone and fashion.
First panel: Company logo and headline
Inner panel: Details of products/services
Final panel: Contact information and call-to-action
Identify your target audience:
Once you know your target persona, choosing the tonal quality of your content becomes more manageable. It also enables you to select the necessary call-to-action that might lure potential readers. Usually, gender, age, income, and location are crucial factors in choosing the target audience wisely.
Plan an outline/ structure:
You must draft a blueprint/layout of your structure. Instead, you must plan a document that features your product and its intricate details like usage, price, specs, etc., so you must be thorough with your design. The design should have fewer words, more product pictures, and bold graphics to keep readers hooked.
Include a gripping headline:
Your headline must be compelling enough to invoke the reader's interest. For example, you can use power words like exclusive, easy, quick, results, free, etc., to be more effective.
Write your main content:
Generally, a product booklet is tri-fold. Since you are already short of space, you must make the maximum of those 350-400 words to hook your potential readers and turn them into buyers. Focus on a single product/service and include only the relevant information. Avoid monotone paragraphs; use bullet points and bold visuals instead.
Informational brochures: third person tonal language
Sales brochures: second person tonal language
Format your brochure wisely:
Select a font style that is easy to read and suits your branding. You must use only one to two typefaces. The fonts of the body and subhead must complement each other.
Hook the reader with a reason:
You can hook the potential readers with a reason that will allow them to retain your brochure. For this, you can add:
A handy reference for something
A town's map
Student scholarships programs
BMI chart
Conversion charts
Include a call to action:
A brochure must persuade the readers to show interest in your company's products and services and, in turn, convert them to buyers. It must include your contact information. You can also add a free sample/test kit for promotional offers or a promo code.
Some actions that can assist your readers in checking out more of your products are:
Call to book a free consultation
Visit your website
Sign up for your email
Download your app using the QR code
Follow you on social media handles
Visit your store for more offers and incentives
Spin/scratch and win
Check for any mistakes:
It will help if you proofread your brochure for any punctuation mistakes, alignment flaws, and grammatical errors. All your efforts might go in vain even because of an inconsistent paraphrasing or a spelling mistake. Ensure that the tone of your brochure complements the messaging of your brand.
Cross-check for essential details:
You must check the details of your contents thoroughly to ensure you haven't missed any critical information. It can include:
Purchase details: warranty, guarantee, refunds, shipping, payment types, mode of placing an order
Visitor details: operation hours, admission rates, seasonal time, directions, pets, etc.
Legal information: trademarks, disclaimers, copyrights, registration marks, etc.
Tips:
You can use a product booklet template to edit and tailor-make your company's catalog. Once you make your brochure, you can either download and print it or retain a PDF copy and export it to your website. Saving a PDF copy of the product brochure on your device is a wise idea to propose to your clients per your needs.
Essential Tips to Follow for a Foolproof Planning of Your Trade Fair
For a successful trade fair, you must be mindful of the following tips:
Thorough research on the list of attendees
Tagging your specialized in-house team along
You can choose to hire event-specialized staff on a contract basis
Prepare in advance for questions and your communication
Remember to give product demos
Include sufficient seating space at your booth
Be proactive
Distribute samples and testers
Remember to keep your business cards and brochures
Assemble a memorable display
Take lead notes and follow up
General Tips for Creating a Product Booklet
Some tips that you can follow to create your product booklet include:
Have a thorough knowledge of your products.
Design a mockup to save time.
Know your target audience and potential readers.
Create an easy-to-understand design.
Choose the font styles wisely.
Always work on a set standard business format.
Choose high-quality product images.
Avoid wordy descriptions.
Print your brochure on high-quality paper.
Share only the relevant details.
The contents of your catalog should be concise and skimmable.
You must use headers to state your business' offerings and product features.
Don't forget to add all your contact details, as an opportunity can knock on any door.
Don't forget to proofread it before printing.
Quick Wrap Up
A product booklet is vital for any company. You must have it ready either in a printed form or PDF version. We have already guided you with the necessary types, templates, and tips to create one yourself effectively.
If you plan to attend a trade fair, we have lightened your stress by stating the guidelines to make the most of your thrilling experience. So what else are you waiting for? Pack your bags today. But don't forget to carry your product booklets. Remember to save a PDF copy to your device for future use.