Have you ever thought of an engaging and fun escape from the high-tech digital world to spice up your boring routine work life? Well, in that case, Monopoly is undoubtedly the answer that you are looking for.
Monopoly is one such game that might be older than a century, but the way it has evolved, it has managed to retain its charm and popularity globally. Monopoly board game engages kids and adults to compete and grow healthy, taking a break from the regular virtual world to bond with your family and friends.
Over time, Monopoly has released its various versions retaining the classic players and attracting the new ones to play their themed versions. Monopoly is undoubtedly synonymous with a family generation gaming that is a must-play for every member.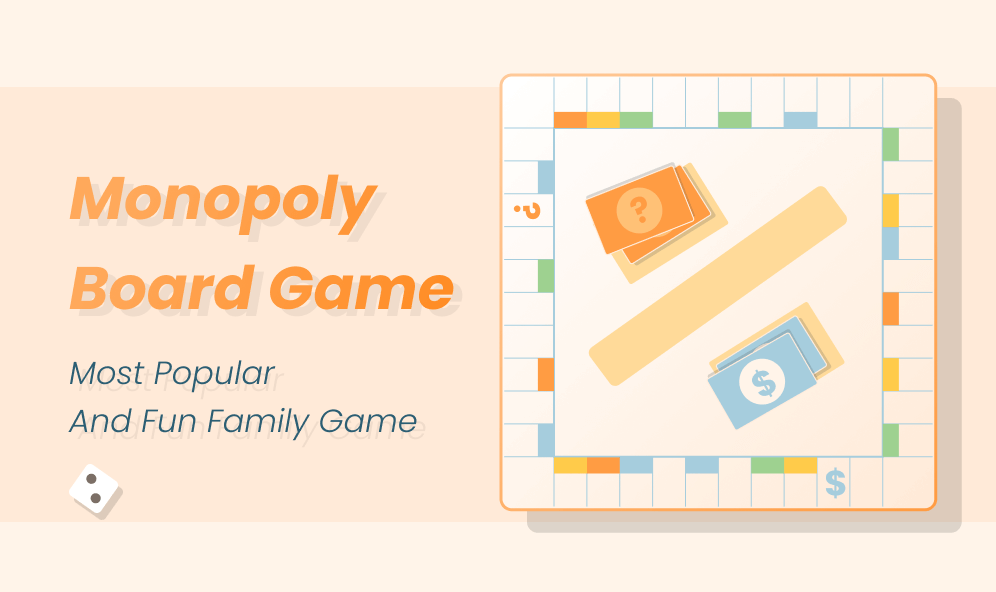 Monopoly Board Game: History, Pieces, and Properties
Today, every household is aware of the board game Monopoly. But its origin dates back to the 20th century. In 1904, Elizabeth J. Magie Phillips developed and acquired the patent for this classic board game, The Landlord's Game. The game gets its name from the economic concept of Monopoly, where a single fittest person dominates the market.
The central concept behind Monopoly was to depict the economic law of rent, land value taxation, and the concepts of economic privilege. It was only in 1935 when Parker Brothers bought this classic game and introduced it as Monopoly in the market. In 1991, Hasbro acquired Parker Bros, eventually being the new owner of Monopoly.
A classic Monopoly is a multiplayer game that takes only 2 to 5 minutes to set up and lasts for about 20 to 180 minutes. Monopoly is licensed in more than 103 countries and is available in 37 languages. To date, it has sold more than 275 million copies across the globe.
Why is Monopoly Popular?
Monopoly is not a regular board game; its brilliance lies in the combination of strategy and luck. It requires excellent skills to avoid getting bankrupt and become the fittest survivor to win the game. It has become a family culture since it engages the family, including the kids, to play.
Monopoly has built-in flexibility that allows the players to customize the game rules. The thrill in the game lies in its goals, giving life lessons to drive your opponents bankrupt while you grow affluent and wealthy.
Benefits of Playing Monopoly
Monopoly has many benefits to serve its players, both kids, and adults:
It supports bonding and promotes connections
Boosts confidence and decision-making skills
Upgrades mental health
Promotes financial upkeep
Boosts cognitive skills
Bridges generation gaps
Reduces stress
Boosts immunity
Helps release endorphins
Teaches diversifying investments
Improves risk calculations
Importance of independence
Develops negotiation skills
Enhances motor skills
Monopoly Pieces/ Tokens
The classic Monopoly tokens were inspired by:
Hard-working poor: Boot, iron, and thimble
Wealthy class: Top hat
Conflict board game: Cannon and battleship
The original Monopoly pieces in 1935 include:
Boot
Top hat
Cannon
Iron
Thimble
Battleship
Afterward, a race car, purse, lantern, and rocking horse were added to the original tokens to make the count reach ten.
After many introductions of new tokens and the retirement of old ones, the final eight classic monopoly tokens as of May 2022 include:
Cat
Dog
Penguin
Rubber Ducky
Thimble
Battleship
Top Hat
Race Car
But across the Monopoly themes and special editions, there are over 100s tokens to choose from.
80th Anniversary Edition tokens
Hasbro introduced a special 80th Anniversary Edition of Monopoly Tokens in 2015. It combines classic and modern Monopoly tokens, representing each token from a decade.
Lantern: 1930
Bathtub: 1940
Cannon: 1950
Horse and Rider: 1960
Pillar with a race car on top: 1970
Train (Deluxe Edition): 1980
Sack of Money: 1990
Cat: 2000
Monopoly Properties
Usually, there are three types of properties in Monopoly
Streets
Railroads
Utilities
The boardwalk is this board game's most desired and expensive property, having the highest rent revenue. It pairs with Park Place to make the Dark Blue Color set complete.
Monopoly: Longest Game Ever Edition
Monopoly: Longest Game Ever Edition is the edition that takes forever for the players to play and win the property game. It has 96 board spaces, and only one die to roll. The game ends once the player obtains all the properties. This edition is Amazon exclusive.
Release Date: 2019
Age limit: 8 years and up
Genre: Family
Price: $21.99
Best Monopoly Board Games
Throughout the years, the classic Monopoly developed various versions to retain its charm among its fans and lure the other players into playing it. More than 95 versions of Monopoly are inspired by classic movies, cartoon series, and even popular TV shows. You can choose to play any or all, depending upon your interest.
Some of the best board games for Monopoly that you can buy are:
Monopoly Classic Game
Monopoly- The 1980s Edition
Monopoly Empire GameMonopoly Pay Day Game
Hasbro Monopoly Millionaire- The Fast- DealingProperty Trading Board Game
Hasbro Ultimate Banking Edition Monopoly Game
Hasbro Monopoly Game Cheaters Edition
Funskool Monopoly Original
Funskool Monopoly Deal Card Game
Funskool Travel Monopoly
Funskool Monopoly E-banking
Funskool Monopoly America
Some of the other exclusive special editions include:
Board Game Monopoly Retro Series 1935 Board Game:
Release Date: 2018
Price: $190
Monopoly Luxury Edition Board Game:
Release date: 2021
Price: $279
Monopoly Deluxe Edition:
Release date: 1995
Price: $87.99
Monopoly Heirloom Edition:
Release date: 2020
Price: $189.99
Monopoly Game Star Wars 40th Anniversary Special Edition:
Release date: 2017
Price: $103.49
Monopoly Star Wars Boba Fett Edition Board Game:
Release Date: 2022
Price: $20.97
Monopoly: Star Wars Complete Saga Edition Board Game:
Released Date: 2019
Price: $65.27
Monopoly: Avatar: Nickelodeon The Last Airbender Edition Board Game:
Release date: 2021
Price: $34.88
Monopoly Game: Ultimate Banking Edition Board Game, Electronic Banking Unit, Game:
Release date: 2016
Price: $27.99
Monopoly: Friends The TV Series Edition Board Game:
Release date: 2019
Price: $26.43
Monopoly: Top Trumps USA Brooklyn Monopoly Board Game:
Release Date: 2021
Price: $39.95
Monopoly Junior: Peppa Pig Edition Board Game:
Release date: 2020
Price: $18.99
Monopoly Game Of Thrones Board Game:
Release date: 2019
Price: $33.99
Monopoly The Lord of the Rings Edition Board Game:
Release date: 2021
Price: $36.99
Monopoly Marvel Avengers Edition Board Game:
Release date: 2019
Price: $33.99
How to Play Monopoly: Rules
Monopoly is a classic family game that engages the players in the gameplay by buying, renting, and selling properties, forcing the other players to go bankrupt. The wealthiest player remaining wins the game.
Components of the Game
The components of the classic game include:
A monopoly board
Two dice rolls
Monopoly tokens
32 houses
12 hotels
16 chance cards
16 community chest cards
28 title deed cards
Money
Each player has divided equally money before starting the game.
The rules are pretty simple. Players must select a Banker at first and then roll the dice. The player with the highest total starts the game by placing the monopoly token on 'GO.'
During the gameplay, a player buys property, pays rent, land on chance, and community chest. Build shortages and sell properties. Once bankrupt, the player is retired from the game, and the last player remaining wins Monopoly.
Create Your Own Monopoly Board Game
Now you can create your own board game of Monopoly using some of the essential elements of the game.
All you need to have is:
A printable Monopoly board
Property cards
Game pieces
Money
Community chest
Chance cards
Monopoly Board Game Template PDF
You can download and print the template PDF and rules to play this board game. Some of the websites that can assist you in downloading the templates and printable board game PDFs include:
Pinterest
Etsy
Teachers pay teachers
Monopoly Land
All business templates
Super coloring
Haytor view
PDF filler
Brad frost
You can open the templates for these PDFs through a PDF Reader, say, SwifDoo PDF, to access them anytime.
A Quick Sum Up
A Monopoly board game might be equally fun and frustrating at times. But you cannot ignore the fact that it compels you to play it even for a duration unknown. You can play Monopoly with your kids, friends, and family over a gathering to enjoy some healthy and quality time.
Monopoly is a challenging and competitive game to build your child's mental health, engaging him to think and focus using the most of his mind's capacity.
And, of course, the game does make you feel rich, motivating you to grow in life as well. At least it is a well-designed escape from the digital era. Engage in a fun monopoly game to take a healthy break from your monotonous and strenuous routine and better bond with your kids and family.