Let's face it, when it comes to learning at school, kids often struggle with exams, and why wouldn't they? Not only are exams difficult, but they also put kids under a great deal of stress and pressure, which is the last thing we want.
Despite the negatives, exams are in general, hugely positive and can help to shape children into the adults they grow up to be. While there are many different subjects at school for children to learn, maths has to be up there in terms of difficulty, which is why we're looking at maths exam practice for kids in today's article.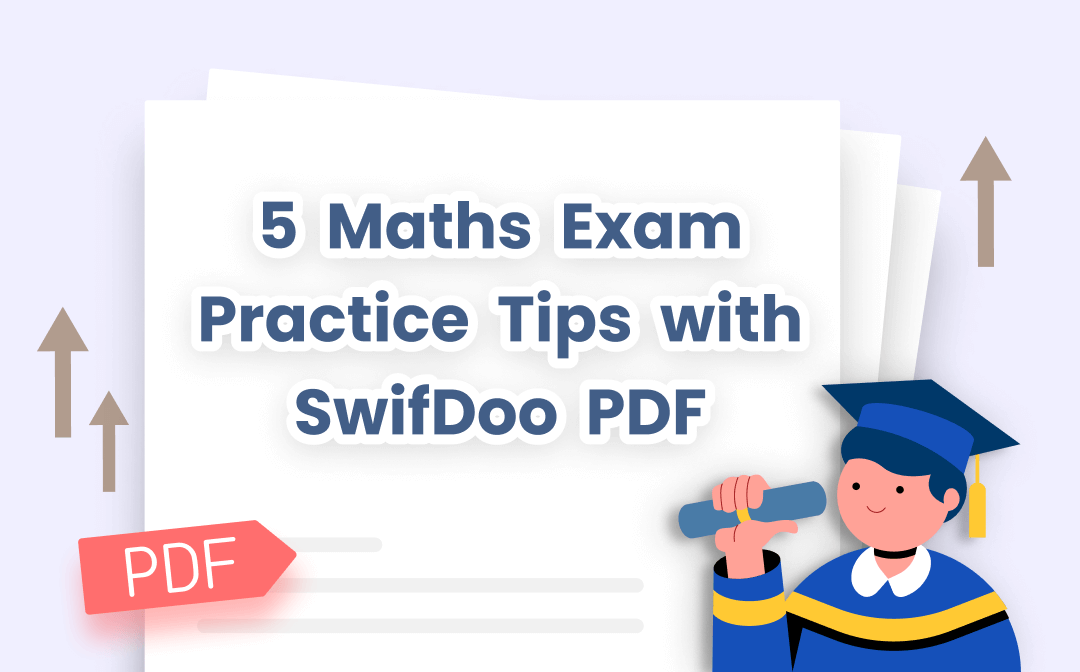 If your kids have a maths exam coming up, it doesn't matter whether it's pre algebra final exam middle school PDF exam paper you're preparing them for, or any other form of examination, helping them to revise and prepare for exams is hugely beneficial.
To help you prepare your kids for their maths exam questions, here's a look at 5 maths exam practice tips for kids, including using PDF software to manage test papers.
Group Together Past Questions on Similar Topics
One of the simplest ways of helping kids to prepare for maths exams and to revise for maths exams is to locate a bunch of questions on similar topics and have them sit these questions.
Whether they're studying multiplication, ratios, addition, subtraction, percentages, or anything else, if you want to help them to study and prepare for the real thing, go ahead and locate as many questions on these topics from previous maths exams and see how they get on with those.
Draw up Some PDF Flashcards with SwifDoo PDF
In terms of studying for an exam, you cannot overlook the importance of flashcards.
Flashcards are great for taking key information, compressing it, and then displaying it visually on screen, breaking down the revision and info into bite-size chunks.
To create your flashcards, go ahead and utilize SwifDoo PDF. SwifDoo PDF allows you to open PDFs, edit them, save them, and print them with ease. You can even use it to merge PDF files into one.
Go ahead and open up SwifDoo PDF, take your flashcard template, add the info you require, save the flashcards, and you're all set. Now you can go ahead and help your kids to revise for a whole bunch of different maths questions on a variety of subjects.
Download PDF Exam Papers
They say that practice makes perfect, and if you want to help your children to take part in entrance exam maths revision, using mock maths exam papers is a great way to do so.
You can find and download a number of maths exam papers which have been used in the past, in PDF format. Once you have them, you will need a PDF software and editing tool such as SwifDoo PDF, to merge all of these papers together.
By using SwifDoo PDF you can merge past papers together, you can edit the questions, you can add text and answers if need be, you can perhaps add images and visual aids, and much more besides.
Highlight Key Elements
Another reason why you need to utilize software such as SwifDoo PDF is because the SwifDoo PDF editor allows you to merge PDF files, edit PDFs, and to make footnotes and to highlight key pieces of info.
Once you've downloaded the maths exam paper, or the entrance exam maths info, you can go ahead and open it up with SwifDoo PDF editor and start adding your own unique notes or highlighting key pieces of info that will help your kids to learn and study for their exam.
Having important info highlighted will make their study/revision so much easier as they can focus on the most important pieces of information.
Have Them Sit Mock Exams under Exam Conditions
Finally, one of the worst parts about sitting any examination isn't the actual exam itself, but rather, the stress and pressure that comes with it.
During exams, kids must work in silence, they must ensure that they have everything they need, and they will only have a certain amount of time to complete their papers.
To help prepare your kids for their exams, have them sit a mock examination under exam conditions, making sure to time them.