Food symbolizes love, care, and affection towards your family when you serve hot, smoky dishes at the table. If we talk about continental dishes, the Chinese food recipes are accepted worldwide. If you are a gourmet and try new recipes at home, you must like fusion food that combines offbeat spices and different preparation styles.
Thanks to the Internet, everything is now available here, and you can prepare your own recipe book. Today's post will highlight how Chinese cooking can simultaneously relish your mouth and appetite and how you can make your own Chinese cook book in PDF with the help of SwifDoo PDF.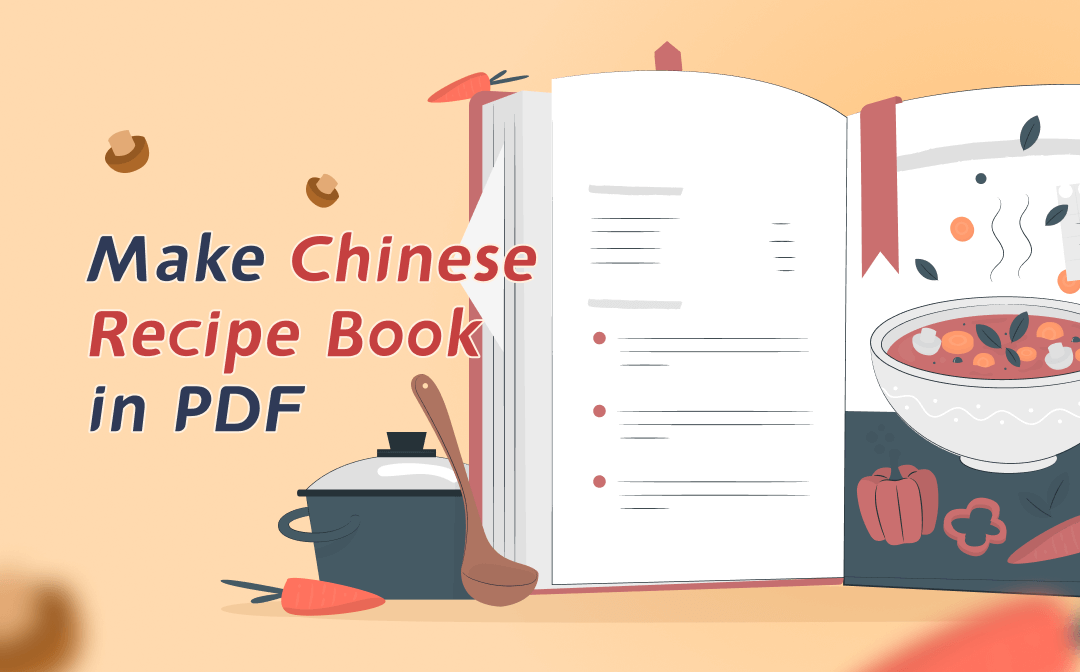 Why Is Chinese Food Our Central Point of Discussion?
If you research in-depth, you will understand that China is the only country that adds wholesome nutrition to the food, but the preparation time is lesser than the others, and it does not affect the taste. In this busy daily schedule, investing time in the kitchen is a luxury that people hardly can afford. Thus, we need quick preparation like easy Chinese food recipes that combine the nutritious value and taste at a time.
You are on the right page now if you are a good researcher and research before bringing anything to the dining table. We will brief you on how Chinese food is evolved throughout the centuries, and from generation to generation, it added more food value, more nutritious, and more taste.
A Brief History of Chinese Food
Chinese food culture is a century-old affair that involves their crops availability, spices availability, and the delicacy of taste. Chinese authentic cuisine originated in the 15th century BC during the Shang Dynasty. Confucius, the great philosopher of ancient China, emphasized the artistic aspects of cooking and eating healthy and delicious food.
Over the centuries, people of China have followed the method of cooking authentic Chinese cuisine applying proportional spices and other ingredients to make good food for families and friends.
Chinese chefs have discovered that overcooking food can destroy the food's nutritional value, which is neither healthy nor tasty. They emphasized more boiled vegetables that retain the food value yet taste good for all ages.
In the Chinese cooking history, you'll notice that they're fond of the appearance of the food, which is associated with the color, texture, and decoration of a dish they prepared. The century-old practices are still followed, and they make it a balance between nourishment aspects and an attractive looking.
According to the Chinese belief, what you cook must serve with an artistic expression to notice your involvement with the preparation.
The Chinese Food Recipes: The Modern Era
The food culture of China has evolved over the centuries, and the availability of ingredients plus the invention of different dishes land people from all over the world to taste the food they offer to eat. Chinese cooking contains animal proteins and vegan dishes, indicating they believe in a balanced diet and insist on a healthy body and mind. Inside the kitchen, you can have your dinner with Chinese chicken recipes, vegetable dietary fiber, and anything you like that your appetite supports.
Why Chinese Food Attracts Travelers across the Globe?
As the Chinese tourism industry is largely attracting travelers with authentic Chinese cuisine, it's needless to say how the flavorsome dishes appetize people across the globe. Chinese food recipes comprise a variety of dishes consisting of balanced ingredients and finger-licking aromas.
They prefer seasonal foods, authentic and traditional Chinese food that tastes sweet, sour, salty, bitter, and spicy, all the flavored. You can pick the dish as per your choice.
They prefer animal proteins in terms of chewing the bones. That's why they cook fish without cut so that they can bite the soft bones along with the marrow. If you first visit China, you might be surprised to see the confusing name of the dishes, including 'Husband Wife Lung Slice',' Ants climbs Tree', etc. This is misleading but attractive, and you need a translator who can brief you about the dishes.
Further, Chinese people prefer to have food using chopsticks, no fork, and no spoon, which is an entirely different food culture on this earth. Non-Chinese people practice holding chopsticks to have a bowl of dumplings or roasted chicken breast.
In every aspect, they're different from the other part of the world, and people are crazy about Chinese food. If you're one of them and want to try authentic Chinese food in your kitchen, you have to go through the recipe.
Are You a Food-lover or a Good Chef?
If you are a good chef and want to experiment with various dishes, you can try Chinese recipes and give everyone a surprise at the dining table. Chinese food is also easy-to-cook and easy to digest irrespective of the region you are staying, your body functions, or other elements that influence your food culture.
Even the busy mother can prepare a dumpling for her kids for the tiffin or roasted fish for lunch to break the monotonous food. The ingredients are also available in the big stores, and you can buy them based on which dish you are going to try for the day.
Chinese Recipe: Where to Find?
As Internet access is concise the globe size, you can get everything there. The long recipes are available in various file formats but are preferable in PDF format. If you want to make a Chinese recipes book based on your food preferences, you need to download the recipes PDF files, make them printout and create recipe books.
To do all these, you need a PDF converter that can easily convert the PDF file into your preferred format to make a hard copy and a soft copy of the recipe book to save in your system.
How to Use a Free PDF Converter
SwifDoo PDF converter, a well-known free PDF converter, will allow you to convert the PDF format into another format so that you can easily edit and download them on your Windows PC. Some PDFs are restricted to edit, and you need a PDF converter that can convert the recipe file PDF into Word to access them while trying new Chinese chicken recipes easily.
After converting it into a Word file, make annotations and editing, take out the print, make a Chinese recipe book, and keep it inside the kitchen. You can open the book and follow the method whenever you want to try a new dish.
Conclusion
Chinese food culture has amazed the other world since the ancient period. And now, due to easy access to Chinese food or Chinese food recipes, the delicacy has become a sensation for food lovers. The globe is shrinking, and the internet helps us access Chinese recipes in PDF format.
With the help of a free PDF converter SwifDoo PDF, you can convert the PDF into Word, download them and make a beautiful Chinese recipes book for your kitchen, surprise your family and watch their happy faces.