Since a teacher is required to take multiple classes, he must be well prepared with a plan to adhere to each class' needs. Here is where an instructor/ teacher must prepare a foolproof lesson plan to structure his lessons in an organized manner.
A planned lesson helps you be more organized and confident in conducting your teaching and delivering your tasks effectively. Not only does it guide you, but it also helps the students to be prepared for their learnings and its outcomes. For example, if you don't have ample time to draft one or are clueless regarding where to start, you can always take the help of a lesson plan template to guide you in customizing your plan.
Here, we have also provided you with essential strategies and inclusions to help you guide in making a practical planned lesson. So stay tuned to learn everything about a lesson plan and some valuable tips to follow while making one.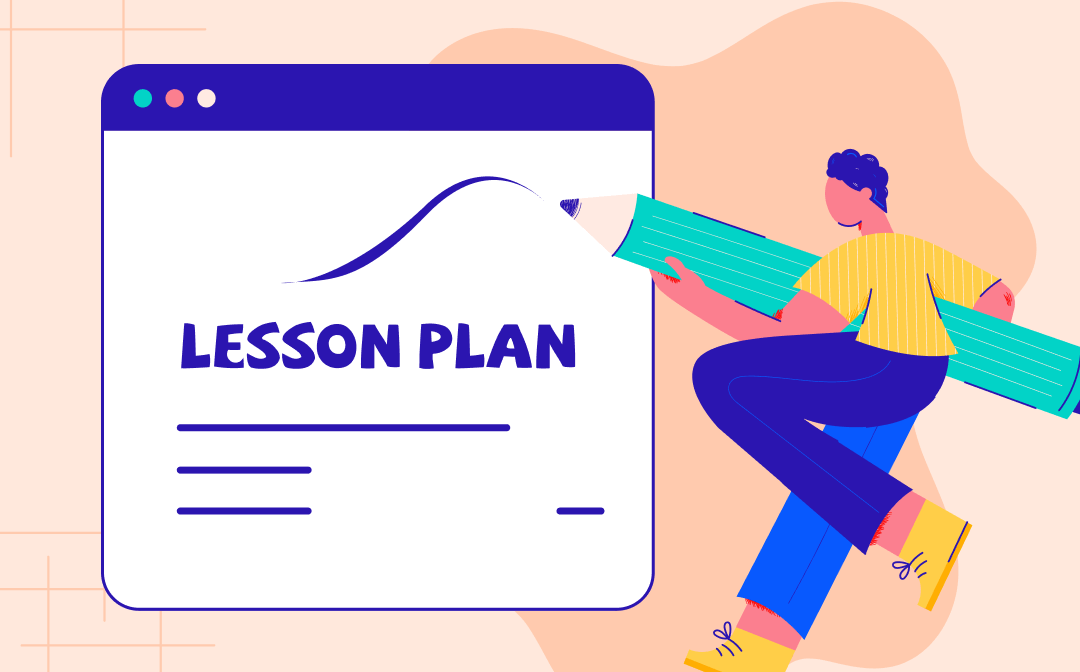 What is a Lesson Plan?
A lesson plan consists of a standard teaching procedure and assists in keeping track of each lesson. Hence, forming a vital strategy for teaching. A well-planned study helps proceed in a flow-through systematic order instead of rushing with your concepts.
A well-framed lesson is a roadmap for the students, helping them know what and how they will learn. A productive lesson need not be exhaustive and burdensome but must include a friendly interaction between the instructor and his students. It is a SMART approach to catering to your student's needs and helping build their skills and knowledge.
A SMART approach to planning your lessons includes:
S: Specific
M: Measurable
A: Attainable
R: Relevant
T: Time-based
What are the Materials of a Lesson Plan?
It would be best if you were thorough with all the materials to plan your lesson to avoid missing any detail. Depending upon your lesson and strategy, the materials might change for each delivery. The basic materials that go into planning a lesson are:
Textbooks
Student handouts
Computers and tablets
Activity packets
Visual aids
Grading rubrics
Vital Inclusions of a Lesson Plan
Since a lesson plan is a matter of daily affairs, you must be thorough with the concept of making one. For that, you must be well aware of what all you need to include in a well-structured lesson. Some of the must-haves for a planned lesson include:
The topic of the lesson
Class objectives
Requirements of a lesson
Required lesson materials
Procedure and sequence of the lesson:
-Level 1: explore the lesson to discuss key concepts
-Level 2: students must learn and practice to get deeper insights into the lesson
-Level 3: reflect upon the previous learnings
-Level 4: students shall reinforce the learning outcomes from critical thinking activities.
Time management of the lesson
Methods of assessment
Practice sets
Lesson reflection
Why is it Essential for Teachers to Make a Lesson Plan?
As you already know, a lesson plan is critical for teachers to conduct their classes and track their progress. But there is a lot more to serve. So let us quickly check how it offers several other benefits and why it becomes crucial to chalk out one.
Gives directions and structure to a lesson
Outlines achievable future goals
It helps in managing classroom lessons effectively
Builds confidence to approach each lesson
It helps maintain the focus of students
Assists in creating future lessons
Maintains consistency in lessons
Planned studies help generate a progress report to present before the authorities
It helps build standards and aligns learning with it
It enables the substitute teachers to keep track of the lessons
What are the Methods to Assess a Lesson Plan?
A planned lesson proves worthy only once it delivers the necessary results. There are various techniques to understand the potential of your lessons. Some of the many methods are listed below:
Writing assessments
Hands-on activities
Quiz
Puzzles
Case studies
Exit slips
Group presentations
Class journal entries
Lesson Plan Template: Websites and Guide
Whether you cannot create one due to the shortage of time or are entirely new to the concept of planning a lesson, templates always come in handy in rescuing you in the best possible manner.
You can always use a lesson plan template to edit or customize one according to your needs. Several websites can provide you with free templates for a lesson plan. Some of the popular websites include:
Class templates
Teacher planet
Elementary assessments
Curriculum
K12 reader
Twinkl
Adobe
Canva
Teachers pay teachers
Visme
Teaching channel
Line 25
ACTFL
Teach wire
TCEA blog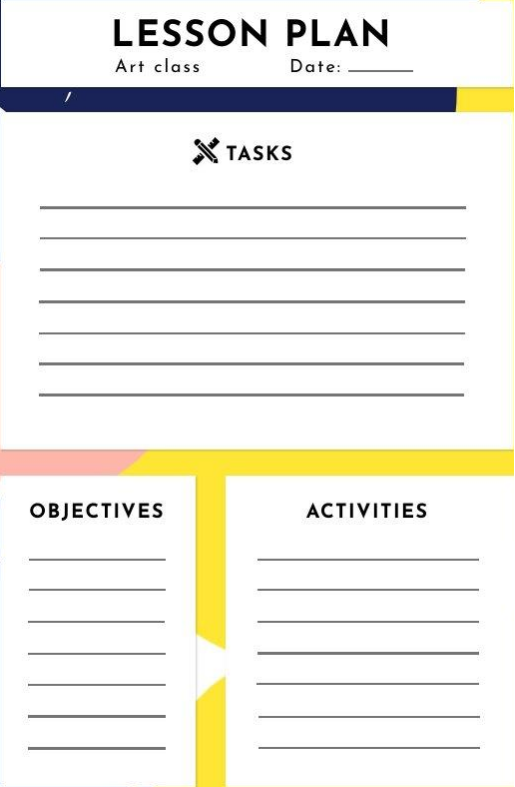 Templates, especially for the lesson plans, are typically in a PDF format. PDF files require dedicated software for their seamless access. You can use SwifDoo PDF Reader to open and read your downloaded PDF documents.
SwifDoo PDF software allows you to edit and customize your lessons according to your need. You can also neatly arrange them in a library for ready access. Now merge and compress your lesson plan template without losing its quality. Finally, tailor-make your templates for planned lessons and share them across the community of teachers.
How to Create a Customized Lesson Plan: Design and Structure
Every teacher has their own way of teaching and preparing a planned lesson beforehand. But if you are new to the field or your old ways fail to deliver the desired results, you can resort to making a fresh one. After all, it is never too late to begin afresh.
Usually, a systematic plan also considers the pre and post-lesson planning. Here is a detailed structure to make an effective lesson plan. You can take the necessary tips in creating your own but don't forget to include the key elements that we are serving you down below: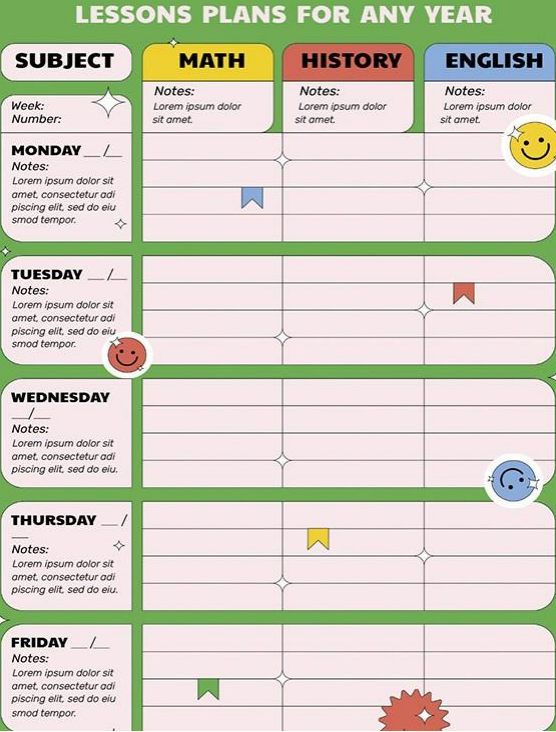 ❖Before The Class: Planning the Lesson
1. Pinpoint the learning objectives:
Learning objectives lays the foundation for the lesson. It assists the learners in knowing the learning outcomes, i.e., how the experience of the learned lesson will be beneficial in taking the necessary practical steps. It is generally written in a simple, easy-to-understand language.
2. Planning the learning activities:
Learning activities must be in sync with the learning objectives. It would be best if you plan the learning activities keeping your students in mind. Activities should be such that they must develop the skills and knowledge of the students. Manage your time effectively for:
Explanation
Discussion
Identification of strategies
Understanding problems
3. Plan the assessments:
You must assess your delivered lessons frequently to know whether the student can understand the lesson or not. They act as feedback to lessons. You can determine through:
Tests
Papers
Performance
Problem sets
Self-assessment
4. Sequence the lesson in a meaningful manner:
To plan your lessons engagingly and sensibly, you can follow Robert Gange's widely used sequence:
Gaining attention
Learning objectives
Recalling earlier lessons
Deliver new content (through lectures, projects, activities, multimedia, reading, etc.)
Helpful guidance
Practice sets of lesson
Provide student's performance feedback
Assessing student's performance
Put the knowledge to practical use
5. Carefully create a manageable time frame:
Goals must always be set and realistic. Prioritize your objectives and set achievable goals to motivate and make on-the-spot decisions.
6. Planning for lesson closure:
Even a lesson closure needs planning to lock the concepts for longer. You can follow the below-given tips to close your lessons effectively:
Revise the topic before closure
Ask any student to summarize the topic
Asking all the students to jot down the highlights of the lesson for the day
Clear student doubts
Emphasize vital information
Preview another day's topic
❖During The Class: Presenting the Lesson
Once you have planned your lessons effectively, managing the schedule and lesson is easier. During the class, you must:
Brief your students on the current day's topic
Organize the class time according to the planned lesson
Follow your planned session
Write the highlights of your scheduled lesson beforehand on a whiteboard
❖After The Class: Reflecting the Planned Lesson
A planned lesson includes your student's learning as well. Unless the desired output is achieved, no planning can be termed successful. To enlighten the delivery of your lesson, you can conclude it by:
Reflecting upon your delivery
Tracking your lesson progress
Adjusting time for contingencies
Revise the lesson plan
Strategies to Create Effective Lesson Plans
A well-structured lesson sets the base for teaching enabling the teachers to progress in the right decision. Therefore, it is necessary to plan your lessons wisely before their execution. A few tips for effective planning of your lessons include:
Plan your lessons, keeping your students in mind
Maintain consistency in your planned lessons
Set objectives for each lesson
Engage students in classroom activities
Have open-ended discussions with your students
Respond to student's needs through their feedback
Maintain an even pace for students to absorb the lessons
Plan to build scope for flexibility
Final Lead
A well-structured lesson plan is already half the battle won. But it takes ample time, energy, and effort to build that structure wisely. Here is where a lesson plan template can help you guide in customizing one of your own. These readily available templates save you time and guide you in a readymade structure to not miss any important detail.
For the rest, we have already briefed you on the thorough knowledge of lesson plans and how you can make one following all the essential tips. So what are you waiting for? Grab your devices and frame a planned lesson to engage yourself and your students in an experience like never before.