The devil is in the details. When doing professional work, you want to make sure you've taken care of the technical aspects that can take your work from "good" to "perfect". But when the question is about a whole organization, it's hard to ensure that everyone is on the same page. While you can expect your workforce to be trained and proficient in tasks related to their qualifications, little things like file formats can trip anyone up.
To help things along, here are some software tools every business should have.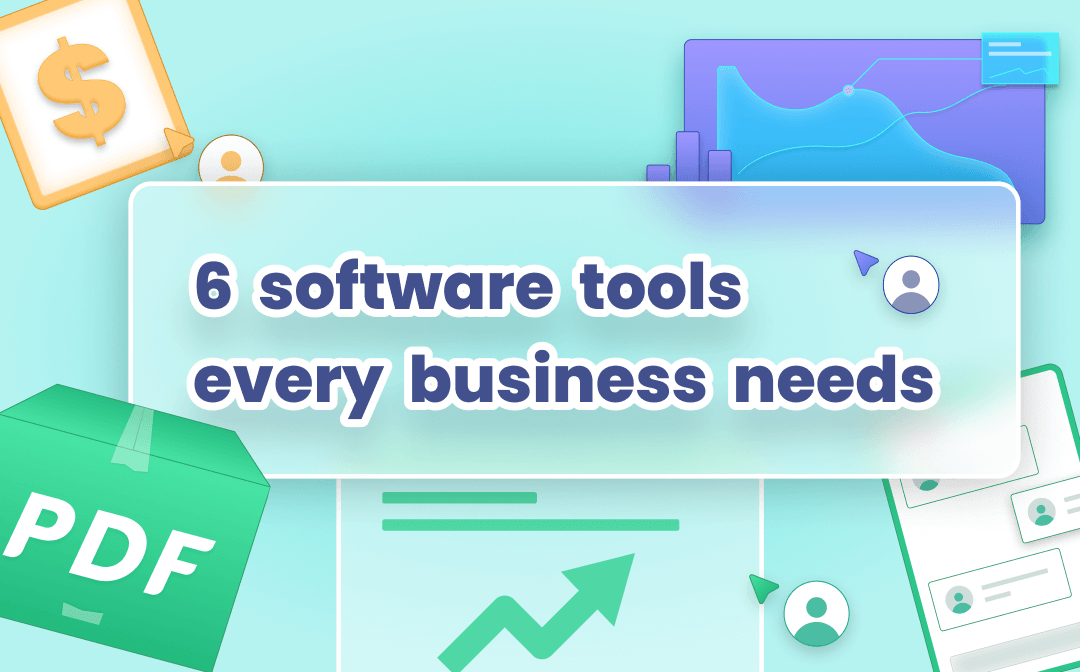 PDF Editing Tools
A PDF editing tool can save a lot of time. When you only need a part of a PDF or want to combine two documents, think of experts like SwifDoo PDF.
They make these tasks extremely easy, but unlike other online resources, they let you do a lot more. They allow you to strikethrough text, remove text, add or edit text, or convert the PDF file to other formats like PNG or PPT.
You can also take files of different formats and convert them into PDFs. Basically, anything you might want to do.
Business tools software like these can ease up a lot of work for your employees, leaving them to focus their energies on more important tasks.
Finance and Invoicing Software
Financials are always important. It's hard to keep track of every transaction if your business is doing well. But it's just as easy to lose out on large profits due to mismanagement. Even with trained personnel, small mistakes are human and bound to happen. But when you use Invoicing software, you make sure every single penny is accounted for.
Using such business technology to save time and money can help in the long run. Your employees don't have to make calculations themselves, and since it all gets automated, there are hardly any mistakes. Sure, they might need a few weeks to be properly trained, but it's a small price to pay for big business advantage.
Communication Software
As a team, you should always be communicating and updating each other on your work. Communication software is a necessity as it provides a formal channel of communication. You can also communicate with your clients or customers better and keep track of those communications. As many businesses move their workspaces online, the need for communication software becomes ever-more pressing. With Team Messaging, Video Conferencing, and Email, you know everyone is in work mode and ready to take on the challenges of the day.
Marketing Software
Here's another aspect that can be the make or break for your business. Effective marketing requires great design, identification of market needs, and strategy. CRM apps help you manage interactions with customers, improving the quality of your service, and eventually, brand image.
Social media marketing and Email marketing are commonly used methods, but many businesses lose out because they don't use the related software. As the internet becomes the most preferred shopping space, it's important to conquer these domains.
A website host and website builder are also key to building the brand image you want. They become the hallmark of what your business is capable of; the first impression. Your landing page can increase sales and build profits.
Collaboration Software
If you take on large projects in collaboration with other companies, an all-in-one business software for collaborations can make life a lot easier. You can add anyone who is working on the project. Besides, this streamlines all your communications, tasks, updates, and transactions. This can decrease misunderstandings and ensure that both teams are abiding by the mutually agreed-upon deadlines.
Collaboration software can also be used within the same organization. If you often have to work on the same document and find yourself forwarding updated drafts every now and then, it's time to start using Document Managers. They help you keep up with real-time updates so that time-effective feedback can save energy and effort.
Productivity Software
Another boon if you're implementing the new WFH strategies. Time management software, workspace organization software, and scheduling tools can make it easier to cooperate. As a manager, you can also keep tabs on your employee's progress, giving them a push of motivation if you ever think they need it.
Note-taking apps can also be effective. Important discussions and meeting minutes can be taken down for further action. This way, no intellectual value is lost from the organization. And you can follow through on every little idea your team has.
Business Technology To Save Time and Money
Running a business is no cakewalk. It's difficult to manage several people, and they also ensure that each department is in touch with the other. Fortunately, there are technological aids that make things easier. Why not use automated processes that increase productivity and lead your business to success?