Books enrich the knowledge. A 300 to 400 pages book can teach you a great life lesson or entertain you till the last page. However, book writing is more than a 9-to-5 job. A writer may encounter several distractions during the drafting. But passion and kin interest drive a writer to finish what he starts. If you have a similar motivation to share something with the world, read the post and get input on how to write a book.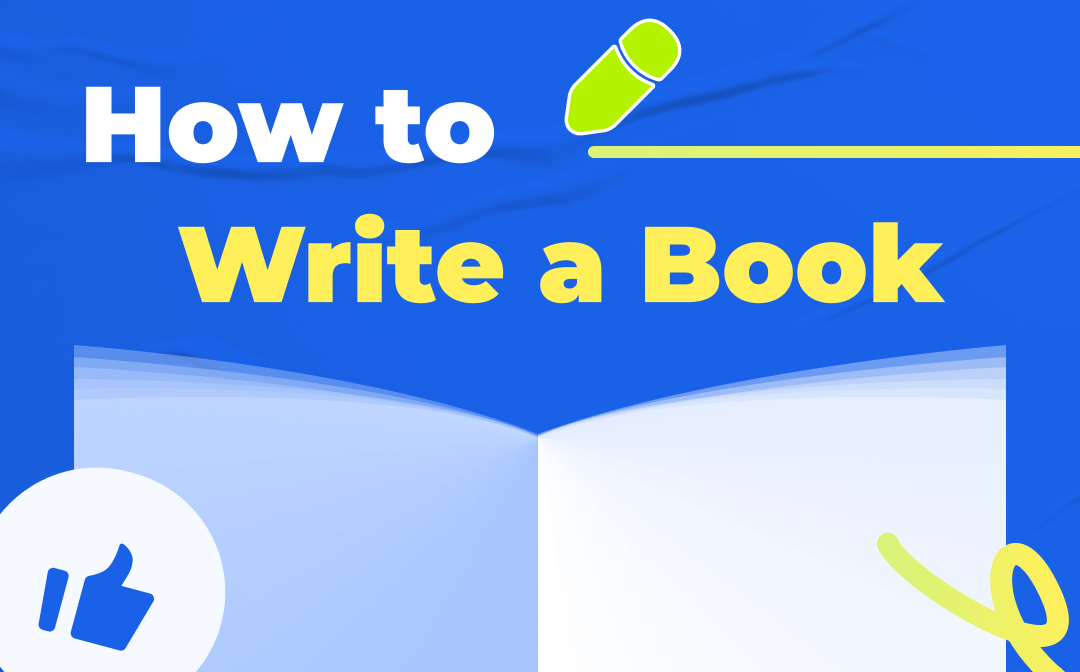 A writer can start with the flow initially, but as time moves, distractions may hamper the task. Some writers may lose the plot and become clueless about how to finish. In book writing, finishing is essential. So, despite the genre you select, you have to show equal energy and dedication, even in the last line of your novel.
If your writer instinct insists you start drafting your thoughts, it's advisable to learn how to begin and finish a book. Keep reading the post and discover the most necessary elements of writing a book.
Book writing strategy involves several stages that will show to you here. So let's begin.
How to Write a Book: A Step-by-step Guide
Part 1: Begin Writing with Proper Arrangements
Fix your writing space
It's a necessary arrangement before you flow with your ideas on paper. A bad backache can spoil your mood for writing. Plus, avoiding noisy areas which can distract you. However, some writers prefer sitting at a coffee bar and writing a novel. Some prefer a secluded place. Choose the site according to your preference.
Ready with your writing tool
Some writers prefer writing in a traditional style with pen and paper. On the other hand, some prefer on PC. Make sure which one you choose and arrange the things sufficiently at your disposal. Finish pen ink should not stop you from writing the climax, and repeated powercut can destroy the flow. So, select accordingly.
Part 2: Start the Project Slowly
Break the entire project into several pieces
An entire book writing is not a one or two days job. If you target 500 pages, you need to break the pages into a day, week, and month. Remember, achieving a small goal is easy, and you can reach your target slowly but steadily.
Write down the ideas
Before going for the storyline, you must pen down the ideas you want to share in your book. Then, when you write them down, it'll be easy to enter into your story whenever necessary.
Chalk out the outline
The outline must come first. Then, you've to introduce the characters, the plot setting, the background, the climax, and the ending. Then, it'll help you to develop the whole story.
Prepare your writing schedule
Writing a schedule is an important step you need to follow without fail. You can fix the timing and days if you plan for daily writing. Weekly five days and 2 hours are sufficient to complete a book within 3 to 4 months.
Deal with procrastination
Set something that triggers you to sit for writing so you can deal with your procrastination issue. It's necessary to achieve your target time to finish the write-up.
Keep your deadline maintained
Make daily, weekly and monthly deadlines and achieve them without any excuse. A small and achievable deadline encourages you to move forward, which is reasonably necessary during the draft. Especially after you finish the first 100 pages, writers often feel tired and bored and give up tendency grabbing them. So, a realistic deadline can save you from all these distractions.
Part 3: Start the Project
Keep your audience in first place
Why you're writing? For whom you're writing? Will your write-up add value? Place your readers in the first position, answer these questions, go for good research, and then start drafting.
Strong your voice in the beginning
The majority of the readers hook in the beginning. If you can make it appealing, readers will be with you till the end. Draft the beginning accordingly.
Keep it simple
Too many character introductions in the earlier part of your novel or story can confuse the readers. However, as the story evolves, characters should be added with a natural flow.
Put conflict and tension in the middle
As the story develops, add the conflicts between characters. Additionally, the tension and anxiety of the characters excited the readers. If readers resonate the problem with their real life, they'll read till the end. Or if you want to solve problems, then create the problem first. Then, the solutions will come in the later part. This way, you can build up curiosity and compel your readers to be with you till the end.
End the story after a chilling climax
Reaching the climax and end of the story should align with the conflicts and problems you create in the middle. A happy or tragic end depends on the theme of your story. Fix it at the beginning and decorate the characters and their actions and movements accordingly.
Part 4: Editing the Book
Be merciless editor
When you start editing, forget that it's your first book and mercilessly remove the unwanted parts from the raw copy. Remember, your publisher judges your capability based on the quality and standard of your write-up. So, show up through your editing skills.
Select the manuscript format
Once your raw copy is ready after the editing, save it as a PDF file. You can install the SwifDoo PDF tool to convert your manuscript into PDF. With SwifDoo PDF software, you can edit your PDF manuscript easily, add a necessary part, and remove unwanted paragraphs. Further, if the manuscript size is too large or several files are there, you can compress the size or merge all files to create a single one so you can mail it to your publisher without hassle.
With SwifDoo PDF software, you can encrypt your manuscript PDF with a double-layer password before mailing so that other than your publisher, nobody can open and steal your story idea.

Part 5: Send for Publishing
Arrange your publisher
During the drafting of your book, you must have words with two to three publishers. If one publisher refuses to publish your story, the other options can relieve you. So keep your publisher ready for the publishing of the book.
Part 6: Start Advertisement
Make a book launch program
If it's your first book, you must reach out to the readers and ask them to read your creation. You can arrange a small book launch program and invite your surrounded established writers and other influential personalities to attend you. You can spread the word through social media platforms and even make it Live on social media so that your faraway followers can watch you on their screens. It's another way of advertisement of your newly launched book.
Final Words
Book writing is a creative art, and you must be an artist to curate words to shape a story. During the process, several distractions and disappointments may haunt you, and you may think of giving up. Book writing is the most imaginative journey; these are all part of the process. Remember, what drives you to start, will illuminate the way to the end; you keep moving and reach your last page sooner.