Often we see, given similar circumstances and following the same methods, some people grow to touch the skies while others fail to outgrow themselves. Ceteris Paribus, you might lack the much-needed smartness to set your goals. But, of course, anyone can set a goal, but the successful ones are wise enough to put them smartly. So here we are talking about the ingenious goal-setting technique- S.M.A.R.T.
Since you can set goals in any field irrespective of the industry, you need not have a business precisely. Whether you are a homemaker, an employee, a healthcare worker, an author, or a student, to say the least, this technique will work to achieve flawless results for everyone.
Using a smart goal template, you can easily customize your smart goals to fit your needs and achieve your goals promptly. Stay tuned to learn what is a smart goal and how you can set it effortlessly to reach new heights.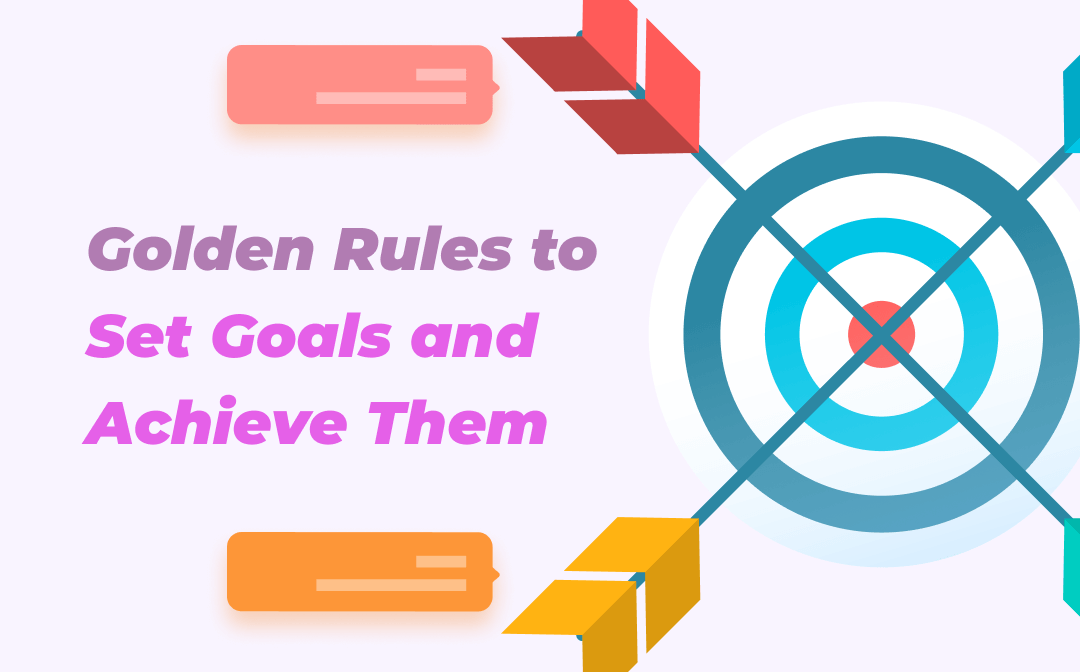 What Is a Smart Goal
S.M.A.R.T. is the easiest method of setting your goals in a strategic, actionable, and highly focused manner. It is an acronym for Specific, Measurable, Achievable, Realistic, and Time-bound criteria.
Before defining your goals, you must involve all your team members to brainstorm and help devise a strategy that syncs with the S.M.A.R.T. technique.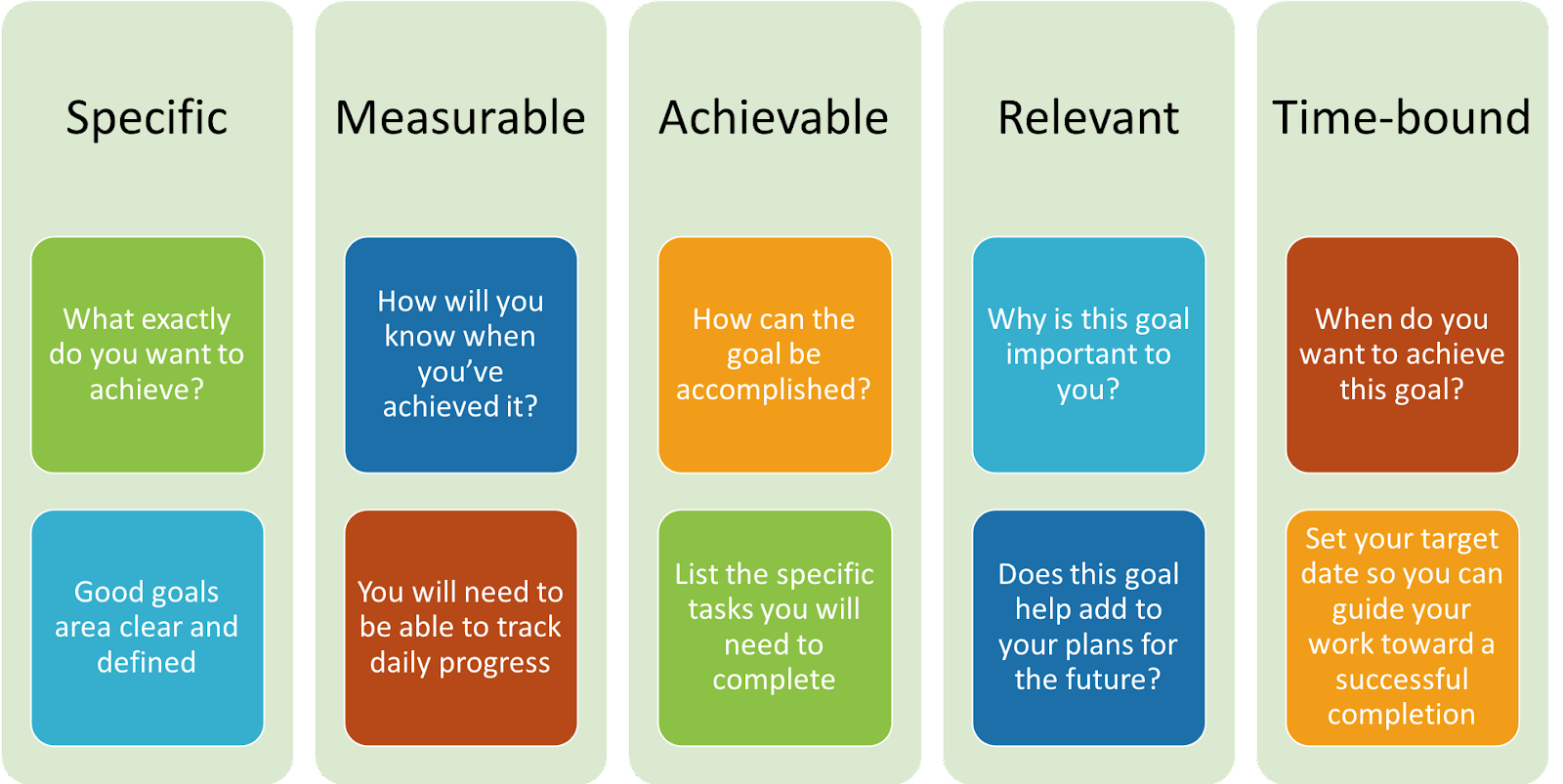 S: Specific
You must be specific with your goals while setting them. They must be precise to leave no room for misinterpretations. It entails a list of answers to the possible 'W' questions.
What:

one wants to achieve

Who:

people essential for achieving the goal

Why:

the reason for setting the goal

When:

setting the desired time frame

Where:

for any specific location or event

Which:

determine any requirements and obstacles/hurdles
M: Measurable
You must define and be clear about the methods, tools, and resources you will use to meet your goals. For example, consider adding some milestones to track and monitor the progress of your tasks.
A: Achievable
It requires the relevant tools, skills, and knowledge to make the goals more attainable. If you don't have it, you must figure out how to procure the needed resources. Additionally, it inspires the motivation to achieve your goals.
R: Relevant
Set your goals to be relevant with a more significant outlook, such as your business missions and vision. They should align with the business's overall goals and objectives.
T: Time-Bound
Your goals must have a realistic timing to achieve success. Target the date of your deliverables. Time constraints generally create a sense of urgency. You can break down the entire time frame into smaller frames to track the progress of the tasks.
Though initially S.M.A.R.T. technique was created for more outstanding and effective management, they have spread their wings wide to enter every domain over time.
When Your Goals Need to Be S.M.A.R.T.?
If you have not yet spiced up your goals with smartness, it is normal for you to think it this way. But we have all the possible reasons to mend your goals, the S.M.A.R.T. way.
It helps conceptualize every step of action.

Assists in creating wise objectives.

Allows setting clear goals.

Provides a transparent plan of action.

It helps to stay aligned with the set goals.

It helps set specific and relevant goals.

Aids in looping new employees without extensive training.

The due dates are set in advance to help stay focused.

It helps track and monitor the process of all the tasks.

Milestones help stay motivated to achieve goals.
Examples: How to Set Smart Goals
You can set smart goals anywhere and everywhere. It would be best if you had a goal in mind and could apply the S.M.A.R.T. technique to it. A few smart goals examples are:
1. Personal S.M.A.R.T. goals:
Getting fit and fab

Improving relationships

Achieving a personal project
2. Business S.M.A.R.T. goals:
Starting a business

Marketing a business

Growing a business

Achieving performance

Completion of a project
3. Working professionals S.M.A.R.T. goals:
Getting a dream job

Earning a promotion
4. Leaders S.M.A.R.T. goals:
Improving team results

Effective management of your team
How to Create a Smart Goal Template
A smart goal template can serve you in multiple ways. Firstly, it provides a ready-made business standard structure for your goals. Then, it helps you save enough time and effort to use them in completing your other tasks and achieving your goals. These templates are readily available online, and you can access them anytime with an active internet connection.
Many websites can help you download and print the editable goal template. You must download the templates to your device and edit them with the help of PDF editor software to achieve your desired results. Some of the websites for your service are:
101 planners

Blog week done

Life hack

Template lab

Monday

San Diego

Brian Tracy

Miro

Blog HubSpot

People goal

Smartsheet

Atlassian

Timvandevall

Praxie
Since a smart goal template is in PDF form, you must have a professional PDF tool to access these templates on your device. For example, you can use the SwifDoo PDF reader to open and read these templates.
If you have downloaded the editable goal template, you can edit it with SwifDoo to customize it to your needs.
Not only templates, even if you have your other documents in PDF or any format such as Word, Excel, PPT, image, CAD, etc., but you can also segregate them wisely with the help of this splendid editing software. It helps you convert your documents into PDF format and vice versa and organize them perfectly.
You can even sign off your documents with SwifDoo anytime. Create and share the documents and customized templates with the online community and your favorite people to help you assist and manage your goals.
Guide to Creating the Perfect Smart Goals
Since you already know the importance of a smart goal, you would think of an ingenious way to structure it. For example, you can edit an editable smart goal template to fit your needs. However, to have a blueprint ready beforehand, you can follow the quick steps to fill in the blank spaces of your smart goal template.
1. Plan your results:
Before setting your goals, you must be thorough with the possible outcomes. First, you must know whether it is worth your time and efforts. If the answer is yes, then only you must proceed with the other steps.
2. Draft S.M.A.R.T. goals:
You must set your goals precisely to track and monitor your progress. In addition, you can take the help of your team members to be involved in drafting the plans for a foolproof yet flexible strategy.
3. Note down your goals:
Your goals are only vague ideas unless you write them down for a real and tangible effect. You must have them before your eyes to keep consistent and work towards them daily. You must write them positively to be excited to accomplish them.
4. Devise an action plan:
An action plan states the process of 'how' to meet your goal. It includes the purpose and the appropriate steps needed to achieve it. For example, you can write it creatively using crayons, markers, etc., to add spark and brighten up your motivation.
5. Assign an outline/ timeline:
Having an outline of your goals helps give it a structure - a process to visualize the various tasks, figuring out the multiple roles and responsibilities, deadlines, and milestones. Once you have figured it out, you must stick to it to stay motivated and achieve your goal within the set due date.
6. Take necessary actions:
Since the planning is complete, it is time to act upon it. However, since all the steps are interlinked, you must work on your plan as soon as possible to get things smoothly into action.
7. Assess your progress:
For your goals to accomplish, you must stay motivated and assertive. You must evaluate your objectives frequently, say weekly, to measure your progress and check your schedule. For example, suppose you are closer to the finish line. It will help you push up. If you lag, you can make the necessary adjustments to keep going.
Tips to Consider While Drafting Smart Goals
While writing the smart goals, ensure you write them wisely for an intelligent outcome. So here are some practical yet quick tips to help you draft your plans effectively.
Select the goals that are essential to you.

Set some measurable goals.

Be clear about why a goal is essential to you.

Be specific with what you ought to achieve.

Ensure your goals are attainable.

Ensure your goals are independent.

Brainstorm to chalk out the goal relevant to the overall business objectives.

Your goals must have a positive tone and outcome.

Be focused on the process and the progress/ working of your goals.

Remember to assign deadlines to your goals.

Create an action plan to be more focused.

Have consistent milestones to make your goals more attainable.

Review and assess your goals frequently.

Share your goals with your team members, so everyone understands the set goals, process, and deadlines.
A Quick Sum Up
Goals help you achieve the results rapidly and more organized manner. It helps ignite your ambition to complete the set targets and achieve tangible results. However, following a S.M.A.R.T. goal technique, your goals can be specific, measurable, achievable, relevant, and time-limited.
Some smart goal examples help you know that these goals are not restricted to businesses alone. Instead, you can apply this technique to all your personal, professional, and other purposes.
Smart goal templates are readily available online and are only a click away. There are multiple editable smart goals templates that you can edit to customize to suit your requirements.
So hurry up! What are you waiting for? Gear up to set your S.M.A.R.T. goals today!