From the time we wake up and start our day until we go off to sleep, our day is full of tasks-big and small. At times, we procrastinate to shed our workload on some other day, while at other times, we are held up juggling between the hours to get at least one task done right.
It is a clear case of what we are missing from our lives—possibly an organizer or a to-do list to meet the deadlines before the tasks pile up to stress us out. Whether you are a homemaker or a team leader, whether you feel the need to have one or not, we are here to help you assist with all the thorough insights. If you have not planned yet, then you should probably plan now to make one, irrespective of your personal and professional requirements.
This article guides you to understand the importance of a to-do list and how to create it seamlessly with the assistance of a to-do list template. But before that, stay tuned to quickly learn about a to-do list and how you can use it effectively to make the most of your 24 hours.
What Is a To-Do List?
A to-do list is a strategically planned organizer that helps you schedule and plans your tasks by assigning deadlines to them. It helps you know the priority tasks you must accomplish and enables you to write down all the work to be done in one place to keep a track record of their progress. It allows you to organize, schedule, and manage your work without needing someone to chase you to do the chores.
A to-do list does not account for the goals to be achieved. Instead, it focuses on completing the tasks irrespective of their results. They are effortless to prepare and do not require any prior technical knowledge. All you need is a paper or digital tool and a list of your tasks and their due dates to start.
Some common ideas to help you get started with a to-do list are:
Shopping/grocery list

Chores for your kids

Gift ideas based on your budget

Weekend plans

Packing your luggage, etc.
Why Create a To-Do List: Pretty Benefits of Creating One
For something as simple, easy-to-make, and seemingly as petty as a to-do list, it is natural for you to think of such a question. But since you have asked it, we have all the necessary answers to help clear your mind.
Though it may seem quite basic, a well-written and strategically planned to-do list can give you incredible results. Some of its benefits are:
It helps in remembering even the smallest of tasks

It helps sort and prioritize the tasks

Keeps things neatly arranged in a place

Assist in keeping track of all the scheduled tasks

It helps set the due date and reminders

Assists in reducing stress and anxiety

It helps create boundaries
What Are the Different Types of To-Do Lists?
Your tasks define the type of list that you should select to complete your work before the due date. Below are some examples of to-do lists. For example, you can choose one or multiple lists to categorize the nature of your scheduled tasks.
Some of the different types of lists that you can choose based on your tasks are:
The master list

The scheduler list

The categorizer list

The prioritized list

The do-it-later list
Multiple Ways to Organize a To-Do List
While a to-do list can help you organize your tasks effectively, you must know the correct list you should make for your work. There exists several ways in which you can manage your to-do list. For example, depending upon the nature, audience (family members and friends or professional teammates and employees), priority, and task deadline, you can select any of the below-listed formats.
Some of the most common ways to organize your list are:
A classic handwritten list

Task management apps

Sticky notes

The earliest to-do list

The I-did list

The segmented list

The three-step to-do list

Bullet journals

Virtual personal assistants

Online calendars

Day planners

The done list
To-Do List Template: Designs, Formats, and Websites
A to-do list template helps you save your valuable time and effort and provides you with a standard structure to help create a list that can set your work and tasks. These templates are readily available online with a click, and you can edit them to serve your needs and purpose.
Depending upon your needs, you can select the design and layout that best suit them. Many websites provide it freely. You can simply download, print, and edit it to fill in the blank spaces, prioritizing your work.
Several websites that can assist you with a to-do list template include:
Clockify me

Mad is on paper

Adobe

Process

Sweet process

Templates office

Atlassian

Miro

Printsbery

Smart sheet

Template lab

Trump excel

Vertex 42

On planners

Trello
Generally, a to-do list template is in PDF format. However, despite the quick availability of these templates, accessing them on your device can be challenging if you do not have dedicated PDF software.
For example, you can use the SwifDoo PDF reader to open, read and edit the templates on a to-do list. SwifDoo also allows you to merge, compress and crop these templates and other PDF documents, retaining their picture quality and not losing the original font style and format.
Suppose you have a bunch of PDF documents and multiple templates downloaded and scattered on your device. In such a case you can arrange them neatly with the help of its fantastic library feature. In addition, you can create your to-do list with the SwifDoo software and share it online with the social community and your loved ones or teammates and employees to assist you with your accomplishments.

Methods For Creating an Ideal To-Do List
While nothing can be termed perfect, still we are here to serve you the three best methods to help you get started with a quick idea of how you can create your ideal list:
The MITs' method advises you to pick between one to three tasks as the most important tasks (MITs) of the day and don't take up any other work in your hand unless you finish your MITs.
This method requires the completion of 13 tasks for the day. First, start by completing the highest priority tasks, followed by the medium and low priority tasks.
1 task: Highest priority

3 tasks: Medium priority

9 tasks: Low priority

Ivy Lee Method
Ivy Lee's method advises that at the end of a work day, you must select six tasks for the next day and set them on a priority basis. Accomplish them on the set scale of a priority. Unless you complete all the chores, you must not take up or start any new task.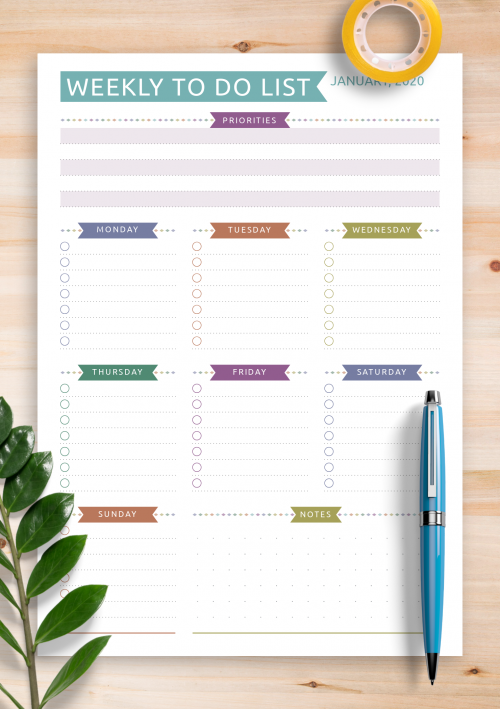 Creating an Ideal To-Do List Seamlessly: Structuring Your Priorities Rightly
Creating a to-do list is no longer a daunting task, especially when you have your list of work ready. All you must be careful of is prioritizing it correctly. Failing to do so might cost you valuable time and effort.
Though you can create one easily with the help of a to-do list template, you must have a structure ready beforehand to fill in the blank spaces quickly. However, you can do so easily by using the below-given quick tricks.
1. Plan all the tasks:
List down all the tasks that are to be done. Irrespective of their priority, write down everything that crosses your mind—for example, doing the laundry, buying your favorite pack of chips, scheduling a meeting with clients, etc.
2. Choose a format:
Depending upon the nature of your tasks, you must choose a layout that best fits your needs. For example, your chores can be personal or professional. Keeping that in mind, select the best format—sticky notes, online calendars, the segmented list, etc.
3. Categorize and prioritize your tasks:
Categorize your tasks based on their size. You can break your larger tasks into smaller ones to accomplish them easily. In addition, remember to prioritize your tasks based on their importance, results, and deadlines.
4. Plan a schedule:
Plan a schedule for each task, focusing on the day and time you will do it. Ensure the margins you set are realistic and flexible enough to change if any need arises.
5. Set deadlines:
You must assign deadlines to your tasks to be productive. This way, it helps to accomplish all the chores on time. The work can be on a daily, weekly, or fortnightly basis. But remember to update your tasks daily for more remarkable results.
6. Monitor your tasks:
Keep a margin to monitor the progress of your tasks. You can always reschedule them based on priority; if there are undone or leftover earlier chores, you can choose to delegate them to others or set a new schedule for them.
7. Checkmark/strike against the accomplished tasks:
Remember to check/tick against each task or cross out the chores that are accomplished to help you review your progress. It helps see what is complete and what remains to be done.
8. Celebrate your progress:
Celebrating after each accomplished task helps you stay motivated. For example, you may add a perk after every few works to boost your confidence and work actively to achieve the other tasks within the set time.
General Tips to Remember While Drafting an Effective To-Do List
A to-do list can work wonders if prepared wisely and mindfully. However, everyone loves to be organized, mainly when accomplishing tasks within the set deadlines. But to make your chores more manageable, you can resort to the following practices:
Include even the passing thoughts while making your list.
Brainstorm to include the essential tasks.
Make multiple lists if you need to set parameters for different works and tasks.
Organize your to-do list with set parameters like reminders, priorities, workflows, due dates, etc.
Make a realistic and actionable list to help you stay motivated.
It is better to list your tasks with verbs first and later detail the strategy to help you learn what action needs to be taken.
7. Be wise in prioritizing your tasks. Don't keep more than five tasks on one list.
Remember to include a deadline to complete all of your tasks within a definite time frame.
Break your large-size tasks into smaller chunks to work upon them efficiently.
Batch similar tasks to simplify your work.
Celebrate your accomplishments and progress once you complete and strike off a task on your list.
Have a keen look the night prior at the tasks to be worked upon the next day so that you are mentally prepared and ready for the day.
Set your focus right by cutting off any possible distractions.
Set goals for the work that you can deprioritize for greater efficiency.
Reprioritize or delegate your leftover work to keep it in sync with your schedule.
A Quick Sum Up
A to-do list helps you in multiple ways to organize and prioritize your scheduled work within the assigned deadlines. For example, you can use digital tools like software or prepare a handwritten list for your daily tasks to create one quickly.
You can save your day by readily noting and prioritizing your tasks with a to-do list template. You can even make a list and distribute it amongst your team members to help you achieve your common goals.
So, if you have never had the chance to make one, now is the perfect time to start. We have already provided you with thorough guidance in preparing one. Hurry up! Prepare one today. You can thank us later.