How to improve writing skills has always been a headache for most people. Writing an article is far more than putting words and letters together. It requires writers to have strong logic and extensive knowledge.
Improving writing skills has several benefits. Superior writing proficiency can even offer you job opportunities. There are several writing-related jobs in the booming field of digital marketing.
However, if you are determined to make a living as a writer, you need to hone your writing skills first. Don't worry if you have no idea how to improve your writing skills. In this article, 12 tips to improve writing skills are offered from all aspects. Just keep reading.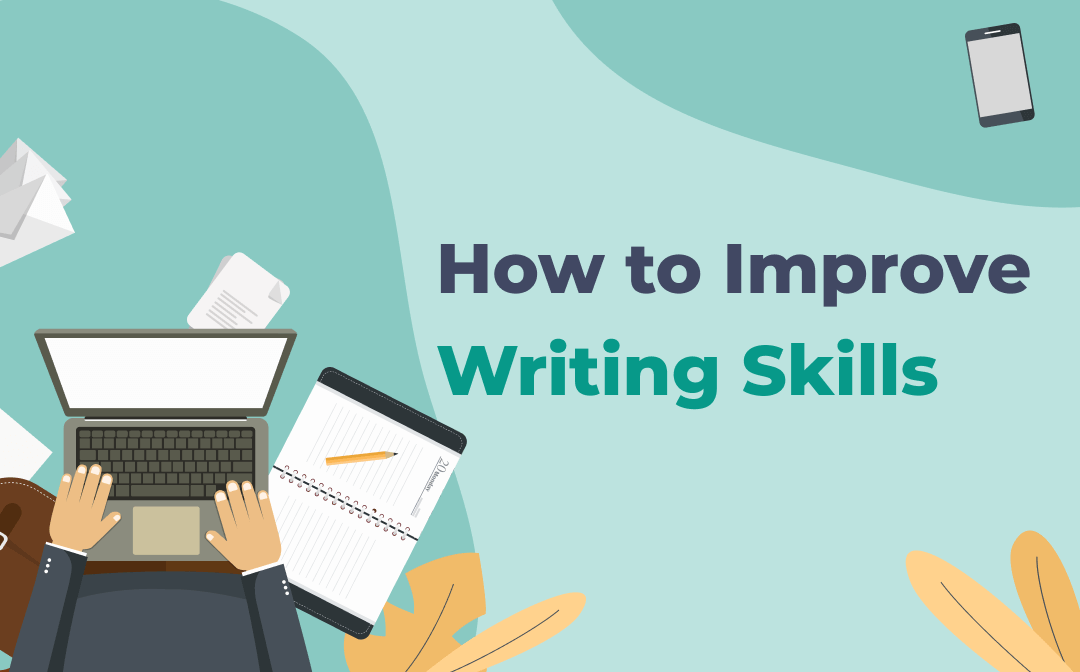 Preparation Before Writing
First of all, you need to consider the following questions:
What's your topic?
Whom are you writing for?
What problems will this article help solve?
Is this advice you mentioned in the article workable?
Think thoroughly about these questions and make sure to create an article that is unique and useful.
How to Improve Writing Skills Efficiently
Want to know how to write better content? When you just get started, there are many details worthy of attention.
1#. Analyze and imitate others' writing
If you're starting to write on a new topic that you're not familiar with, it's best to read relevant articles thoroughly and analyze their structure as well as their content. The more articles you read, the clearer you will be.
Imitating others' articles is also a good way to learn how to write your own. However, imitation doesn't mean copying. Plagiarism is not allowed under any circumstances. Imitating implies learning from other people's writing styles or habits to develop your thoughts.
2#. Be proficient in the basics, such as writing, grammar, spelling, etc.
If you're trying to figure out how to improve your writing skills in English, you should pay close attention to some fundamental elements. What's on your mind when reading an article with misspelled words and poor grammar? You could possibly think it's amateurish and untrustworthy. No one wants to waste their time reading such things.
Many people may think that no one will make such blunders, but it does happen oftentimes. So, be cautious when writing and editing your essay to prevent these errors and to make it more professional.
3#. Think in readers' shoes
To give a comprehensive description of your topic, you need to put yourself in the readers' position. What questions will they ask? What information do they need? You write blogs to answer questions, so take yourself as a reader and list all the relevant questions about the topic. When you have a thorough understanding of the issues, your writing will be clearer, and your blogs will be much more helpful if they include more complete material.
4#. Create a clear outline
A clear outline helps you structure coherent and complete content. Writing a good outline offers you the direction of writing. Outlines don't have to be detailed or complex. Writing down the sub-titles and a simple description of every part is already enough. Readers can also understand the article by reading the outline within several minutes.
A crisp and solid outline, as guidance to the entire copy, organize your thoughts and arguments logically. It does not have to be complicated or long enough. Just jot down the main heading and sub-titles of each chapter, and readers will get the whole picture of this writing quickly.
5#. Don't over-explain anything
The key point of your post is to offer the readers what they need. On most occasions, people are in a hurry to find an ideal answer and don't care about unnecessary information. That's why you must remember not to waste time creating information unrelated to your topics. Make sure to be succinct and accurate. Always remember that the "need to know" content is far more vital than the "good to know" information.
6#. Use simple words
People who are just starting to write may think that using complicated and advanced vocabulary will make the article more professional and convincing. In fact, using basic phrases makes your writing easier to comprehend. Keep your language simple in anything you write.
7#. Keep sentences and paragraphs short
Long sentences and paragraphs make it difficult to catch the main ideas, resulting in a poor reading experience. For readers, shorter sentences and paragraphs are much easier to understand. Especially those who are reading on an electronic screen, they can easily get fatigued and jump to the wrong row. Keeping sentences and paragraphs short can effectively avoid the "wall of text."
8#. Find a good editor or join a writer's group
One of the most effective strategies to enhance your writing abilities is to find a skilled editor. Even if you can review your article with dedicated tools, they still can't catch up to an experienced editor. He/she will provide detailed feedback every time you finish an article. By this means, you can easily find and avoid those mistakes you've made in your writing.
9#. Use a more active voice
This tip isn't always true. It depends on what content you're writing for. For instance, when writing papers, it's highly suggested to use the passive voice and avoid using words like I, we, us, our, etc. However, this rule does not apply to most writing in daily life. If you're writing a blog or a product review, it's better to use an active voice because it's more persuasive and straightforward.
10#. Use contractions
A contraction is a condensed version of a word (or group of words) that eliminates some letters or sounds. Usually, an apostrophe is used to represent the missing letters. For instance, I am = I'm. You should not = You shouldn't. You will = You'll.
Contractions are more in line with spoken English, which makes the post easy to read. Remember to use contractions in your writing. It improves the clarity and conciseness of your phrases. Without them, your writing would sound rigid and formal.
11# Write unique content
Most writers will create the same material for the same topic, resulting in content mediocrity and monotony. If you want your article to stand out and be distinguished from the others, you must include something fresh and significant. This method will make your content more appealing.
12#. Practice every day
Practice makes perfect! No matter how many articles you've read to improve your writing skills, you won't make great progress unless you start writing. Although all the tips mentioned above are important, practice is the priority of them all. There's no shortcut but to keep writing every day.
More to Say
This detailed article mentioned all the solutions to how to improve writing skills. In addition to these mentioned suggestions, you can also use dedicated writing tools to be more skillful. But, as we've said before, the easiest and most efficient way to improve your writing is to practice as much as you can. So, don't be hesitant and try it now!