Have you been overlooking your critical tasks or failing to prioritize them? Despite having a potential team of members, you are surely missing out on an action plan if you cannot put their caliber to proper use.
An action plan can assist you in listing all the essential tasks and prioritizing them to avoid missing the due dates. For example, suppose you are planning to make one but are wondering where to start. In such a case, you have come to the right site. So we have your back covered with all the necessary solutions and a lot more at your ease.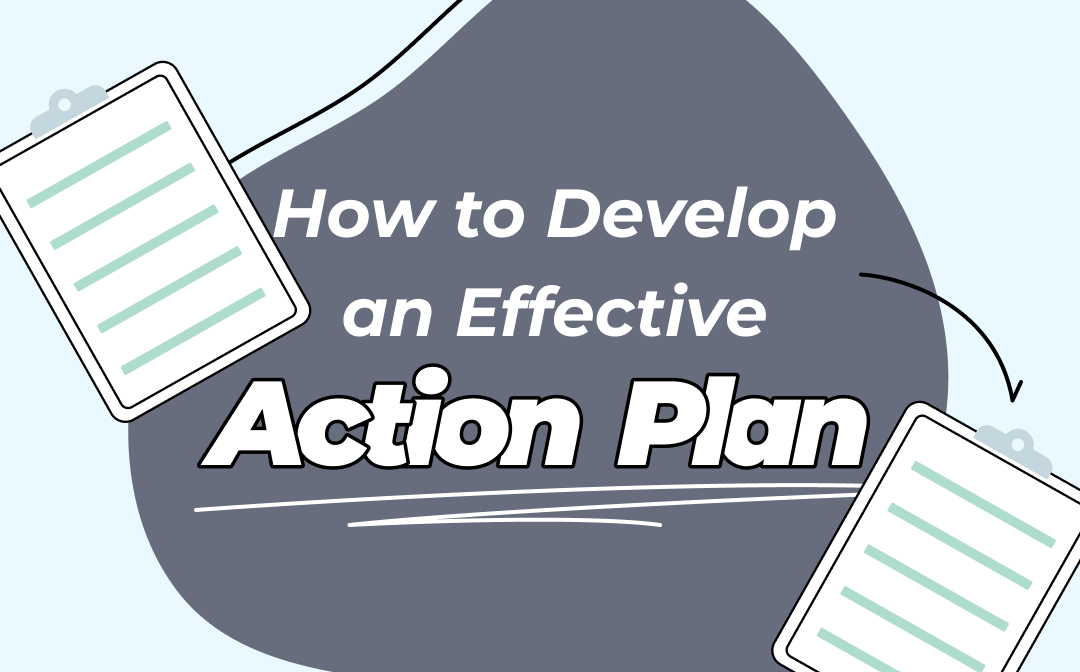 You can take the help of an action plan template to edit and tailor-make your plan to fit your needs. Even such templates help to provide you with a ready-made structure to draft a plan on a standard business layout.
But before starting, let us quickly understand what an action plan is and why you must prepare one if you have not thought of making it yet.
What Is an Action Plan
An action plan is the part of a project plan broken down into smaller pieces to make the tasks more achievable and help you manage the overall project. It enables you to map out your requirements and resources to sketch a timeline for completing your tasks.
Using an action plan, you can prepare an outline to structure your new projects in a sensible and logical order. In addition, it helps clarify your project's objectives and allows all the team members to work unanimously. Also, it only involves tasks, resources, deadlines/timelines, and milestones to achieve your goal.
Anyone can write an action plan, including:
Individuals
Project managers
Team leaders
Professional service providers, etc.
Thinking Whether You Should Make an Action Plan?
If you are a novice or still in the race to set up your business, this question might hit your mind because successful business people are already working on their action plans. So here are a few reasons to make an action plan if you have not made one yet.
Action plans help provide you a direction.
It helps in planning the goals.
It provides a deadline for each task.
Highlights the steps to take to accomplish the tasks.
It motivates you throughout the project by listing your commitments beforehand.
It helps you track and monitor your progress towards your goal.
It helps prioritize the tasks based on their impacts and efforts.
It helps you generate a goal-driven workflow to give you an idea of what needs to be done throughout the project.
What Shall You Include in an Action Plan?
For an action plan to be effective, you must know the key inclusions that must form a part of your plan. Once you are thorough with the basic additions that make up your action plan, you get the direction to work upon each of them individually.
The primary inclusions to your action plan are:
Well-defined goal description (that you have set to achieve)
List of tasks that reach the set goals
Team members to carry out the activities
Deadlines and milestones
List of resources to carry out the tasks effectively
Definite measures to evaluate the progress
Setting the S.M.A.R.T. Goals for Your Action Plan
If you are worried about setting your goals, you can resort to the simple yet effective- S.M.A.R.T. method. It ensures that your set goals are reachable and clear. This approach gives you and your team members the focus, motivation, and clarity to achieve your goals. The SMART tool encourages you to define your objectives and set a completion date.
S: Specific (Simple, significant, and sensible)
M: Measurable (motivating and meaningful)
A: Achievable (attainable and agreeable)
R: Relevant (results-oriented, reasonable, realistic, and resourced)
T: Time-bound (timely, time-limited, time-based, and time-sensitive)
Different Types of Action Plans
Depending upon your business and the nature of your industry, you can prepare an action plan quickly. The various ideas for making one include:
Business action plan
School action plan
Sales action plan
Work action plan
Strategic action plan
Marketing action plan
Employee action plan
Project action plan
Team action plan
Corrective action plan
Personal development action plan
Action Plan Template: Designs to Help You Sorted
An action plan template can help you in innumerable ways to make and organize your tasks effectively. For example, you can edit the available templates to fit your needs. The best part is that these templates are available online with a click. All you must have is access to an internet connection to scroll and print the one according to your requirements.
These templates provide a standard business structure at your ease. So if you plan to make an action plan from scratch, you can follow these templates for a definite design and layout.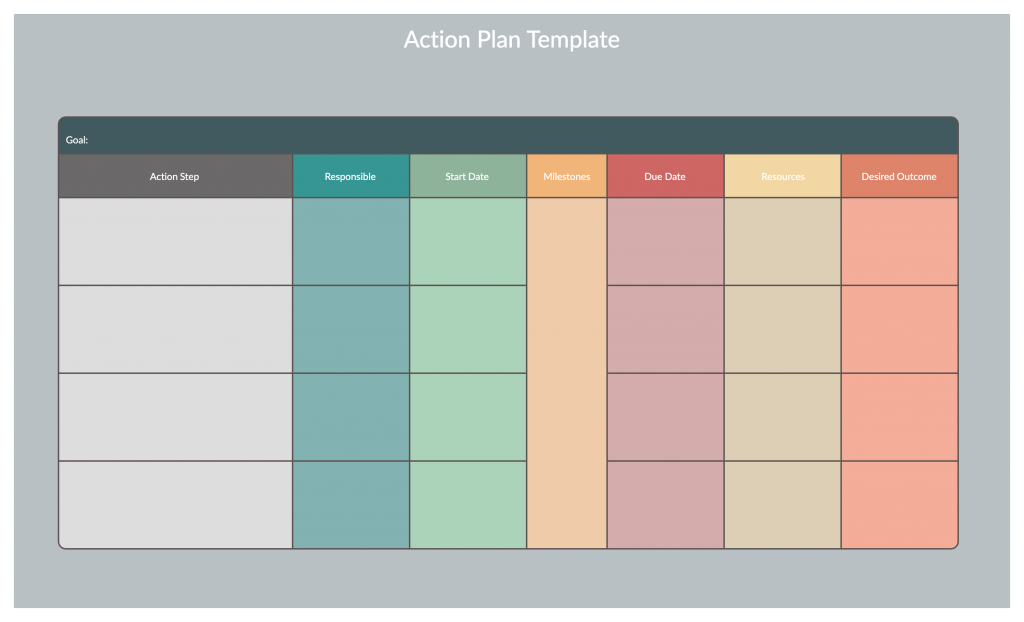 Several websites to help you download an action plan template are:
Creately
Business victoria
Template lab
Monday
World scouting
Smart sheet
Salesforce help
Asana
Project manager
Business tutsplus
Miro
Sweet process
Stunning motivation
Wrike
Typically, an action plan template is in PDF format. These templates are, however, easily downloadable and printable to your device. But you still need PDF software to open and access the documents quickly.
So it would be best to use the SwifDoo PDF software to read and edit these templates smoothly. SwifDoo PDF reader aids you in multiple ways. First, it lets you edit these templates as per your needs on the go. Then it allows you to merge your templates and other PDF documents without disturbing the font style and formats.
You can also crop and compress your files retaining their original quality. For example, even if you have multiple templates downloaded to your device or other essential documents, you can assemble them to organize and arrange them in order.
And that's not it. With the SwifDoo PDF software, you can create your customized action plan and share it online with your team members, employees, clients, partners, etc., to assist you and know the deadlines of the set tasks.
Creating an Ideal Action Plan Smoothly: A Foolproof Structure
Using an action plan template, you can tailor-make a plan anytime. But to edit your template smartly, you must know in advance what data you will require to fill the blank spaces. Following the below-given structure, you can easily and quickly create an action plan to fit your requirements.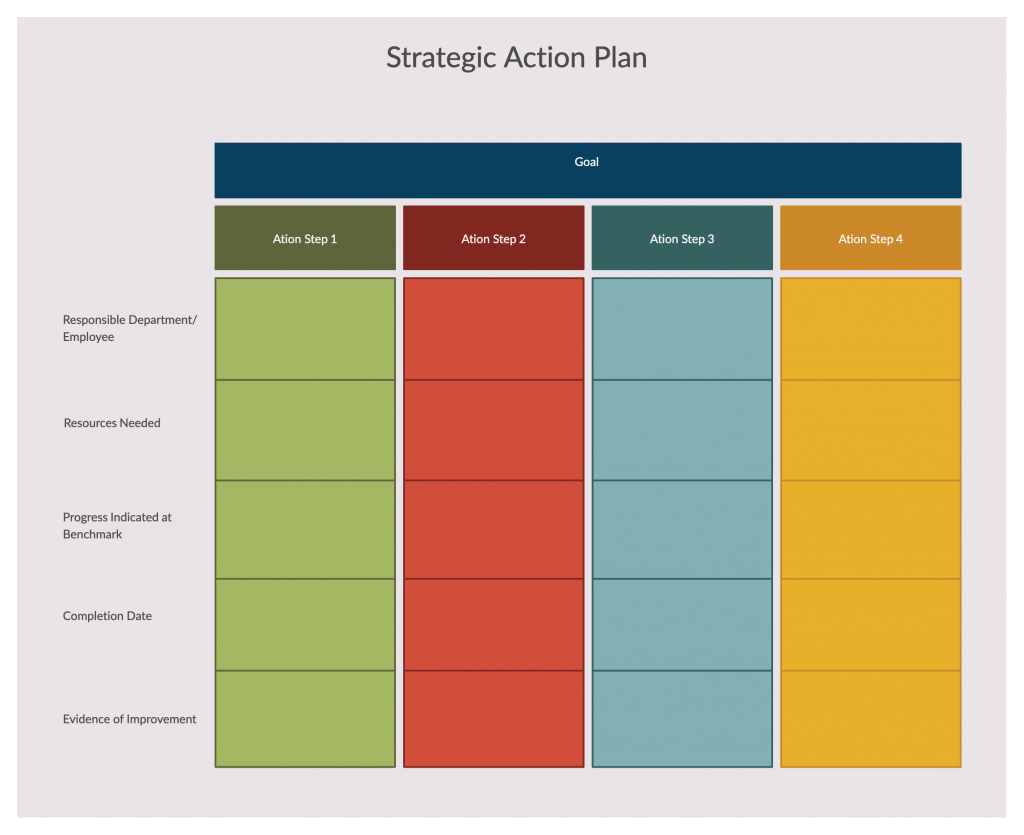 1. Define your problem:
You must carefully evaluate and explore the situation to consider all the possibilities while defining your problem. You may take the help of all your team members for their input in determining the problem.
2. Define the goal:
Once you know the problem, you must define and set the S.M.A.R.T. goals that you ought to achieve with your project. You must know your current standing and where you desire to reach. You must make the best of your available resources to achieve your aim.
3. List the essential tasks to achieve your goal:
Make a list of tasks to accomplish to achieve your results. For example, you must order in the proper sequence to not break the process chain.
4. Collect and analyze the resources:
Your resources are everything that will help you complete the tasks and achieve your goals, such as your team members, project budget, and all the essential tools and equipment.
5. Identify and prioritize the critical tasks:
Your team must be clear about their responsibilities and duties. Once they know that, it becomes easier for them to execute their work. It helps them understand how to reorganize their tasks based on their priorities.
6. Assign the tasks:
You must be careful while assigning the tasks to your team members. You must have a good knowledge and understanding of the potential of your team members to allocate them with the chores they are good with. It helps you to use your resources (tools, time, and humans) effectively. If necessary, you can choose to outsource the specific tasks.
7. Add deadlines:
When you assign realistic deadlines to the tasks, it becomes easier to prioritize them. For example, your team members get to know what tasks demand priority and what others can be rescheduled if necessary. But before assigning the deadlines, you must remember to consult the person responsible for carrying out that task.
8. Include milestones:
Milestones serve as mini goals to achieve the larger one, help the team members stay motivated throughout the process, and work actively to get the desired results. Of course, you must always start from the end goal and work backward to set milestones. But be careful to keep at least a 15 days margin between the two.
9. Visualize your set plan:
Before executing your plan, you must visualize it well. It should communicate its elements like tasks, resources, budget, deadlines, team members, etc., with everyone you share it with clarity. Make sure it is accessible, editable, and flexible not to disturb the set goals.
10. Monitor, evaluate and revise your plan:
You must evaluate your plan frequently to track its progress. Remember to cross the complete tasks to focus on the remaining ones. It will help you notice and focus on the pending and delayed tasks. This process enables you to revise your plan effectively.
Valuable Tips to Remember While Devising an Effective Action Plan
An action plan can be quickly drafted, provided you know the basics. Before writing an action plan, you must know your current standing and where you ought to reach after executing your plan. However, you can follow some valuable tips to help you devise an ideal action plan.
Take the help of an action plan template to have a structured layout.
Make plans that are measurable, concrete, and attainable.
Define your problems after analyzing and exploring the situations carefully.
Select the appropriate goal that must be the outcome of your set problem.
Be careful while assigning responsibilities to the team members.
Devise an action plan with a clear schedule to accomplish the necessary steps.
Feel free to outsource the tasks if needed.
Assign realistic deadlines.
Take inputs from team members after brainstorming, and communicate the progress of your action plan.
Be careful while assigning responsibilities to your team members.
Set milestones to stay motivated.
Keep a scope of margins to alter the plan in case of contingencies.
Remember to cross the tasks once you complete them.
Reschedule the delayed and pending tasks.
Visualize your action plan carefully before getting it into action.
A Quick Sum Up
An action plan is vital to maintain operational efficiency without wasting much time. These plans are really simple and easy to set up. However, you must always be careful while creating one because even a minor mistake can cost you and your team the whole project.
For example, with the guidance of an action plan template, you can quickly devise and structure your plan for any project and manage it effectively. Here we have also asassistedou with the necessary structure and valuable tips to help you guide throughout the process of drafting one.