Are you new to the industry and do not have significant sales or viewers/ customers for your products and services? Or are you a well-founded and long-standing organization but are no longer seeing an increase in the demand for your products and services? If you or your loved ones are stuck in any of these situations, don't you think you people might be missing something? Yes! The much-needed awareness.
The simple answer to your query can be a pamphlet. Pamphlets are the easiest, quickest, and cheapest means of awareness and attention that have the power to make even a sinking boat sail across the river smoothly.
Stay tuned as this article provides you with a pamphlet template to edit and create your pamphlet design with the utmost carefulness to achieve your desired results. Of course, some tips are always welcomed to add value to your efforts and boost your game in the market.
But before diving deeper into the details, let us quickly learn about a pamphlet, its inclusions, and why you should be interested yet thoughtful while writing one.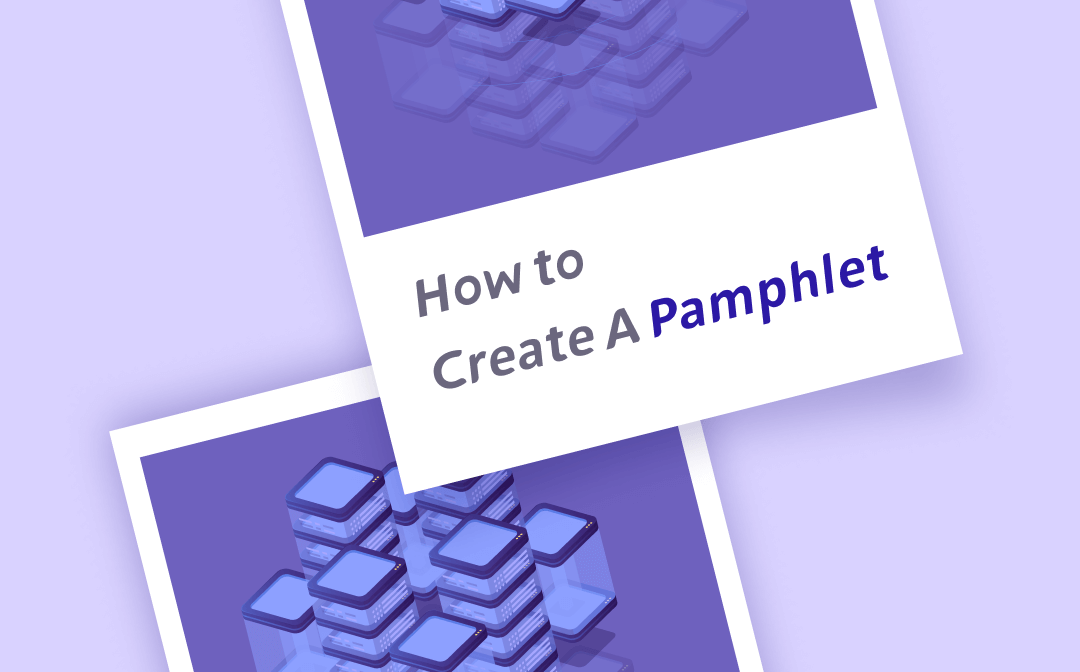 What Is a Pamphlet?
A pamphlet is a compact yet focused tool designed for educational purposes. It is created to inform the target audience about any event or brand awareness. They use comparatively less information to feed the potential readers and target audience and keep them hooked to show further interest in the event/organization's products.
From a broader perspective, pamphlets can be of three types, namely,
Civic pamphlets
Educational pamphlets
Cultural pamphlets
Key Inclusions of a Pamphlet
Creating a pamphlet doesn't include multiple aspects. Since it is a compact form of disseminating educational information, building one doesn't require much effort. Still, you must be attentive to the basics to include it necessarily in your pamphlet while making one.
Catchy headline
The primary copy of your content
Images, graphics, and icons
Contact details
Social media pages of the company
Call to action
Why Should You Be Designing a Pamphlet?
The bigger question that arises is why you should be designing one. See, whether or not you are new to the market or a well-established brand already, pamphlets might seem small and petty but work wonders if you have created them smartly.
Some of the many reasons for designing a pamphlet are:
Creates awareness among the readers
Cost-effective in comparison to traditional advertising methods
Pamphlets leave a good impression
Craves the hunger in the audience's mind
Keeps your target audience informed in the most minimal way
It saves time for the readers
Where Can You Use a Pamphlet?
Since you already know and understand a pamphlet's vital importance, you must also know how and where you can use one. Therefore, designing a booklet is not a heroic task, especially when you are aware of your purpose.
The many places and incidents where you can create and print a pamphlet are:
Political campaigns and events
Advertising an event
Promoting a sale
Presenting a product
Offering details about an institute/ organization
Informing potential clients and employees
Telling the audience and readers about some specific topic
Making a tutorial
Popular Pamphlet Design: Examples and Sizes
Despite being low on information, they can be a suitable carrier of your organization's impression depending upon the design you use to disseminate your information.
Some of the popular ideas for making a pamphlet design include:
Double sided flyer DL/ Rack card flyer (2 panels): 8.5 W x 11 H
Half-fold/ Bi-fold brochure design (4 panels): 8.5 W x 11 H
Tri-fold brochure design (6 panels): 11 W x 17 H or 11 W x 25.5 H
Z-fold:
Letter: 8.5 W x 11 H
Legal: 8.5 W x 14 H
Tabloid: 11 W x 17 H
Open single gate-fold: 8.5 W x 11 H
Double gate fold: 8.5 W x 14 H or 11 W x 17 H or 11 W x 25 H
Accordion fold (4-5 panels): 8.5 W x 13.75 H or 8.5 W x 17.5 H or 8.5 W x 21.25 H
Roll fold: 4.5 W x 9 H or 8.5 W x 14 H
Quarter fold/ French fold: 11 W x 17 H
Double parallel fold: 8.5 W x 14 H
Parallel booklet: 8.5 W x 14 H
Multi page bound booklet: 8.5 W x 14 H
Some other popular designs include:
Square
Half-page
A 5 or US letter
A 4 (portrait)
Different sizes (landscape)
Pamphlet Template: Designs and Structure
A pamphlet template helps you design and edit a pamphlet quickly and conveniently. Since it is available online at a click, it saves time and effort by downloading one and editing it on the go.
Some of the renowned websites that can help you assist with the download and print of a pamphlet template include:
Canva
Etsy
Venngage
Pinterest
Flipsnack
Creative center
Lucid press
Smile box
Template lab
Poster my wall
Business tutsplus
Dribbble
Stock layouts
Photo AD King
My creative shop
Freepik
Templates office
Layout ready
Displays 2 go
Generally, templates are available in PDF format. Such formats are easy to download and print but require PDF software to access them on the device. For example, you can use SwifDoo PDF Reader to open, read and edit these downloaded templates for your pamphlets.
SwifDoo PDF software also allows you to bind the multiple templates in one place by creating a library of similar documents. You can also merge and compress multiple files in one without losing their font size and quality.
With this fantastic software, you can create a PDF of your own to save it for future use or access it readily in an emergency. You can also share your customized PDF documents with your partners, employees, teammates, and others with the help of SwifDoo.
How to Create a Pamphlet Using Pamphlet Template Google Docs
Since everything is going digital, why should you lag? Now create an influential pamphlet using the pamphlet template google docs anytime and anywhere. All you must have is an internet connection and, of course, a device to access google docs. You can follow the below-given simple steps to get started quickly.
Open a web browser:
You can use web browsers like Mozilla Firefox, Google Chrome, Safari, or Internet Explorer.
Sign into your Google account:
Next, you must sign in to the google account using your email ID to access its functions.
Open Google Docs:
Once you have logged in, click the 9-dotted grid on the screen's upper right-hand corner to scroll down the menu to the Docs section. You can also access it directly through https://docs.google.com/.
Select the template gallery:
Once you open Google Docs, the page's interface will reflect a Template Gallery option at the screen's top right-hand corner. Select it to open the gallery page.
Select your template:
Once you click the Template Gallery, an automatic drop-down menu will open up, allowing you to choose a template from various options available. Scroll to the bottom to get to the Work section and select your desired pamphlet template from the two options available, like Brochure (Modern Writer) and Brochure (Geometric)
Edit your pamphlet template:
Once you select it, click on it to edit as per your needs. All the available content on Google Docs editor is editable, including texts and images. You can either edit it or altogether remove it to write your own.
Replace the image in the pamphlet template:
If you are keen to replace an image in your editable pamphlet template google docs, you must click the image and select Replace image from the options. Further options will open before you make a valid selection. For example, you can choose a downloaded and pre-saved image on your computer or browse the web to edit it spontaneously.
Save, share, and print:
Once you are through with designing your pamphlet, you must not make any efforts to save it. Instead, Google Docs saves your documents automatically. You can reach out to your saved document anytime in the future on any device simply by logging in with your email ID.
You can choose to share it with others or print it as and when you like.
Note: You can also open and edit your pamphlet template Google docs on your mobile phones. You must download the Google Docs app from the App Store and log in using your Google ID.
How to Create a Pamphlet: The Manual Guide
While digital media is always at the rescue, not everyone might be comfortable working on it. But no matter how cliche, traditional methods never fade away, especially when you need to work but need a break from digital access.
Preparing blueprints before the final copy always eases the work significantly. You can always run your mind's horses following the simple yet quick below-given steps:
Consider your pamphlet's structure and design, keeping your audience and purpose in mind.
Write a catchy headline/ title to grab the audience's attention. It can include a real-life problem as well.
Write a compelling copy in simple language to make even a layman understand your message.
Include graphics, photos, images, icons, tables, or even charts for a visual appeal and to grab your reader's attention.
Select your colors wisely to express emotions; usually, the colors with high contrast are easier to read.
Include your branding or the company logo to make it easy for the reader to distinguish your product or information from others.
Include your contact details and links to social media handles for the audience and potential customers to reach out to you and check your profile.
Proofread your pamphlet for any grammatical and other errors. Make necessary adjustments from the viewer's viewpoint.
Test run the final copy of your pamphlet before printing it to check for any errors. Adjust the low-quality images (if any). Ensure that it meets your audience's needs and serves your purpose.
Print the final pamphlet in as many copies as you desire and distribute it to the target audience.
Vital Tips to Remember While Creating the Perfect Pamphlet Design
You must always be careful while creating a pamphlet to achieve perfection. Though achieving one is not a myth anymore, following some tips can assist you in getting one.
Know your purpose in designing a pamphlet
Learn about your target audience
Think from the customer's perspective
Use grids to hold your design
Have a rhythm in your structure
Use standard fonts
Be bold with your design to attract the audience and capture the market
Create brilliant aesthetics
Pick an exciting color for your title
Use neutral colors for a vintage or formal and conservative pamphlet
Use typography for a modern outlook
Do's and Don'ts to Be Careful of to Make an Effective Pamphlet Design
While you have already gone through the essential tips, you must remember them while writing and designing your pamphlet. There is always a scope for mistakes. So to avoid such flaws, you must also be careful of your pre and post-pamphlet design.
Here is where you can follow the below-given dos and don'ts to make the best use of your available resources and capture the attention of your target audience in the blink of an eye.
Do thorough research
Be clear of your purpose for creating one
Create a mood board to keep yourself motivated
Don't use more than 200-350 words depending upon your design
Use a pamphlet template for standard structure
Use a digital pamphlet design software in case of confusion
Don't use more than three fonts in your pamphlet
Use multiple paragraphs and bullet points
Avoid bland, monotone, and lengthy texts
Use simple language and avoid technical jargon
Ensure a test print
Don't use low-quality images or graphics
Do include enough white space around your design
Don't include useless information
Don't forget to include your branding/ company logo
Always proofread and check for grammatical errors before the final print
A Quick Wrap Up
A pamphlet is an apt example of how a pen can sometimes be more mighty than a sword. Irrespective of its compact size, it holds all the features to gain your audience's attention and garb interest, provided it is written effectively.
You can always make the best use of digital resources like a pamphlet template to draft a pamphlet design meticulously. For the rest, we have already provided you with multiple formats and examples of a pamphlet and the bundled goodness of additional tips that will not only help you write one but will make sure that you are careful with even the littlest of detail while creating one.
So hurry up. Be a trendsetter and ace your market game by creating an influential pamphlet today.