Marketing helps make your products, brands and company known to engage more customers. Among various marketing strategies, social media marketing is becoming increasingly important as over half of the world (more than 4 billion) today uses social media. Facebook, Instagram, and TikTok are just some social media sites and apps thriving today.
As a business owner, you may wish to take advantage of social media to market your company. The key to doing a good social media marketing is to have a plan. Considering your need, this article shares how to build a social media marketing plan.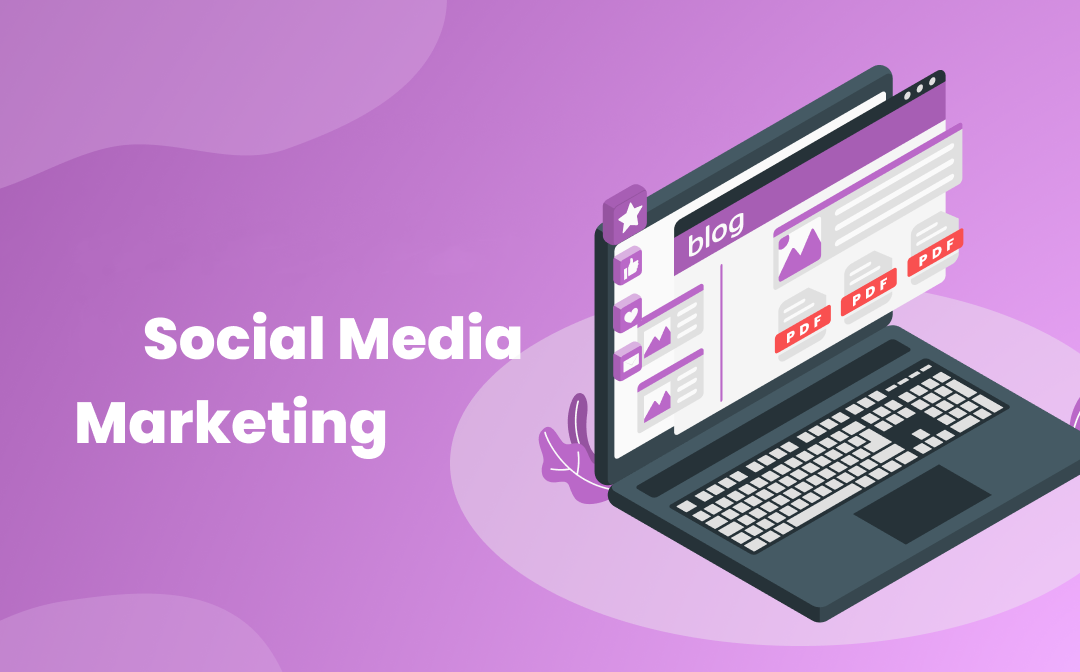 While the demand for marketing on social media platforms leads to the emergence of many social media marketing companies such as LYFE Marketing and Ignite, and you can easily find a social media marketing agency like Sociallyin to help with your business, doing the marketing by yourself saves money and gains valuable experience.
Read this article to learn what social media marketing is and 8 steps to create a social media marketing plan.
What Is Social Media Marketing?
The concept of social media marketing is explained as the approach or process of advertising what you are selling on social media platforms. In other words, social meida marketing is a form of digital marketing, which helps connect with people and promote products or services via social media accounts or websites. The digital marketing also includes email marketing, search engine marketing, etc.
Here are some benefits of social media marketing:
Get your brand well noticed by the world
Connect with people around the globe to reach wider audience and explore what they really need from your products
Drive more traffic to your company website
Provide instant customer service to potential and existing customers for social media users
Increase your product sales on these social platforms along with your company site
Advertising your new products
What Is a Social Media Marketing Plan?
A large number of people prefer to discover, learn about, and buy commodities from brands they follow on social media platforms. Great social media marketing can bring more customers and sales to your business.
A social media marketing plan outlines how you should do the marketing, which lists which social media accounts you use, describes what goals you hope to achieve, what metrics you will track to measure your work, etc. It should help your business gain a larger market or more users. For example, how many followers or retweets do you want your Facebook or Instagram business account to have at the end of the month?
Read the coming content to learn the primary 8 steps to build a social media marketing plan. To compile your plan details, consider using a PDF writer to write your marketing plan in a PDF file.
Choose Platforms
One of the major social media marketing tips is to make use of popular social media sites and apps. Choose the most suitable social media platforms according to your products and target audience.
Facebook and Twitter are the two most used marketing tools for all products. Regardless of your industry, Facebook offers a variety of ways for businesses to reach customers such as posting images, videos, stories, and electronic documents. Twitter can be an option but it doesn't seem to have played a big role in marketing and promoting products in recent years.
Instagram, Pinterest and Tumblr are three of the best social media platforms for the graphic design industry. Facebook acquired Instagram, so you can link your accounts of the two platforms to share posts from Facebook to Instagram and vice versa.
As short-term videos are very popular, consider creating TikTok and YouTube accounts to present and advertise your services and products.
In addition, the use of social question-and-answer websites such as Reddit helps bring more customers.
Facebook
Twitter
Instagram
Pinterest
Tumblr
TikTok
YouTube
Reddit
Set Clear Business Goals
One of the most important things when building a marketing plan PDF for your social media is to set clear and concise business goals.
Ultimately, what do you want to achieve from your business and your marketing plan. Are you simply looking at increasing your sales or do you want to establish a stronger social media presence in the process? Main goals you can set and metrics to track are as follows.
Audience growth: Followers
Engagement: Comments, likes, shares, etc.
Traffic contribution: Website link clicks, etc.
Customer support: Customer service response time, etc.
Conversion rate: Purchase orders, etc
Write down three or more goals to create a good social media marketing plan. For different social media networks, you should set some different goals and metrics such as video views for TikTok and YouTube.
Make Note of Your Target Audience
Another very useful tip when building a social media marketing plan is to identify and make note of your target audience. The more you know about your target audience, the more of this you should include in your marketing plan.
Knowing who and where your audience is and what they wish to obtain from you on social media. Some things you should identify about your product users:
Age
Gender
Location
Income
Industry
Interests
Job
Establish a Strong Social Media Presence
As mentioned, there are billions of social media users all over the world and if you're not taking advantage of it, you're making a big mistake.
When it comes to social media marketing, the more popular platforms you're on, the better. Identify the most popular social media platforms amongst your target audience and go ahead and create a business page/account on each one.
Be sure to regularly post and engage with your followers as well, as this will help establish a connection and improve your reach in the process. Several tips for building your social media presence:
Create profiles that matche your brand identity and keep the consistency of photos, headshots, logos, and other fundamental elements
Post your articles or other content regularly
Make some visual content such as videos and images
Learn from Competitors
Analysis of competitors is very important whether it is marketing on social platforms or offline promotion. Check out the accounts and their marketing metrics of the most successful competitors in social platform marketing. See what they're sharing, what campaigns they developed and what the comments are saying about their product.
Through gathering data and analysis of your competitors, you'll know what's expected in your industry so as to set better goals for your social media marketing plan.
Post Compelling Content
People like to focus on content that catches their eye or helps with a problem they're facing. Sometimes some special tips for using the product may also make users interested in your post. One of the keys to build a social media marketing plan is creating compelling content.
If you are not sure how to improve your content, here are some ideas.
Post product how-tos or tutorials
Host challenge activities
Celebrate festivals of countries where your target audience are
Write down and post the stories of your company or staff
To figure out which type of content works best, track the likes, views, and some other metrics of each post. That will help you adjust your social media strategy accordingly.
Social Media Campaigns
Social media marketing campaigns can significantly promote your brand, engage your audience, and improve the conversion rate. Many memorable social media marketing stories prove the necessity of creating a social media campaign. You can check out those award-winning marketing campaigns to plan your own campaign.
The common campaigns include asking users to comment on product updates or improvements, initiating a challenge, reposting your content, etc.
Store Your Plan Safely
Finally, when it comes to making a social media marketing plan, be sure to store it in PDF format that is more secure than other formats. A PDF plan can be easily viewed on all devices with consistent formatting and layout. You can either create the marketing plan PDF directly in PDF software like SwifDoo PDF or convert your orginal file to PDF.
Conclusion
Building a great social media marketing plan requires long-term learning and constant practice and the plan might vary from time to time. As the world is always changing, we should do some research to the market and then create our plan. You can also attend some social media marketing courses online and offline to improve your marketing skills.