For the last three years, the whole world has been living under the outbreak of the virus (COVID-19). Suddenly, fear and disorder have crossed this planet, and all industries and human beings are greatly influenced by this pandemic.
At the end of 2019, most people didn't take the virus seriously, and many of us insist that life will be back to normal in a few months. However, two years later, we still haven't found any efficient solutions to it, and once it gets worse, people need to stay at home and go nowhere.
We cannot delay that this pandemic has influenced our lives and work to a large extent. The way we work has been changed unprecedentedly. There is a significant increase in remote work, and the inflation rate reaches its highest value in this generation.
COVID-19 also cuts the wages of all people in every country, especially for those working as manual laborers. According to the Global Wage Report 2020–21 released by the International Labour Organization (ILO), the wages of women and low-paid workers were particularly hard hit by the crisis. In Europe, without wage subsides, women would have lost 8.1% of their wages, and men would have lost 5.4%. The lowest paid 50% of workers would have lost 17.3% of their wages.
Have you ever thought about the future of work trends? The situation will become more severe after this pandemic, especially for people who are about to graduate and start working. After all, it's never a bad thing to be prepared for your future.
Here, we're going to illustrate to you the future of work trends after two years of the impact of COVID-19, including the workforce, technology, workplace, and so on.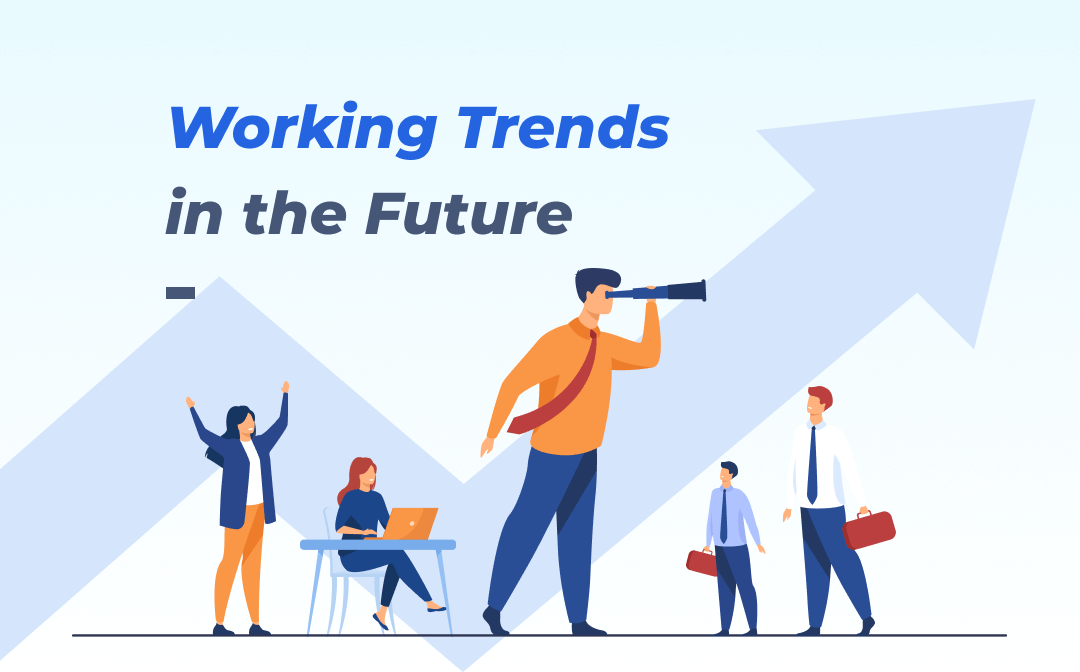 No.1: Accelerate the development of automation and AI
In many countries, especially some developed countries, the demand for labor-intensive industrial development continues to slow down. As high technology continues to develop, and automated systems become more sophisticated, low-skilled jobs can easily be replaced.
During this pandemic, all businesses increased their investment in automation and artificial intelligence. The most remarkable point is that China's robotics production had substantially exceeded pre-epidemic levels by June 2020.
To increase productivity and reduce labor costs, many manufacturers are adopting automation technology to change the traditional way of working. Those doing unskilled and repetitive work are the most likely to be replaced under these circumstances.
Meanwhile, developing automation and AI can both enhance the quality of products and drive the industrialization of the country. The industry is an important symbol of the modernization of a country, which helps manifest its strength and prevent it from being invaded.
No.2: Increasing Remote Work
Under the influence of COVID-19, it's better to avoid attending large-scale gathering activities. The more people gathered, the wider the spread of the virus.
On the one hand, many businesses are required to let employees work at home, especially those doing mental labor. They complete practically all tasks on computers, for instance, starting online meetings, emailing files, signing electronically, and so on.
On the other hand, economic globalization has become an irreversible trend. Plus, the Internet makes it possible for people in every corner of the world to connect and cooperate instantly.
Since the outbreak of COVID-19, more and more enterprises encourage employees to work remotely. For instance, Google and Facebook allow their colleagues to telecommute permanently. That's why Zoom's stocks soared in 2020.
Remote working can be efficient and safe enough when there's a pandemic like COVID-19 in recent years. There's no doubt that it will be one of the main forms of work in the world for a long time.
No.3: Digital Transformation and Hybrid Work Mode
Digital transformation is about reinventing business processes. To be specific, it is about connecting production, customer management, etc. through the Internet and fully automating processes without human intervention through cloud computing.
By achieving digital transformation, businesses can reduce costs, improve efficiency, and promote their own transformation. That's why more and more corporations are working this hard.
A hybrid work mode means that employees spend some time in the office and the rest working remotely. The company can set the days when employees work at home and when they come to the office, and the employees will comply with this rule accordingly.
Hybrid work modes are popular in Thailand and many other countries, and for workers, adopting such a work pattern makes them feel independent and flexible. Many folks think that, by this means, they are free, and they can maximize their efficiency.
No.4: Workplace Diversity and Inclusion
Workplace diversity is about accepting that each person is unique. There are no two leaves in the world that are the same. People worldwide have different races, genders, ages, classes, sexual orientations, and religious beliefs.
Everyone has their own unique experiences and thoughts. They communicate with each other to exchange ideas. Companies can reap the benefits of the different ways of thinking that these people bring to the table.
According to a study by a global management consulting firm, McKinsey & Company, corporations with employee gender and ethnic diversity ratios of approximately 15% to 35% generate more revenues, customers, and higher profits than other companies.
Nowadays, entrepreneurs around the world have realized the importance of diversity in the workplace. They hire different people to assume different roles, which maximizes the benefits. This diversity is not only reflected in the general staff, but also in the executives.
The End
We cannot go back to 2019 or refuse to accept the change that COVID-19 has brought to us. The world keeps changing, and the way we work changes accordingly. Traditional ways of working are still valid, but with time passing by, new things are also developing. The future of work trends will be much more creative and dependent on high technology. So get ready from now on!