Often it becomes essential to understand and identify the critical causes or underlying factors of an undesirable effect or event in any business, industry, or organization. To understand the root cause, you may need to form a structured team that can assist you in finding the underlying factors for the immediate problem causing an obstacle in your project's progress. Here's where you can use a Fishbone diagram to get the most out of your team's brainstorming effect.
This post explains thorough insights into the fishbone diagrams and will help you seek out some of the best Fishbone diagram templates and Fishbone diagram examples. But before getting into the details, let us first understand what exactly a Fishbone diagram is. So stay tuned for an exciting read ahead.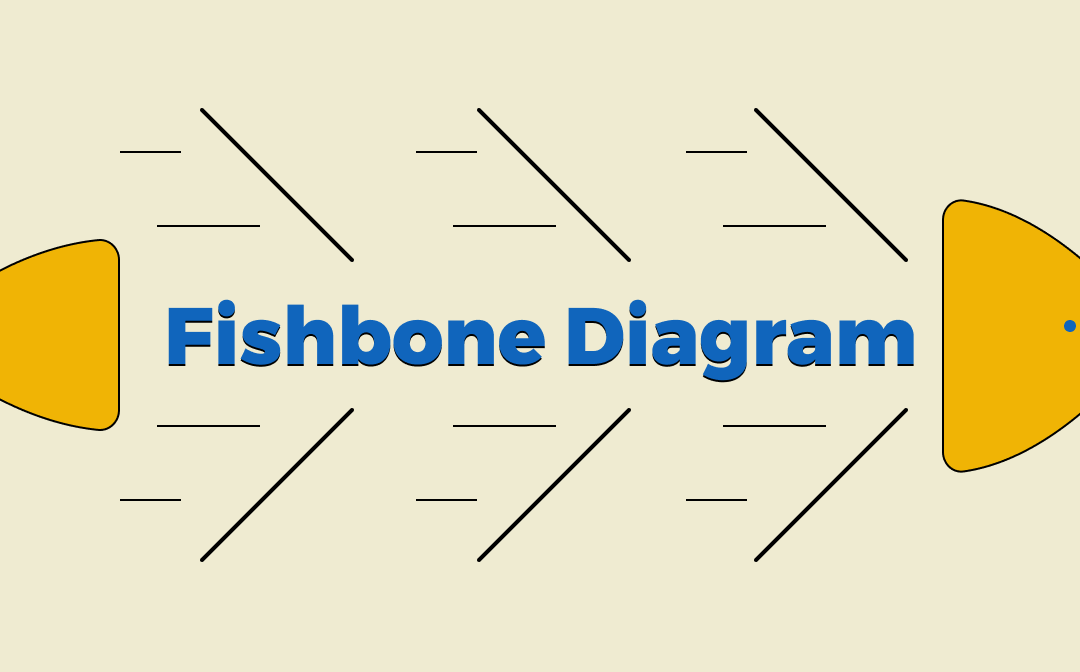 What Is a Fishbone Diagram?
A fishbone diagram is a brainstorming tool structured to design and assist the teams in proposing and putting forward some potential root cause, besides the symptoms, for an unwelcoming effect. Deriving its name from the bones of a fish, the Fishbone diagram is also known as Ishikawa Diagram (its creator) or the Cause and Effect Diagram.
When a fishbone is analyzed, all the teams work together to brainstorm and break down the factors coincidental with the issues. It is a collaborative exercise directing the improvement teams to come up with some new and alternative causes.
The typical causes or the essential elements surrounding the Fishbone diagram can be categorized into the 6 Ms or the 6 Ps, which include:
Man/Mind Power
Method (Process)
Machines (Program)
Materials (Product)
Measurements (Policy) and,
Milieu/Mother Nature (Place)
How to Create a Fishbone Diagram
Here are some quick steps to help you identify the factors and devise a Fishbone diagram.
Step 1: Firstly, gather your targeted team. It can consist of any individual ready to contribute to the existing problems.
Step 2: Identify the problem statement and focus your discussions on it. Consider framing it as a Why question to find answers without much effort.
Step 3: Brainstorm and focus on the main categories to think in the right direction. Some examples may include the staff, equipment, budget, software, marketing, or legal issues.
Step 4: Write all these labels in the big category boxes at the top of the fish bones.
Step 5: Fetch the contributing factors to each category and write it down along the fish bones. Remember to consider the 4 Ps, i.e., People, Policies, Procedures, and Plant, for each individual category.
Step 6: Continue to identify the potential root cause of all the underlined issues. Analyze the diagram and proceed to measure the following steps to deal with the problems within your team.
However, if you are looking forward to some Fishbone diagram examples or Fishbone Diagram templates, you can read ahead to get hands-on information on the same. Not only do such premade templates provide you with different sample designs, but they also let you edit them to get a more suitable shape.
Fishbone Diagram Examples/Templates
Fishbone diagram templates are colorful templates that can be used in any business or industry, like healthcare, manufacturing, education, and more, to represent cause and effect. These templates ensure that the remote and distributed teams can get together to fetch a desired outcome.
Users can also create a Fishbone diagram for any business's safety, nursing services, medical conditions, customer service, production quality, and more.
Some examples of a Fishbone diagram template include:
Blank Fishbone Diagram Template
Fishbone Diagram Whiteboard Template
Fishbone Graphic Organizer Template
Gambar Animated Fishbone Diagram
Hospital Blank Fishbone Lean Tool Diagram
Business Quality 9 Final Process Fishbone Diagram
Ishikawa Healthcare Nursing Medical Fishbone Diagram
Production Root Cause Analysis Fishbone Shorter Diagram
Free Simple Manufacturing Fishbone Diagram Excel Format
Safety Cause and Effect Fishbone Excel Format
Customer Service Six Sigma Fishbone Diagram Template
Fishbone Diagram Usability for Teams, Industries, and Risk Managers
Most fishbone diagrams are used in product development or troubleshooting since it is a project management tool. Typically, it is used to eliminate any hindrance in the steady progress of your project.
The fishbone diagram is considered to be one of the seven tools in the quality control tool chest.
Designated teams can use the fishbone diagrams to identify the possible causes of any underlying issues, possibly, recognizing the problem they were not even aware of.
Numerous industries also use a fishbone analysis to examine an incident report to identify the potential root cause of an accident to avoid it in the future.
Likewise, risk managers can use this diagram to recognize the concerned causes of any project and improve the processes for a clean and desired outcome.
Availability of Fishbone Diagram Template
Multiple sites can help you provide the Fishbone diagram template for free to help you learn and understand the Fishbone diagram example pretty well. You can browse the web and fetch the sites to go through these templates and save them on your device. Generally, these templates are available in a universal PDF format to download online.
You can also customize and create your own Fishbone diagram templates taking ideas from the readily available ones through the SwifDoo PDF. Once downloaded, you can access your PDF files and other documents through this powerful PDF software. In addition, it can easily read and manage your saved templates in a neat and orderly manner.
Also, you can convert, compress and merge your PDF files to avail them simultaneously anytime at a click. With the help of this software, all your PDF files are completely safe and secured.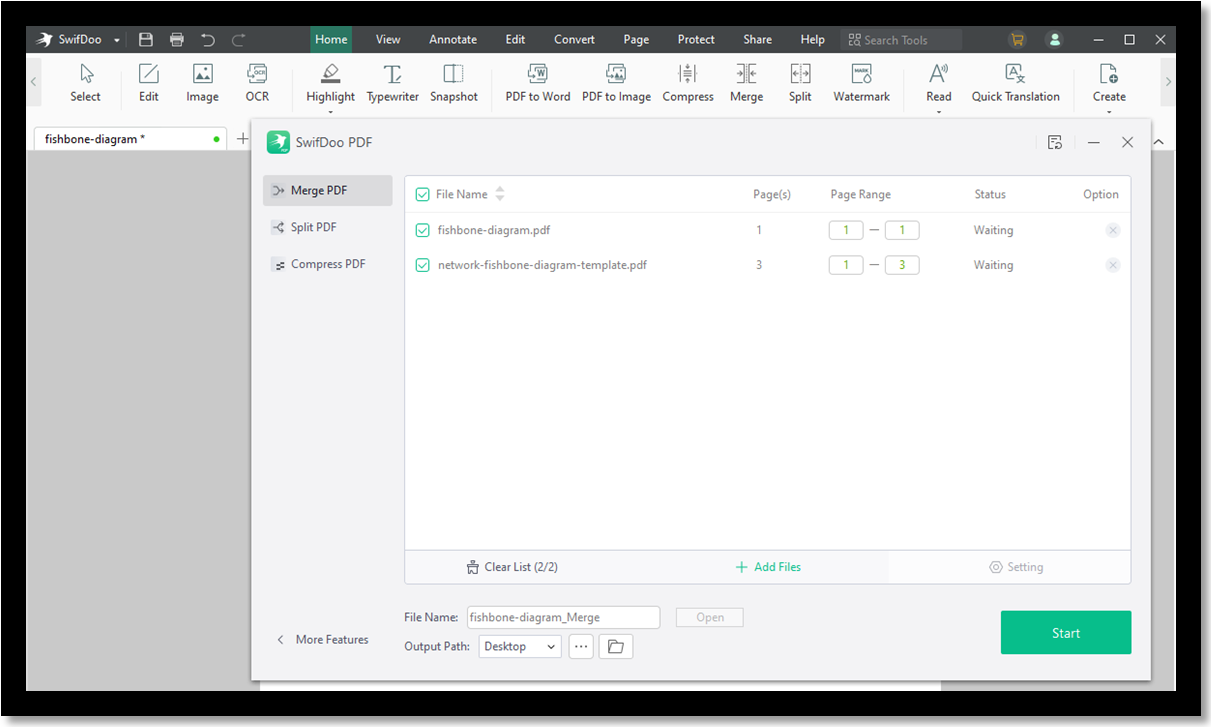 Quick Wrap Up
The fishbone diagram helps reach the deeper levels of cause and effect of any problem within an organization or business. Using the Fishbone diagram template can be a time-saving and cost-effective solution for any project to reach out to the potential root cause of the underlying issues. These templates are freely and readily available and are pretty easy to use. However, their availability in PDF formats makes them accessible to every user.
You can even use SwifDoo PDF to open and read these template files. SwifDoo software also provides complete care to your essential documents as it is an all-in-one solution to your PDF needs.