People in person today will be in memories tomorrow. Wouldn't it be fun to have all the great ancestors and even the young generation in a single frame? Of course, there's always a way to preserve your precious memories. You can create a family tree to trace your great ancestors and list them with all the generations.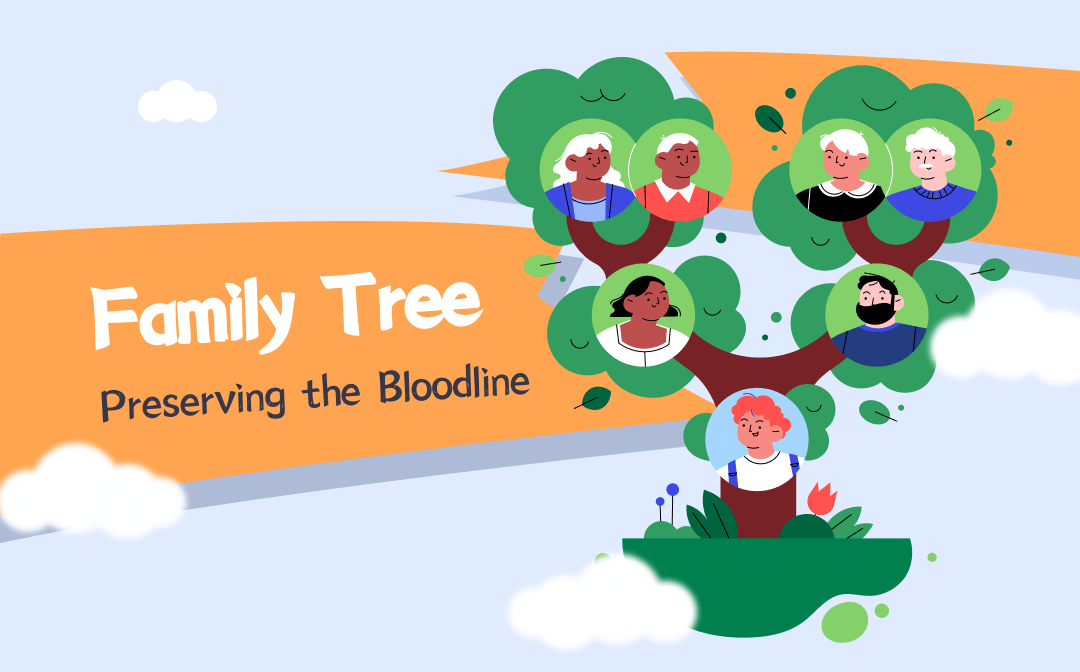 You can always document your ancestry through a family tree. This way, you will gain a deeper insight into your family history and stories. For example, making an ancestry tree today will help the coming generations track their lineage.
But before creating one, let us quickly learn about what an ancestral tree is and why you should make one today. Then, with the help of a family tree template, you can create a customized one of your own. We will also assist you with some quick tips and guides to help you get started.
What Is a Family Tree?
A family tree is a diagrammatic representation of all your family members, relatives, and extended families and includes all the generations from your ancestors. It helps in building and knowing the connections of all the family members with each other.
It depicts your lineage and can help you track and learn more about your forefathers. It is also known as a genealogical tree, ancestral tree, pedigree, bloodline, etc. Generally, family members are represented by a specific shape like a triangle, circle, or box, and their relationship is assumed with the help of symbols.
The essential people in general included in an ancestral tree are:
It is a specific set that acts as a base to build a family tree, depending upon the generations and number of siblings, the tree varies in size.
Values of Making a Family Tree
Apart from being a fun craft activity, making a family tree can help you in many ways. You should always be aware of your roots. Below are some of the points indicating why and how creating an ancestry tree can help you in multiple ways:
Aids in getting an insight into self

It helps maintain a record of family history

Helps trace and learn about family ancestors

Builds connection with your heritage

Relevance of family stories with historical events

It helps identify genetic traits

It helps to know about genetics

It helps preserve family history

Combines all the generations in a single frame
What Are the Symbols and Shapes Used in Making a Family Tree?
Before making a family tree, you must be aware of the general shapes to make your tree look more attractive and logical. For example, we have provided a listing of the most common forms you can use to differ in gender or provide additional information.
Circle:

Represents girls

Squares:

Represents boys

Diamond:

Represents non-binary (unknown gender)

Triangle:

Denotes a miscarriage or stillbirth

Single Horizontal line:

Represents siblings

Double Horizontal line:

Represents a couple (marriage)

Crossed double horizontal line:

Represents divorce

Vertical line:

Represents the child of the couple

Dotted vertical line:

Represents a foster child

B:

Represents the birth of the member

M:

Represents marriage

D/ X:

Represents the death of the member
Family Tree Template: Keeping the Memories Alive
A family tree template is a readily available format to structure your thoughts pre-designedly. With its assistance, you can customize it to create one of your own or edit it to include your family details therein. You can download and print it online, as many websites have made it available for free.
A few websites that can assist you in downloading a family tree template include:
Pinterest

Genealogy

Smart draw

Template lab

Free family templates

Vertex 42

Family echo

Family tree templates

Family tree magazine

Family search

Business tuts plus

Free family tree templates
Typically, templates are in PDF format. To access such files, you must use a professional PDF reader tool such as SwifDoo PDF Reader to open and read the downloaded template files on your device.
With SwifDoo PDF software, you can edit the PDF templates to customize them according to your preferences. It also assists you in compressing and merging your PDF documents without compromising the original quality.
The Art of Presenting Genealogy: Different Ways to Format Your Family Tree
You don't need to follow a traditional and cliched way of a tree format to fit in your bloodline. Instead, you can opt for various structures depending upon the current size of your family tree. Here we have a list of some fantastic examples to try for you.
Simple family tree

Blank family tree template

Ancestry family tree

Family tree template with graphics

Four-generation family tree

Kinship chart

Kinship diagram

Anthropology kinship diagram

Vanshavali

Theme-based family tree (based on movies, cartoons, series, etc.)
How to Create a Family Tree: Tips and Format of Customizing One
You can always create your own family tree, provided you know how to make one and what goes in there. To achieve your desired result, you must know where to start. Here is a quick format to structure your own tree from scratch.
1. Collect information about your family members:
Before creating your ancestry tree, you must collect all the necessary information regarding:
Generation levels

Name of family members

Relevant personal details of family members
You can also include your great ancestors in your tree.
2. Conduct family research:
Secondary sources can always help you with well-researched data. Apart from having the information from your home sources, you can also rely on some other things to help you have a deeper insight into your family history. You can take help from:
Family bibles

Family photos

Certificates

DNA testing kits

Obituaries

Newspaper records

Journals

Letters and diaries
3. Compile your gathered data:
Now compile all your gathered information to create structured data, list all the members with their details, and note down their connections with each other accurately.
4. Create an outline:
Create a structure of your ancestry tree with the help of the relevant data in hand. Choose a design that best fits your information.
5. Start with yourself:
To begin with, you can start with yourself and move forward with the coming generations or backward to list down your ancestors. It gives you clarity in formatting your picture in an orderly manner.
6. Include relevant data in the boxes:
While filling in the boxes of your family members, you must remember the audience with whom you will be sharing your tree. Ensure to include only the data that makes no ill impact on your loved ones. These memories are treasured and create a more profound effect when they spread happiness.
7. Share with your audience:
Once you have created your family tree with utmost dedication and perfection, you must flex it to your loved ones. You can also frame it.
Building a Family Tree with Kids
You can engage in a fun-filled activity with your kids by making them learn about the family heritage and the generations. Help your child build a family tree on paper and indulge in some fun craft. Here is a basic format to get you started:
Collect and compile the basic information of the members:
To begin with, you need to assemble the basic information of all the family members, like their names, birth dates, and photo. You can add a lot more stuff, but this information is sufficient for your child.
Draw a structure of your choice:
Now on a piece of blank paper, sketch a family tree in any structure of your choice. You can let your kid draw a basic tree diagram and assign various shapes and symbols on its leaves to denote genders and generation gaps.
Start writing within the boxes and affix the photographs starting with the oldest entries. You can also ask your kid to include his relationship with that member, such as grandfather, grandmother, father, mother, brother, sister, etc. It helps him learn in a playful activity.
Share with your loved ones:
That's it. Your family tree is ready. You can color the tree and the boxes in your choice of colors and frame it or share it with your loved ones.
Some Tips to Draft a Family Tree Effortlessly
Creating a craft gets a lot easier when you are well aware of the little tips beforehand to get you started. Here are some mindful tips you should keep in mind before building your ancestry tree.
Plan a layout of the number of generations that you want to show

You must add your ancestors, descendants, spouses, siblings, and maternal and paternal relatives for a deep insight

List down all your family members, relatives, etc.

Gather as much information about all the members as possible

You can include their photos, name, date of birth, marriage date, birthplace, etc.

Identify all their potential relationships with each other

Compile the data in a structured manner

Always start from yourself to progress backward in the ancestry tree

You can also start from the oldest generation to move forward

Follow a neat order and organize your layers to represent a single generation at each level.

Be aware of the audience of your ancestry tree, as not everyone might love the splitting of unnecessary facts.
Final Wrap
Making a family tree can be fun, especially when you get to track your heritage. It is never too late to learn about your ancestors. Then why not start today? You can take assistance from the readily available family tree template to decide on the layout and formatting of your structure.
And why should you enjoy creating it alone when you can always engage in fun and playful activities with your kids to help them learn more about their ancestors and historical events related to their stories.
So what are you waiting for? Grab your paper and indulge in some learning activity with your kids now.