The desire to log out of Facebook comes up extremely often. Especially that we want to get logged out of Facebook from someone else's device. And sometimes there are also situations when we doubt that someone could log in to Facebook with our login data. In such a situation, it is best to log out of all devices, thanks to which we will be absolutely sure that our profile, and thus, for example, messages exchanged with friends and PDF files uploaded to Facebook private pages, have not fallen into the wrong hands.
Unfortunately, many users have reported the "Facebook keeps logging me out" error. It can be really frustrating if you have to log into your Facebook account every time you open Facebook from your mobile app or web browser.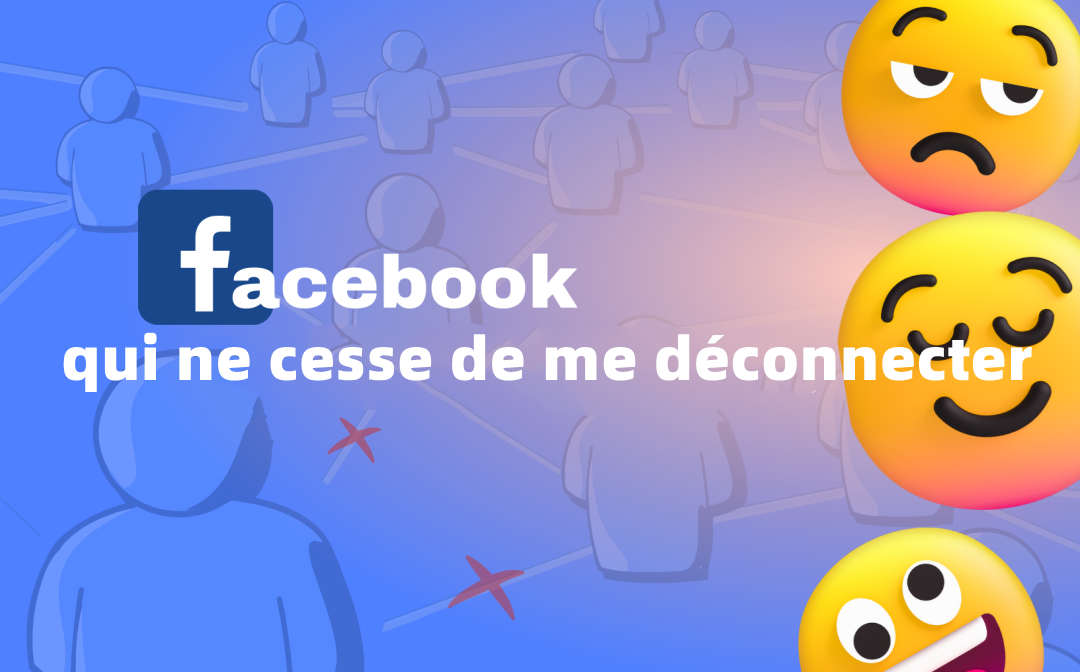 How to Fix Facebook Keeps Logging Me Out?
Facebook keeps logging me out error can happen on any device operating systems: Android, iOS, Mac and Windows. There are many solutions you can try to get rid of being logged out by Facebook. Read on for some common practical solutions.
Fix Facebook Keeps Logging Me out on Android Phone
Most people use Facebook on their smartphones as the smartphone apps are much better than the desktop versions. If you have encountered the Facebook keeps logging me out error on an Android phone, firstly update Facebook to the latest version. If you're still being logged out, you can always try to completely remove the Facebook app and reinstall it.
Otherwise you can try wiping your phone's cache. Go to "Phone Settings", then select "Applications". Select Facebook from the list and select "Storage". Finally, tap on "Clear Cache".
Fix Facebook Keeps Logging Me out on iPhone/iPad
The tweaks for fixing Facebook keeps logging me out on iOS are basically the same as for Android. You can try to update or reinstall the Facebook app from the App Store.
You can always restart your iPhone/iPad and see if you still get logged out by Facebook.
Fixes for All Platforms
Method 1. Reset Facebook Password
You might be logged out if someone has accessed to your Facebook account. To fix the issue, you can firstly try to reset your account password. You should change your password regularly to make sure your Facebook account is safe.
As Facebook only lets you request a new password a certain number of times each day, make sure you have created a strong password.
Method 2. Turn on Facebook Auto Login
After logging in Facebook, you can allow the website to remember your login details to automatically log you in on your return. If you do not select this option, you will be logged out after leaving the website.
To automatically log into your account, you only need to have the auto login box checked. This way, you will be able to simplify your work and save time typing the password. Automatic login shouldn't be a problem if you're the only one using the laptop.
Method 3. Turn Off VPN
Are you using a VPN connection on your device? If so, Facebook may find your network unreliable and get you logged out. To avoid this, you can try disabling the VPN connection and try logging in again.
Method 4. Delete Browser Cache and Cookies
Each time you visit a website, the browser collects temporary data called cache and cookies. It essentially speeds up your overall internet surfing. But these temporary files may be corrupted. In this case, you need to delete them in order to fix Facebook keeps logging me out issue by itself.
Method 5. Remove Browser Extensions
If deleting your browser cache and cookies did not help, you may be able to delete your browser extensions. Like cookies, browser extensions can make browsing the Internet easier and easier. However, they can interfere with Facebook performance, potentially causing "Facebook keeps logging me out" error.
Method 6. Contact Facebook for Support
If none of the above solutions work and Facebook keeps logging you out, occasionally there are problems with Facebook itself, you can contact the Facebook Help Center to see if they can help.
After reporting the problem on Facebook, all you have to do is wait for them to fix it.
Frequently Asked Questions
Q: Why does Facebook keep logging me out?
Facebook may constantly get you logged out if you clear your browser cookies or when your session expires. Browser cache issues can also often cause you to log out of your Facebook account.
Most likely you do not have cookies enabled in your browser or your browser does not allow cookies for Facebook. See if you have cookies enabled.
Note:
Internet Explorer has particular problems saving cookies due to security settings.
Q: Are you getting an email when someone logs in to your Facebook?
Facebook sends sign-in notifications when you sign in from an unrecognized device or location. To improve the security of your account, don't forget to set up two-factor authentication on Facebook.
Q: Does Facebook log out automatically?
Facebook sometimes logs you out of your account due to server glitches. You may also notice that your Facebook account is logged out after clearing your browser cookies.
Q: Can I tell if someone else is on my Facebook?
You can visit Settings and Privacy-> Settings-> Security and Login-> Where You're Logged In from your Facebook account to check where your account is logged in. If you find a suspicious device on this list, don't forget to change your Facebook password and enable two-factor authentication.