Have you ever thought about being a freelancer? Becoming a freelancer means you can work for yourself and don't need to commit to any particular employer for a long time. You are free to decide when to start and end the work and what to do.
Sounds great, right? In fact, being a freelancer is not as simple as you may have thought. Every coin has two sides. Despite the free status you may get, you need to handle all issues yourself.
The question is, when you're just getting started, you might be in such a flurry that you don't have time to think about everything. However, since nobody is versatile, it's almost impossible to finish a project alone without the help of professional tools.
That's why we wrote this post: to introduce you to a set of dedicated tools for optimizing your workflow and finishing those hard tasks.
Continue reading. We've made a list of 5 applications with all the information you need to address practically all your difficulties as a freelancer.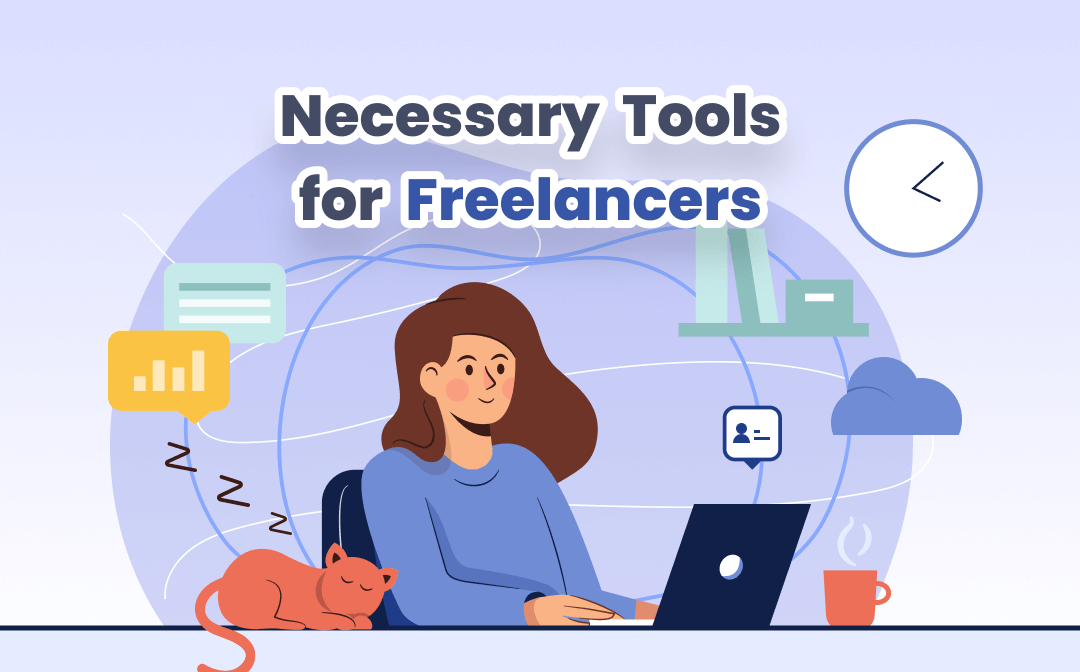 Upwork: Work Market Worldwide
Upwork is the world's most popular job hunter for freelancers. It's an American freelancing platform that has accumulated more than 145 thousand core active clients, and they spend a combined total of over $2.5 billion per year.
You may acquire a job on Upwork doing whatever type of work you wish. It has positions in practically every industry, such as IT, design, sales, writing, translation, and so on.
Clients can post the job online with a detailed description and salary range, and freelancers can check these requirements to choose whether to accept the work. Upwork also allows users to chat online. Freelancers can start a conversation on Upwork with the clients whenever they want.
On Upwork, payments are also 100% guaranteed for both freelancers and clients. Whenever the freelancer completes a part of the work, the client has to pay for this part accordingly. However, the freelancer will not receive payment until the full project is completed, as Upwork will keep the funds in escrow.
Compatibility: macOS, Windows, Android, iOS
Subscription Plan:
Details: Verified freelancer work history and reviews on Upwork; Safe, easy payments; Built-in collaboration features; Upwork Payment Protection Plan; Standard Customer Support; Transaction Reporting
Details: All features in Free; Premium Customer Support; Team Reporting; Job post and talent sourcing assistance; Dedicated account management; Featured Jobs upgrade
Pros:
An easy user interface to interact with.
It offers high-level protection for payments.
The free version offers many features to a freelancer.
Plenty of work from all industries is offered on Upwork.
Cons:
It charges higher commissions.
The interaction is not user-friendly.
The mobile version does not work as well as the desktop one.
Monday.com: Versatile Project Management Tool
Monday.com is a great management tool for both single and multiple projects. It's easy-to-use, highly efficient, and almost every individual and team can afford the subscription plan.
For each project, you can create customized workflow sheets, which assist you in fluently organizing the entire procedure, especially for those complex tasks.
You may write down all the specifics of your project on sheets to double-check later. It might also serve as a reminder to ensure that you stay on track with the procedure.
Compatibility: macOS, Windows, Android, iOS
Subscription Plan:
Details: Maximum users: 2; Unlimited boards and workdocs; 200+ templates; 20+ column types
Details: Unlimited free viewers and items; 5 GB storage; 24/7 customer support
Details: Timeline & Gantt views; Calendar view; Guest access; Automations and integrations
Details: Private boards & workdocs; Chart view; Time tracking; Formula column; Automations and integrations
Pros:
Multiple templates are free to use.
Streamline workflow and save time.
The free plan is enough for a freelancer to use.
It allows you to customize almost every option.
It's capable of reaching ISO/IEC 27001 and ISO/IEC 27018 security standards.
Cons:
The free version has limited functionality.
The UI is not mobile-friendly and inefficient to utilize.
In the Android version, files cannot be previewed. That is, you must download the files first to check what they are.
FreshBooks: Invoice and Accounting Software
Having an accounting tool is indispensable for a freelancer, especially for those who have little knowledge of finances. Working as a freelancer entails more than just doing what you want. It also implies that you must handle your finances independently.
If you don't have any accounting tool, you must do all the things on your own, for instance, keeping track of your costs, sending invoices, and submitting your taxes at the end of every year.
FreshBooks is the best tool with invoicing and accounting features. At its very beginning, FreshBooks was a tool to manage invoices, but now it has become a comprehensive accounting application.
On FreshBooks, you can add clients to your dashboard for easier contact management. When sending invoices, you can set a reminder to make sure they will pay the bill on time.
Besides sending invoices, FreshBooks can also assist you in making payments, adding expenses, presetting timers, etc. With all its features, you can almost handle all your money issues in one shot.
Compatibility: macOS, Windows, Android, iOS
Subscription Plan:
Details: 5 Billable Clients; Unlimited expenses/estimates/invoices; Track sales tax & see reports
Details: 50 Billable Clients; Tracking expenses and capturing receipt data automatically; Unlimited estimates and proposals, etc.
Details: Unlimited Billable Clients; Track Bills, bill payments & vendors with accounts payable; Track project profitability; Customize email templates with dynamic fields and email signatures, etc.
There is also a custom pricing plan for users to select, which is suitable for businesses with more complex requirements.
Before buying a subscription plan, a free 30-day trial is offered by FreshBooks. You can test it thoroughly first and choose whether to buy it or not.
Pros:
Simple interface and easy-to-use
All programs feature time tracking and mileage tracking.
30-day free trial
It integrates with over 100 apps, including Gmail, Shopify, Dropbox, etc.
Cons:
It crashes frequently on an Android device.
The Plus and Premium plans are expensive, while the Lite plan only offers 5 clients, which isn't adequate.
Google Drive: Personal Cloud Storage & File Sharing Platform
Google Drive is one of the best products from Google. It creates a huge cloud space for users to store files in various formats. Various types of documents can be uploaded to Google Drive to save for a long time.
Google Drive is suitable for both personal and business use. It allows team members to work on the same files as long as they get permission from the file owner.
It's compatible with both desktop and mobile devices. Your files will be synchronized to other devices regardless of the device you use.
You can create a special folder for each project on Google Drive to store relevant information. Whenever there's a need to check, it would be super convenient for you to find them.
Compatibility: macOS, Windows, Android, iOS
Subscription Plan:
Details: 15 GB storage
Details: 100 GB storage; Access to Google experts; Share with up to 5 others; Extra member benefits
Details: 200 GB storage; Access to Google experts; Share with up to 5 others; Extra member benefits
Details: 2 TB storage; Access to Google experts; Share with up to 5 others; Extra member benefits
Pros:
The prices are reasonable.
It's a prominent collaboration tool.
The trash feature keeps files for 30 days for restoring.
Cons:
Disable/hide suggestions aren't available when screen-sharing.
Constant explicit spam emails from strangers on the Android version.
SwifDoo PDF: An All-in-One Free PDF Tool
Since PDF has been made public, this file format has been widely praised, and almost all industries use PDF files as the standard format to publish notices and store information.
PDF always automatically adapts to desktop and mobile, ensuring that the files are consistent across all devices and providing the greatest user experience. Besides, it's difficult to edit or tamper with PDF files randomly, so the files' security can be protected to a large extent.
However, one of the biggest headaches with PDFs is that they are not editable. On some occasions, you cannot avoid making annotations on PDF files. When this occurs, you should invest in a specialist PDF application that allows you to edit PDF files as easily as Word documents.
SwifDoo PDF is a comprehensive PDF tool that possesses all the features for handling PDF documents. You can use it to edit, annotate, and convert PDF files.
SwifDoo PDF has an expert team, and they are working constantly to improve this tool for better UX. You can use it to encrypt your PDF with password, so the files can be protected well from being stolen.
Compatibility: Windows 11/10/8.1/7/XP
Subscription Plan:
Details: Access to all SwifDoo PDF features; 1 end-device per plan; Unlimited device switches per month; Free upgrade service and tech support
Annual Subscription: $41.4
Details: Access to all SwifDoo PDF features; 2 end devices per plan simultaneously; Unlimited device switches per year; Free upgrade service and tech support
Details: All features in the Annual Subscription
Pros:
30-day money-back guarantee with no hassle.
It possesses almost all the features you need for PDF files.
There are no bothersome advertisement pop-ups or spam sent to your email.
It offers a 30-day free trial for thoroughly testing all features before you make a purchase.
Cons:
Only Windows systems are supported now.