Until the release of Avengers: Endgame, Avatar was ruling the film industry with its financial success across the globe. Avatar 1 release date was set to be 10th December 2009 in London and 18th December 2009 for the U.S and all the nations across the world. With a whooping budget of 237 million dollars, it managed to garner total earnings of 2.847 billion dollars worldwide. Avatar 2 is one of the highly anticipated movies of 2022.
Since the Avatar 1 release date, it has bagged 3 awards in its kitty for best direction, cinematography and visual effects. With the massive success of Avatar 1, fans across the globe are eagerly waiting for James Cameron Avatar 2.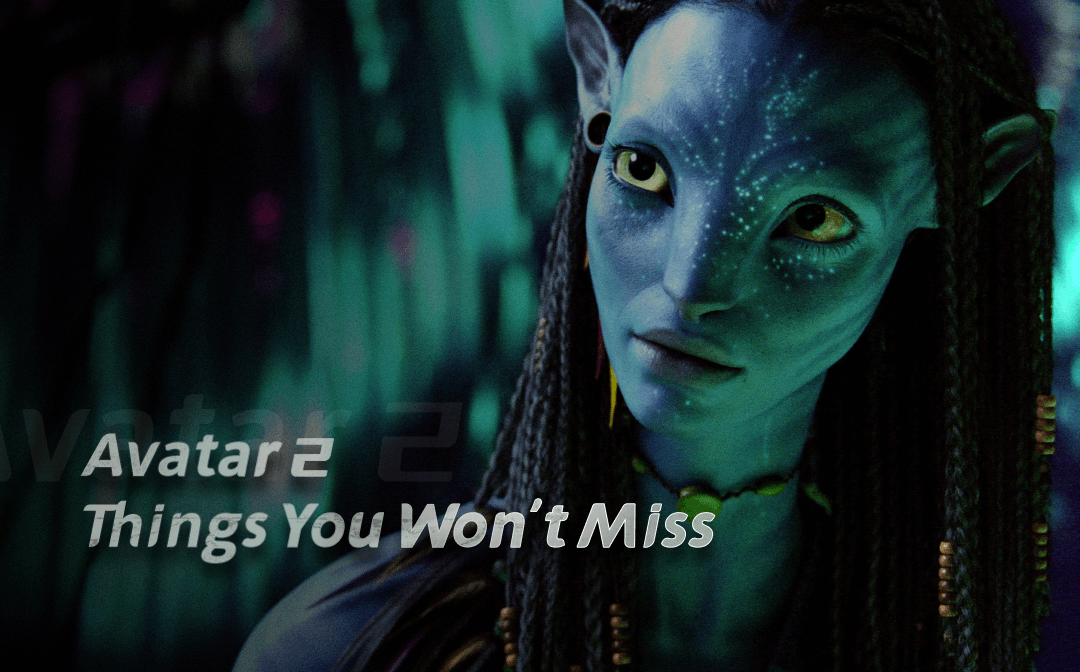 Its engaging star cast and exciting new 'dry for wet' technology is the most hyped calling for its fans. Cameron's technology experience and experiments speaks for itself. Avatar 1 has already set a base with its 3D technologically marvel hyping and exciting the fans for Avatar 2 already.
Avatar 2: The Way of Water: A 3D Masterpiece on the Horizon
Directed by James Cameron, Avatar 2 is an action and adventure movie to be released by the name Avatar: The Way of Water and it will be distributed by 20th Century Studios.. In one of his interviews, James claims that the original name, Avatar, holds its origins to the subconscious regions of India, where it means reincarnation in Sanskrit.
Revealing the title for Avatar 2, on 27th of April 2022 a teaser trailer debuted at the CinemaCon. After around a week later an official teaser was also made available to the fans online across the globe on YouTube on 9th May 2022, to share a glimpse of what Avatar 2 holds in store for them. With a teaser duration of 1 minute and 37 seconds Avatar 2 full movie appears to be more or less like its astonishing prequel, Avatar 1.
Initially, Avatar 2 was never meant to be written during the filming of Avatar 1. It was only the film's massive success that compelled Cameron for a sequel. Avatar 2 release date was subject to change many times due to:
After the lush greens and forests, Cameron envisioned the sea for a sequel. You will be in Pandora's oceans this time. The engaging story writing took a long time to build as Cameron was also working on the other sequels simultaneously.
The major highlight for the Avatar 2, is its plot that is set underwater. Shooting underwater is a challenge in itself which Cameron for sure loves to take and ace in. (Remember Jack and Rose from Titanic?)
Need for the right technology is always worth the wait. Investing the time in the research for the apt technology, Cameron's try on a 'dry for wet' technology has a visually effective role to play. Cameron needed the right technology to capture the motions underwater for a real effect.
The film's release date kept on changing for reasons unbeknownst to everyone. As the theaters were closed worldwide, there will be no business if the team set to release during that phase.
If you are wondering about when does Avatar 2 come out, you can expect the Avatar 2 release date to be the 16th of December 2022, Friday for the United States of America and worldwide.
Star Casts of the Movie
Fans are really excited for the star cast of Avatar 2 that lead them to explore the lush jungles and the wildlife world of Pandora including the return of some old cast and introducing some of the new ones.
Taking you along on to exploring their Pandora's underwater journey will be the old famous actors:
Sam Worthington:Jake Sully
Zoe Saldaña:Neytiri
Joel David Moore:Dr Norm Spellman
CCH Pounder:Mo'at
Dileep Rao: Dr Max Patel
Fans will also be in for the revived actors:
Stephen Lang:Colonel Miles Quaritch
Sigourney Weaver:TBC
Matt Gerald: Corporal Lyle Wainfleet
The new actors joining the Pandora underwater fun include:
Kate Winslet: Ronal
Edie Falco:General Ardmore
Jemaine Clement: Dr Ian Garvin
Cliff Curtis: Tonowari
Vin Diesel: TBC
Plot of the Movie
The plot of Avatar 1 was set in 2154 where the people of the mid 22nd century were busy colonizing Pandora to mine unobtanium, a valuable mineral found on the habitable moon of the star system. But they didn't know that this act of theirs might threaten the local natives of Pandora, a humanoid species called Na'vi. Thereafter, a communication takes place between the two parties through a genetically engineered Avatar.
Storyline of Avatar 2
The storyline of Avatar 2 will be a sequel to Avatar 1 highlighting the struggles of Jake, Neytiri, their four kids and their broken lives when they are forced to leave their home. It will showcase the struggles of the Sully family, how they endure danger and face death battles throughout the movie. With a sole motive of keeping the family safe, Cameron's man vs nature, too, will have a universal theme of protecting the family.
James Cameron Avatar 2 movie titled Avatar 2: The Way of Water, is shot majorly underwater. This explains that the story will be carrying an old genre of action, sci-fi and adventure but will include new plot sequences, as in water in this case. Apart from this, a new reef-dwelling Na'vi clan, Metkayina, will also be introduced to Avatar 2.
Technology Used in the Movie
Apart from the use of the latest technology to focus on a higher resolution 3D and to create a great deal of real water effects, Cameron also invested in a purpose-built submarine.
Cameron has specifically designed an underwater headgear that is equipped with HD cameras and motion capture technology for Avatar 2. With a proposed budget of 250 million dollars, technology couldn't be compromised upon.
Avatar 2 uses a system of Sony CineAlta VENICE 3D for an unconventional cinematography experience. Using live actors, Avatar proposes 60% CGI imagery revolutionizing the Mo-Cap animation filming techniques.
A special 900,000 gallon water tank was built to shoot even the tiniest expression of actors submerged underwater for Avatar 2. It had the audacity to mimic the sound of the ocean's current and crashing waves. Weta Digital is working aesthetically to support Cameron's dreams on camera.
Though Avatar 2 is a 3D film, the viewers will not need to wear the 3D glasses to see the visual effects. For sharper visuals, RGB laser projection technique including 60k lumens will be used.
Avatar 1 was released nearly 13 years back in 2009. It was one of the few movies released in 3D that managed to garner innumerable views and attention for uptil 10 years since its release. It actually brought a revolution to the 3D effect in the film industry.
The film, Avatar 1, had facial motion capture technology. It used more than 800 computer designed characters with detailed specifications. Crucial importance was bestowed upon the detailings of the film's characters to bring them to life. The success of the Avatar franchise is heavily credited to the film's technology.
Where Avatar 1 had its focus on Pandora's wildlife, lush greens and forests, Avatar 2 movie will explore the shores of Pandora's oceans and tropical beaches. James Cameron's Avatar 2 is a wildlife journey from deforestation to ocean conservation.
Avatar Franchise: The Sequels Hitting in Line
Since the release and massive success of Avatar 1 in 2009, Cameron has already started working and filming on its sequels. The Avatar franchise will keep you hooked until 2028. With a total of 5 movies in the Avatar franchise, 4 movies are still stored in its bucket for their release.
Avatar 1:18 December 2009
Avatar 2: The Way of Water:16 December 2022
Avatar 3: The Seed Bearer: 20 December2024
Avatar 4: The Tulkun Rider: 18 December 2026
Avatar 5:The Quest for Eywa: 22 December2028
Avatar Book
After the release of Avatar 1 in 2009, James Cameron had planned to debut as an author to pen down the story of Avatar for all the ardent fans of literature. But so far there is no Avatar book on its film story to show. Though there are some books or rather PDF books to show Avatar's creation and breakthroughs in the film industry, like
The Art of Avatar
The Making of Avatar
You wouldn't want to miss out on any of the film's offerings and would surely want to create a library for future access to go through the BTS and highlights of one of the most amazing movies of not only a decade but also the vicennial.
You can download and read the PDF files using SwifDoo PDF for the script, behind the scenes and written adventures of Avatar 2 along with how the production team managed to create the characters and casts.
The epic tale needs to be preserved in your personal library. If you want to access the PDF script of the movie or making of the movie, you can access with a PDF reader as it will enrich your knowledge how technology emerge in film making and produce a classic of all time.
Conclusion
After Titanic, Cameron's Avatar has surely been a game changer and a revolution to the 3D film industry. Setting new goals for the upcoming movies, Avatar 1 has already reached milestones while being one of the highest grossing movies of all times. With its immense success, the bars for Avatar 2 are already raised. James Cameron Avatar 2 is being highly anticipated for its release and eye-catchy technology for visual effects to create an engaging entertainment experience from an epic saga.