Introduction:
With the global spread of Covid-19
and the onset of stay-at-home orders in a number of countries around the world, many employees have found themselves in the role of remote workers overnight.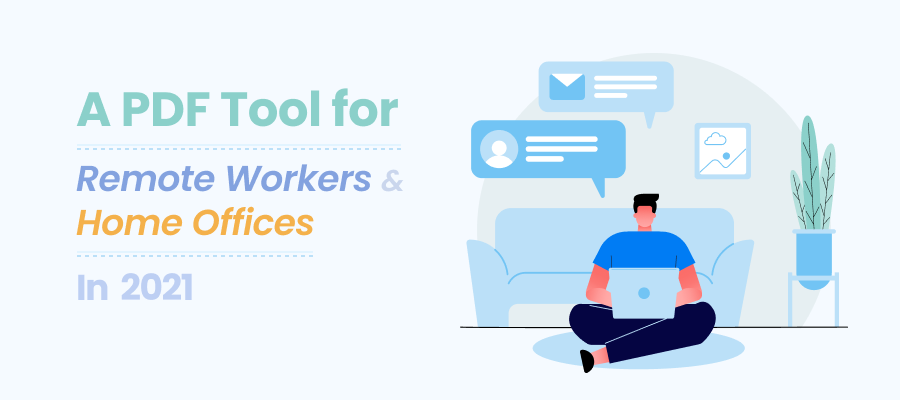 For those who were able to work remotely, it meant job security and company productivity continued. If you haven't worked remotely previously and suddenly find yourself needing to relocate your office to your home dining table or another area of your house, you might feel a little unprepared.
The internet has many articles offering helpful tips and ways to set up your home office. However, alongside a few logistical headaches of working from home, you will also have technological requirements to make the transition smoother.
The good news is, there are many useful online tools available that can assist you in enhancing your remote working life and enable you to have an efficient and paper-free home office. Some of these helpful tools enable a user to create, edit and organize documents in PDF format, which helps eliminate the need for a printer and its consumables.
PDF software provides remote workers an affordable and reliable way to work outside the office while still maintaining professionalism and efficiency. PDF tools assist in team collaboration online by enabling the secure and easy sharing of documents without physically needing to be present at meetings and in the office. From enabling digital signatures, compression, merging, and more, PDF software is a must for the home office employee.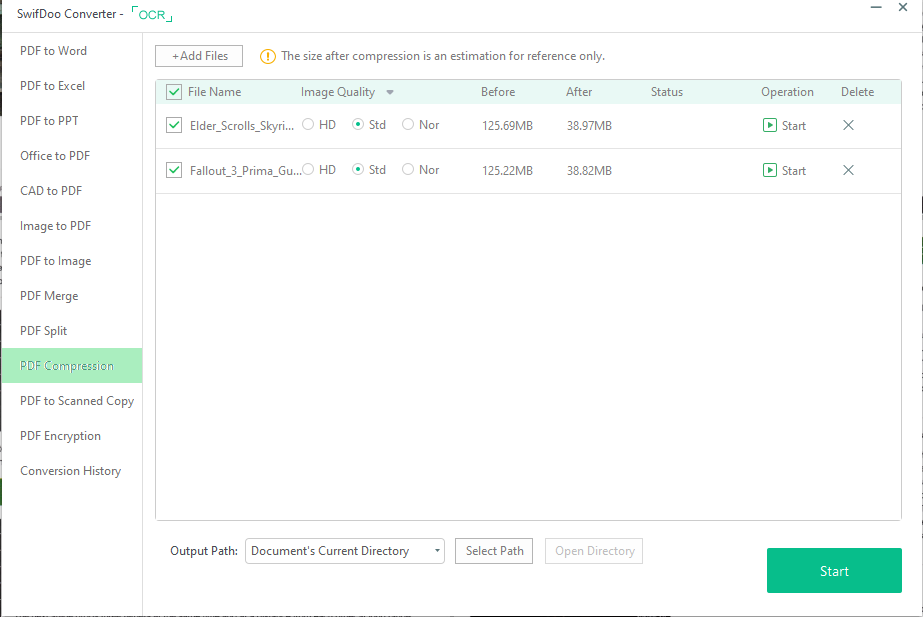 Check out the following list of the top PDF functions:
Compress Your PDFs for Easy Sharing
Working from a remote office still requires constant communication with colleagues and teammates, sharing important documents online. At times, these documents are too large to send via email and require compression. If large files are not compressed, they can often result in emails not sending or bouncing back.
Today, the PDF file format has become the universal standard for compressing and sending files. This also helps reduce redundancy and avoid any potential damage that may occur to your file contrarily.
Although a range of PDF altering programs are readily available to the standard user, the choice of which software to pick from can become a source of bewilderment. However, of these choices, SwifDoo PDF offers both a variety of functions and is free to download.
This PDF centralized program readily allows users to compress PDF files into a more manageable size, appropriate for sending to others. By uploading your selected PDF file(s) from your computer, Google Drive, and or Dropbox, you can efficiently compress them, and be confident that they will retain their original content.
The process is fast and simple to use, making Swifdoo PDF a good choice of program for users of all levels of experience.
Merge Multiple PDF Files Into One
If you have ever been required to send multiple documents to others, then you will appreciate the ability to merge multiple files into one in PDF format. The merge function is an essential component to home offices, considering the potential for exchanging vast amounts of content between colleges. Therefore, merging all of your files into a singular PDF can be achieved with operations such as SwifDoo PDF's file merging capabilities.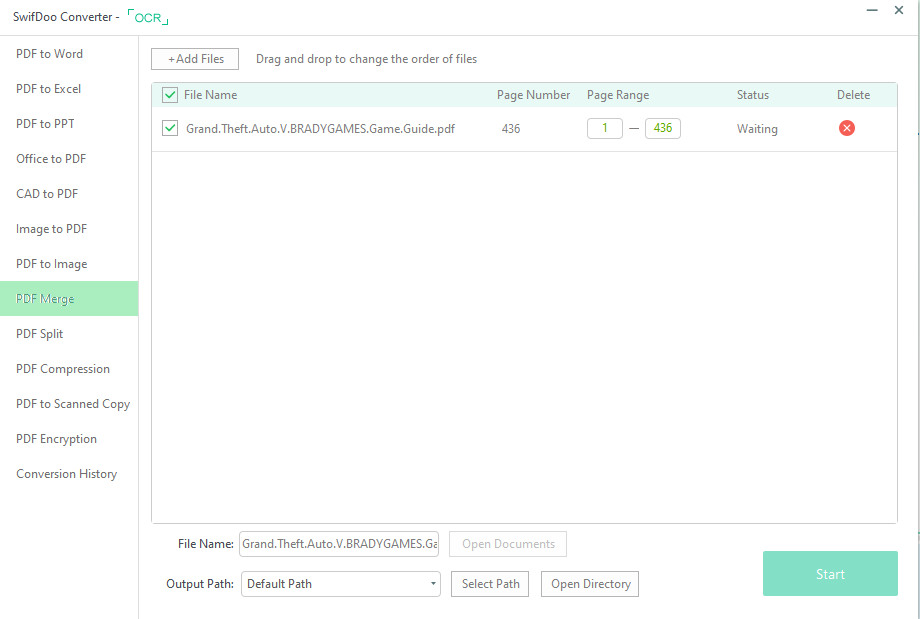 SwifDoo PDF allows users to select PDFs from a directory, or drag and drop files straight into the space for processing. The program will proceed to merge your selected files into a single PDF for your required purposes. The operation is fast, free, and does not require printing. As well as this, SwifDoo's user-friendly interface is easy to navigate and use, so extra learning regarding how to use this program is not required.
Convert Scanned PDF Documents Back to Editable Word Documents
How many times have you needed to edit text from a scanned PDF document, only to waste time retyping text into a new Word document to edit just a small portion of the text?
If so, it comes as no surprise that this is an inefficient and time-consuming method. This is where the ability to convert scanned documents into Microsoft Word using Optical Character Recognition (OCR) technology offers a simple solution and is an excellent option for users working from home and in a paperless office.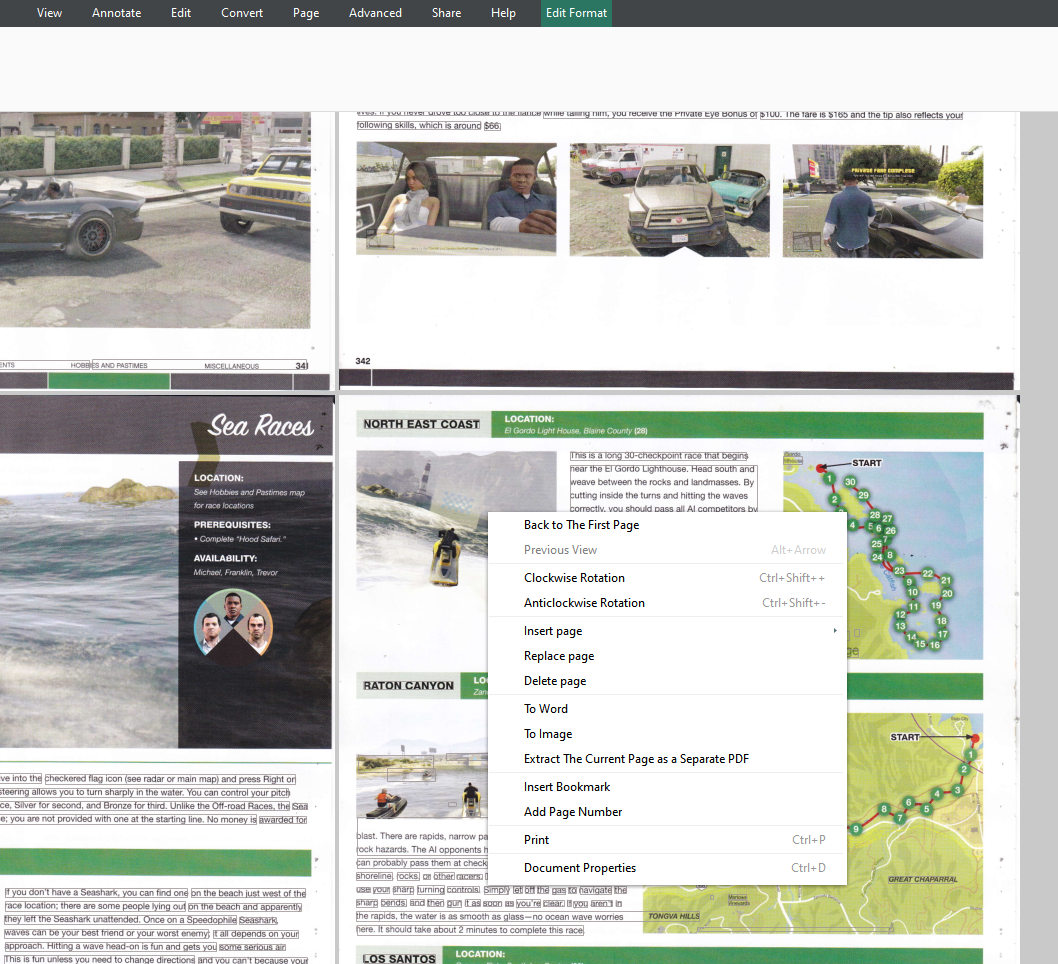 OCR technology is integrated into SwifDoo PDF and is capable of reading a scanned PDF's text and images and swiftly converting them into Word or .DOCX formats. The content is editable and can be updated as necessary. While SwifDoo PDF utilizes OCR technology to aid in this operation, a variety of technological components compose the software's makeup, meaning that its scanned PDF conversion process and results are of great satisfaction.
Extract and Analyse Data from a PDF with Excel
As a worker from home, the requirement for numbers, scientific logs, or medical reports is often unavoidable. This means that users may need to receive or download data from websites in PDF format. Of course, this results in the widespread use of PDFs to present information by businesses and websites alike. But what if said information required analysis via an Excel spreadsheet? Thankfully, PDF to .XLSX software such as SwifDoo is available for use.
By selecting the conversion from PDF to Excel function, SwifDoo extracts important data from your PDF files and allows users to view it in a .XLSX format. You can track your trends by converting PDFs to searchable Excel data to create graphs, charts, and visual representations.
Wrapping Up
SwifDoo is not only limited to .XLSX conversions either. With a wide range of possible conversion functions, the program itself is versatile and useful for any user. SwifDoo enables conversion of PDF to .PPT, DOCX, CAD, Scanned Copy, and even .PNG and .JPG effortlessly and efficiently.